The Bridge to Francis Marion University Program is a distinctive academic transfer program available to students throughout the state. Beginning with a strong first-year academic experience at one of technical colleges listed below, the Bridge program includes dedicated academic advising and student support services — all of which are designed to help students succeed in meeting Bridge academic requirements and transferring to Francis Marion University. Advisers from both institutions assist students with selecting courses that transfer to Francis Marion University. The successful collaboration between the technical colleges and Francis Marion allows Bridge students to make progress in their intended Francis Marion major during their freshman year while preparing to enroll at Francis Marion beginning their sophomore year. The Bridge program staff is committed to providing students with the educational tools and services they need to succeed.
TECHNICAL COLLEGE PARTNERSHIPS
SPECIAL BENEFITS FOR BRIDGE STUDENTS
Access to FMU Rogers Library
Acces to athletic events
Access to Smith University Center (bookstore, indoor pool, fitness room, and weight room)
Special FMU student discounts for events and performances held at the FMU Performing Arts Center
Dual academic advising by professionals at the technical college and FMU
Guaranteed transferability of courses taken at the technical college when Bridge Student adheres to a Program Pathway or FMU Transfer Guide
Courses selected through the Program Pathway will also coincide with required academic program requirements for that specific major at FMU
FMU representative will visit each technical college partner institution at least once a semester and will be available during that visit to meet with Bridge Students to answer any questions or concerns the student may have
Specific transfer orientation sessions are available for Bridge Students prior to enrolling at FMU
ACADEMIC REQUIREMENTS
Bridge students enroll at one of the above technical colleges for their freshman year and start their course work in the fall semester. To be admitted to Francis Marion University for the sophomore year, Bridge students are required to earn a minimum of twenty-two (22) transferable semester credit hours and a 2.0 grade point average during their freshman year. Students who satisfy Bridge academic requirements will be admitted to Francis Marion for the subsequent Fall semester without being required to resubmit a Francis Marion University admission application. Students who do not satisfy the Bridge academic requirements will be encouraged to apply for admission to Francis Marion University at a later date. A list of transferrable courses may be found here.
In addition to the technical college aplication, students must complete the Francis Marion application as well as the Bridge Enrollment Form to be admitted to the Bridge Program. Once a student is ready to transfer to Francis Marion, the Bridge Update App Request Form will need to be completed and submitted to the Admissions office at Francis Marion University.
While grades earned at technical colleges will not subsequently be included in a student's Francis Marion grade point average (GPA), the grades and credit hours a student earns at the technical school will count toward determining the student's eligibility for the South Carolina LIFE scholarship.
Technical College Tuition and Fees
The tuition and fees for the technical college are located on each institution's website. Technical college tuition and fees vary based on residency classification and the number of credit hours in which a student is enrolled. Please visit the website of the technical college you wish to attend for the current tuition and fees for full-time students.
Saturday Campus Tours
A Saturday Campus tour will be held on Saturday, December 10th, 2016 at 10:30 a.m.
Register for the Saturday, December 10th campus tour here.
On The Day Of Your Campus Tour
Tours depart promptly from the Admissions Office (Suite 113) in the Stokes Administration Building, so please arrive around 15 minutes prior to check-in. Parking is available in Lot E at the main gate to the University. Wear comfortable clothing and shoes as this is a walking tour.
Special Note:
Campus tours are not held when the university is closed.
OPEN HOUSE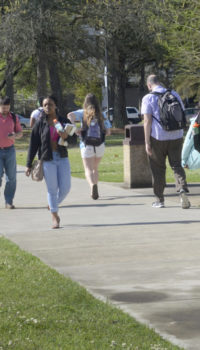 Open House is a great opportunity to see our campus, meet our students, visit with faculty and staff, and learn more about programs and services at FMU. Deciding on a college is an exciting time. We have a lot to offer at FMU: small classes, excellent teaching, and many opportunities for involvement. Bring your parents/guardians and spend the morning with us!
Or call us at 800-FMU-7551 or 843-661-1231.
Open House events scheduled for 2016-2017 are:
Saturday, October 15, 2016
Saturday, November 12, 2016
Saturday, February 4, 2017
Saturday, March 4, 2017
Saturday, April 8, 2017
Check-in starts at 8:00 a.m. and the day concludes
with lunch beginning at 12:30 p.m.
At Open House, you can attend four sessions that you select ranging from FMU's majors to student services to activities. Topics will include our academic programs, financial assistance, residence life, campus services, admissions, honors and more! An Information Fair will also provide an informal way for you to gather information and ask questions. Many different campus groups such as athletics, honors, student organizations and other services will be there. (Come prepared for plenty of walking and the possibility of rain!)
For more information contact the Admissions Office at 1-843-661-1231 or toll free at 1-800-368-7551.
MEET WITH AN ADMISSIONS COUNSELOR
Admissions Counselors are available for one-on-one meetings with prospective students and their families Monday through Friday during normal business hours. Please complete the reservation form below, or call us at 1-843-661-1231; toll free at 1-800-368-7551. Online meeting reservations must be submitted at least 1 business day before your desired date to ensure availability of an Admissions Counselor. We look forward to meeting you soon!
Directions to Campus
If you have questions or concerns, please call the Admissions Office at Francis Marion University at 843-661-1231 or 800-368-7551 or e-mail: admissions@fmarion.edu.