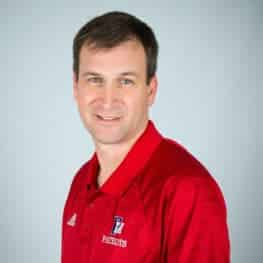 Dr. Derek Jokisch
Chair, Department of Physics and Astronomy, Professor of Physics
Office: LSF 103A
Phone: 843-661-4653
djokisch@fmarion.edu
I originally come from a small town in West Central Illinois called Carlinville. After graduating high school in 1991, I went to the University of Illinois in Urbana-Champaign. I received my bachelor's in 1995 in Nuclear Engineering and also completed the Bioengineering Option. While I was at Illinois, I spent a large amount of my time with the bands on campus. In the fall, I was active as a trombone player in the Marching Illini. During the winter I performed in the basketball band. For the last year and a half at Illinois, I worked part time in the Radiation Safety section of the University's Division of Environmental Health & Safety. It was while working there that I developed a career interest in health physics.
In the fall of 1995, I headed South to the University of Florida and the Department of Nuclear and Radiological Engineering. Working under a Department of Energy Nuclear Engineering/Health Physics fellowship, I received a master's degree in health physics in 1997, and a doctorate in 1999. My research was in the area of trabecular bone dosimetry, and I worked under Elda Anderson award-winner Dr. Wesley Bolch. As part of the DOE fellowship I spent a summer practicum in 1997 in Oak Ridge, TN at the Radiation Internal Dose Information Center.
In August of 1999 I assumed my current position as an Assistant Professor of Physics/Health Physics in the Department of Physics and Astronomy at Francis Marion University in Florence, SC.
My marching band experience at Illinois led to an opportunity to work with the Gator Band while at UF. It was there that I met my wife, Kelly. Kelly has a master's degree in trumpet performance and a bachelor's in music education. In addition she has spent time studying in Goteborg, Sweden. Currently she is the band director at South Florence High School.
My parents still live in Carlinville. My father, David, recently retired from teaching physical education and math in the high school. He was also a very successful cross country and track coach. My mother, Ardeth, works in the library at one of the two elementary schools. My brother, Matt, is an English teacher in Sycamore, Illinois where he also serves as the cross country coach.