About Us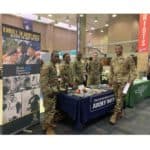 The Army Reserve Officers' Training Corps (ROTC) was born when President Woodrow Wilson signed the National Defense Act of 1916. Since its inception, Army ROTC has provided leadership and military training at schools and universities across the country and has commissioned more than a half million Officers. It is the largest commissioning source in the American military.
Army ROTC is a diverse group of men and women with more than 20,000 Cadets currently enrolled nationwide.
Army ROTC has a total of 274 host programs in Cadet Command with more than 1,100 partnership and affiliate schools across the country. It produces approximately 60 percent of the Second Lieutenants who join the active Army, Army Reserve and Army National Guard. More than 40 percent of current Active Duty Army General Officers were commissioned through ROTC. Army ROTC provides Cadets with the character-building aspects of a well rounded, self-disciplined civilian education with tough, centralized leadership development training.
Francis Marion University was founded on July 1, 1970 through a special piece of legislation signed by Governor Robert McNair. The bill creating the then college, was in response to an overwhelming need for a public education institution in the Pee Dee region of South Carolina.
The university can actually trace its history to 1957 when, at the behest of local Florence citizens, the University of South Carolina established a "freshman center" at the Florence County Library. In 1961, a permanent campus for what was then known as USC-Florence was established seven miles east of Florence on land donated by the Wallace family. That campus is the current location of FMU. Enrollment at USC-F grew steadily, reaching 350 by the mid-1960s. Around that time, community leaders began a movement to establish a four-year institution in Florence.
Francis Marion gained university status in 1992.