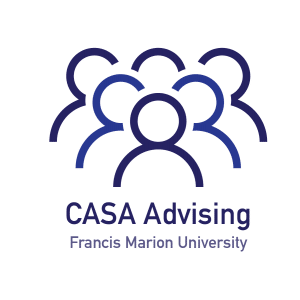 The Advising Division of CASA stands in accordance with FMU's mission to promote student learning and success, and works to positively impact student persistence and retention.
CASA Advising works with first-year students to ease the transition from high school to university life. A staff of friendly and knowledgeable advisors work closely with first-year students to provide assistance in choosing majors, finding career paths, selecting courses, and exercising habits that lead to academic success. The advising team is dedicated to supporting students and connecting them to resources that will help them be successful during their academic careers at FMU.
CASA advisors also provide counseling for probationary students and answer general questions for students and faculty about course registration, majors and minors, study skills, time management, career guidance, and more.
CASA Advising Services
In the realm of academic counseling, advisors assist students with the following:
Understanding major and degree requirements;
Interpreting the degree audit to help with degree planning and tracking academic process;
Selecting courses and creating a plan of study for majors;
Informing students about university policies, procedures, and deadlines;
Reinforcing study habits and time-management skills.
Advisors refer students to a variety of academic, student support, and personal services:
Academic
Student Support
Personal
Advisors also connect students to special learning opportunities such as the Study Abroad Program.
Educational programming supplements the work of professional advisors by offering alternative services outside of traditional in-office advising.
Types of programming:
Majors Fair
Podcast Tutorials
Social Media
Student Success Workshops
Student Resources
How do I know who my academic advisor is?
Check your degree audit. Your advisor's name will be listed there.
Do I have to meet with my academic advisor?
Yes. In order to register for your classes, you need to meet with your advisor. In addition, your advisor is friendly and has a lot of great tips for you!
How do I set up meetings with my academic advisor?
If you are assigned to a CASA advisor, you can book your appointments through our website. Click on the link under your advisor's profile below. If you are assigned to an advisor in an academic department, we suggest you call or email your advisor to book an appointment.
Can I register for classes without meeting with my academic advisor?
No. You need to meet with your academic advisor to be cleared to register for your classes.
How do I register for classes?
Click here for instructions on how to register for your classes.
Where do I find my class schedule?
You can check your class schedule through Swampfox Web. Click on "Review/Print Your Schedule."
Who do I go to if I'm having trouble with my classes?
You should talk to your advisor about any difficulties you're having. You can also talk to your professors to get extra help with your classes. The Writing Center and Tutoring Center are also great resources for extra help.
How do I withdraw from a class?
You should talk to your advisor about whether you should withdraw from your class and, if so, how to do it.
Do I have to take all of the General Education courses?
Yes. You cannot graduate from FMU without completing your general education requirements.
How do I find my GPA? How do I calculate my GPA?
You can find your GPA on your degree audit. You can also visit the GPA Calculator on the Financial Assistance webpage.
What do I do if I want to change my major?
If you are assigned to a CASA advisor, please make an appointment to discuss your major change. If you are assigned to an advisor in an academic department, visit the academic department of the new major you would like to switch to.
How do I decide which major to choose?
There are several steps you can take. Talk to professors in courses that have interested you to learn about the major and associated career paths. You can also talk with Dr. Ronald Miller in Career Development to complete a career inventory and discuss the major and career options that might be right for you. Your advisor can also help you think about the courses that would prepare you for your future career.
How do I declare a minor or collateral?
Your advisor can help you declare your minor or collaterals.
What scholarships are available?
You should check with Financial Assistance about your eligibility for HOPE or LIFE scholarships, Palmetto Fellows, and other opportunities.
I have credits from another college. How do I know if my credits transferred?
You can check your degree audit to ensure that your transferred courses have been entered into FMU's system.
Meet the Advisors
Contact Information
Advising Staff
Center for Academic Success and Advisement
Founders Hall 220C
843-661-1400