November 16, 2023
Chemistry Students attend SERMACS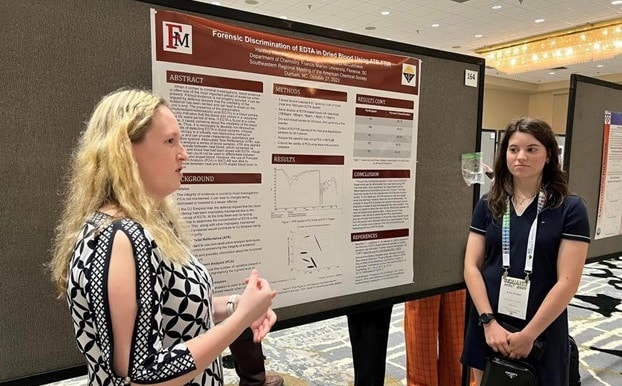 Eight FMU Chemistry students and two faculty members attended the Southeast Regional Meeting of the American Chemical Society (SERMACS) in Durham, North Carolina, from October 25-28, 2023. The students were Patrick Belt, Dani Conti, Logan Dowdell, Trinity Harrell, Haizley Herndon, Anna Howell, Cyrus Ingram, and Alexander Smith. Accompanying the students were Dr. Allen Clabo and Ms. Diana Jenkins. SERMACS is an annual conference that brings together Chemistry faculty, professional chemists from national labs and industry, and students from the southeastern region of the United States. 
Two groups of students presented posters highlighting their research. Haizley Herndon, Cyrus Ingram, and Alexander Smith presented their work "Extended structure lanthanide fluoride/silicates prepared using different synthetic routes" based on their research this past summer with Dr. H. C. zur Loye at the University of South Carolina. Haizley Herndon and Anna Howell presented their work "Forensic discrimination of EDTA in dried blood using attenuated total reflectance spectroscopy" that they are doing with Dr. Jesssica McCutcheon at FMU. In addition, Dr. Clabo presented a talk entitled "Atoms-in-molecules study of charge-shift bonding in neutral and protonated molecules RX and RXH+ (R=Me, Et, iPr, tBu, X=OH, NH2, SH, PH2, F, Cl)" based on his recent research activity. 
In addition to the scientific program, the students were able to meet with representatives of scientific instrumentation and chemical manufacturers and with university representatives of Chemistry graduate programs from around the southeast. The students also took a tour of the campus of the University of North Carolina, Chapel Hill. 
The trip was funded by a REAL grant, the Professional Development Committee, and the FMU chapter of the American Chemical Society (ACS).