Last updated 4/13/2021, 8:57 a.m.
Francis Marion University continues to monitor developments related to the spread of COVID-19, its treatment, and prevention. This includes monitoring case numbers and other data in the state, in our community, and on our campus.
COVID-19 at FMU
Active Cases
Percent of Campus Community
0.27%
Current Isolation
Students Isolated On Campus: 3
Cumulative Cases - Fall Semester
Students Cases: 78
Employee Cases: 18
Fall semester count includes all cases from March 25 to Dec. 12, 2020.
Cumulative Cases - Spring Semester
Students Cases: 105
Employee Cases: 12
Spring Semester case count began Jan. 19, 2021 – the first day of spring classes.
COVID-19 in the Community
COVID-19 in South Carolina
R(0) (sometimes called R(t)) is used to by epidemiologists worldwide to define the potential for spread of COVID-19, and other diseases at a specific time. If Rt > 1, the virus will spread out and the disease will become an epidemic; if Rt = 1, the virus will spread locally and the disease is endemic; if Rt < 1, the virus will stop spreading and the disease will disappear eventually.
The R(0) or R(t) number is derived from a mathematical model as opposed to a specific measurement.
The effective reproduction number (R(0) or R(t)) characterizes the COVID-19 spread rate. It models the average number of secondary infectious cases produced by a primary infectious case.
The R(t) shown here, and the associated modeling, was developed by Xihong Lin's Group in the Department of Biostatistics at the T.H. Chan School of Public Health at Harvard University. More at:  http://metrics.covid19-analysis.org. The directional arrow shows directional trend  in R(t) value (increasing or decreasing) since last report.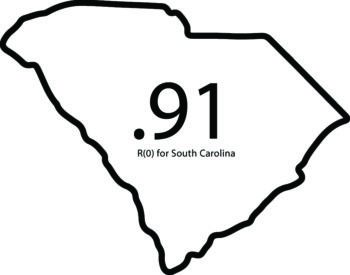 Protocols for Spring 2021
COVID-19 Response Office
FMU's new COVID-19 Response Office was created to provide members of the FMU community with information and resources related to the University's response to the pandemic. The office will coordinate FMU's contact tracing procedures, and monitoring.
---
FMU Student Health Office
FMU's Student Health Center provides a front-line healthcare resource for the FMU community. It's manned Monday to Friday, 8:30 a.m. to 5 p.m. by qualified medical practitioners who can provide immediate aid or referrals for a variety of problems.The Student Health Center is located in Room 217 on the second floor of the Smith University Center on FMU's Main Campus. Contact the office by telephone at 843-661-4665 or by email at covidresponse@fmarion.edu.

Students will be using the HealthChampion mobile app to answer a few brief questions each morning to provide a snapshot of how they are feeling. The app is available in both the App Store and Google Play. The assessment will take less than a minute to complete each day and results from the assessments will be monitored by the COVID-19 Response Office staff, who will communicate with those students whose symptoms indicate a need for follow-up.
Click here  for a detailed guide on app installation and use.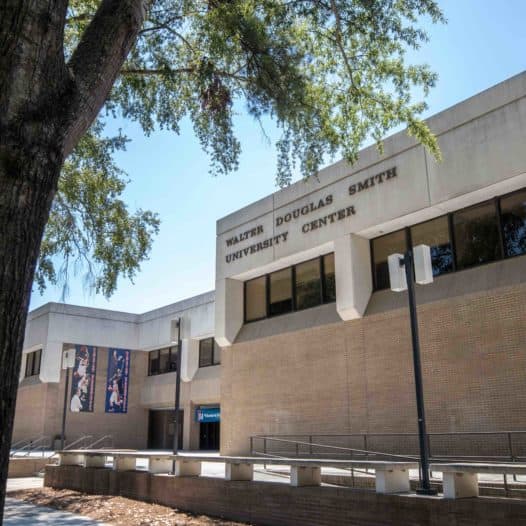 COVID-19 Response Office
Office: University Center, Suite 205
Hours: Mon-Fri, 8:30 am to 5 pm
Phone: 843-661-4665
Email: CovidResponse@fmarion.edu
COVID-19 Web Resources
Stay up-to-date with the latest health advisory information.
Swampfox Alerts
Francis Marion University's SwampFox Alerts system provides the University with a fast and efficient means for notifying the FMU community — students, faculty and staff — when campus emergencies occur. The alert system can be used 24 hours a day, 7 days a week. It sends messages via text, email, social media, on campus message boards, and to University-owned computers.
Depending upon the nature of an emergency, the system may send users multiple messages, adding updated information as it becomes available. SwampFox Alerts are used for public safety emergencies and for official university information such as closings. It is only used in the case of an emergency.
Click the link below to find out more about FMU's SwampFox Alerts system.
ARP, CRRSAA, & CARES Act Reporting and Transparency
The Coronavirus Response and Relief Supplemental Appropriations Act (CRRSAA) and the Coronavirus Aid, Relief, and Economic Security Act (CARES Act) direct institutions receiving funds under the Acts to submit reports describing the use of funds distributed from the Higher Education Emergency Relief Fund portion of the Acts. FMU's reports can be accessed below.