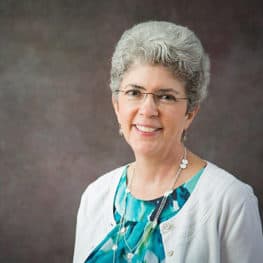 Manuela C. Aguilar, AU.D.
Part Time Instructor-Speech-Language Pathology

Office: LMEC
Phone: 843-661-1664
Mani.Aguilar@fmarion.edu
Mani Aguilar is an adjunct instructor of audiology at Francis Marion University in Florence, South Carolina.  Dr. Aguilar received her Associate in Science degree in Nursing from Miami-Dade Community College, her Master's degree in Audiology from the University of South Florida, and her Doctor of Audiology degree from the Arizona School of Health Sciences. Dr. Aguilar recently retired from a clinical career that spanned several decades.  She worked exclusively with children for over a decade at a pediatric hospital and in school systems.  She then practiced audiology with both adult and pediatric populations at several universities.  She held clinical/teaching positions at the University of North Texas, the University of Virginia, and Longwood University.
She has extensive experience teaching, both face-to-face and online, undergraduate Introduction to Audiology courses.  She has also taught and co-taught graduate Aural (re)habilitation courses.  She has presented on multiple audiology topics at local conferences.  She has completed countless presentations on wide-ranging the audiology topics to diverse audiences, such as speech-language pathologists, audiologists, physicians, physical therapists, occupational therapists, nurses, nursing home administrators, neonatologists, psychologists, educators, graduate students, parent support groups, support groups for persons who have hearing loss, service organizations, and senior centers.  She is a recipient of Awards of Excellence from the University of Virginia, Longwood University, and the Virginia Lions Hearing Foundation.  She received State Clinical Achievement Awards from the Speech-Language-Hearing Association of Virginia and American Speech-Language-Hearing Foundation.
Areas of Expertise:
Audiologic and auditory processing evaluations, and aural rehabilitation across the lifespan in public-school, pediatric-hospital, and university settings.  Teaching both face-to-face and online, audiology-related courses.
Education:
Au.D., Audiology, Arizona School of Health Sciences
M.S., Audiology, University of South Florida
A.S., Nursing (RN), Miami-Dade Community College