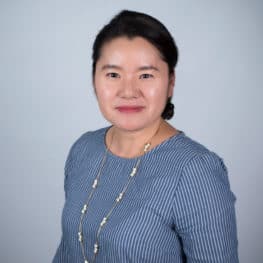 Dr. EunJung Chang
Associate Professor of Art Education
Office: HFAC 206
Phone: 843-661-1533
echang@fmarion.edu
Education
Doctor of Philosophy (2007)
Indiana University, Bloomington, IN
Major: Curriculum and Instruction (Art Education)
Minor: Arts Administration (Museum Education)
Dissertation Chair: Dr. Enid Zimmerman
Master of Science in Education (2001)
Indiana University, Bloomington, IN
Major: Art Education
Minor: Gifted and Talented Education

Biography
Dr. EunJung Chang is Associate Professor of Art Education at Francis Marion University (2007- Present). She holds a PhD in Curriculum and Instruction from Indiana University, Bloomington, in 2007. Her research interests include museum education, preservice teacher education, integrated curriculum, cross-cultural education, and STEM/STEAM education. She has presented her research at state, national, and international conferences.
In 2014, she received a Higher Education Level Award of the Year from the South Carolina Art Education Association. She has published articles in Studies in Art Education, Art Education, International Journal of Education Through Art, School Arts, etc. as well as book chapters in NAEA publication. She also authored a book, Personal Meaning Making: Understanding Visitors' Art Learning Experiences from a Museum Experience.
Currently, she is on sabbatical leave to Teachers College Columbia University in NYC, working on her research on MoMA's Art Labs and STEAM education in preservice teacher education.