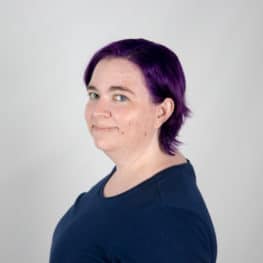 Dr. Amy Lea Clemons
Assistant Professor of English
Office: FH 152
Phone: 843-661-1494
aclemons@fmarion.edu
As a rhetorician and sci-fi fan, Dr. Clemons attempts to theorize the ways the end of the world is expressed in literature, film, and television–and why that topic is important for social movements. When not worrying about dystopian rumblings, she writes about connections between online fandom and composition pedagogy, comics and disability, and Tumblr practices and politics (among others). Her range of research areas are the result of studying philosopher Kenneth Burke, who could never stick to one topic at a time either.
At FMU, Dr. Clemons teaches composition, introductory literature, and introductory film courses, and she tutors for the Writing Center online. She also teaches classes in literary theory, science writing, and television studies.
Dr. Clemons lives in Florence with her cats Kit and Kairos, who are significantly less concerned about an oncoming apocalypse.
Education
PhD, Purdue University
MA, Northeastern University
BA, Bluffton College