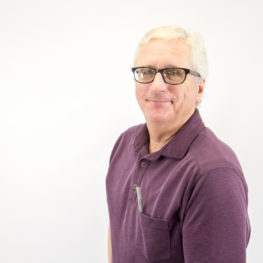 Dr. Garry Griffith
Associate Professor of Speech Communication
Office: CEMC 111E
Phone: 843-661-1621
jgriffith@fmarion.edu
Bio
Garry Griffith joined the Mass Communication department in 2006 and became a full-time assistant professor in 2007. He teaches Basics of Oral Communication and designed and teaches Introduction to Sports Broadcasting.
Garry has been involved with sports broadcasting since 1986 at the high school, collegiate, and professional levels. He worked as a professional baseball broadcaster in the Pioneer, South Atlantic, Carolina, and Southern Leagues. During the summer of 2008, Griffith merged theory with practice and continued his professional development when he broadcast the Great Falls (Montana) Voyagers, the Rookie Affiliate of the Chicago White Sox. He continues that trend during the summer of 2010 broadcasting the Normal, Illinois, CornBelters, an independent professional baseball team in the Frontier League. Garry has also broadcast college baseball, football, and men's and women's basketball for Coastal Carolina University, Winthrop University, and Presbyterian College.
A writer, Garry wrote a weekly column from 2001-2006 in the Myrtle Beach Herald newspaper between April-September when he was the Director of Broadcasting for the Myrtle Beach Pelicans, the Advanced A Affiliate of the Atlanta Braves. From 2005-2008 he was a feature writer in Coastal Carolina Sports and Recreation magazine.  His review of his summer 2008 baseball work appears in the summer 2010 issue of Big Sky Journal in Montana and is entitled, "Pioneering Baseball: A Montana Summer." He is also a regular contributor to the Journal of Mass Communication at Francis Marion University.
Besides broadcasting, teaching, and writing, Garry's professional experience has ranged from being a full-time, part-time United Methodist minister for two-and-a-half years to working for two summers as a beach concessions manager for the City of North Myrtle Beach, where he was resplendent in his work attire of bathing suit and flip-flops.
Griffith has taught at Fayetteville Technical Community College, Carson Newman College,  Pearl River Community College, Horry Georgetown Technical College, and Coastal Carolina University.
Garry and his geographically eclectic family include his wife, Debbie, born and raised in Venezuela; daughter, Anna, born in Illinois; daughter Becky, born in North Carolina; and son, Nathan, born in Mississippi.
Education
Ph.D., The University of Southern Mississippi
M.A., Wheaton College Graduate School, Chicago