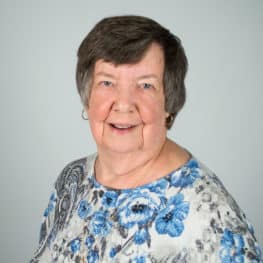 Susan B. Grubbs MS, MEd, RN
Assistant Professor of Nursing
Office: LNB 129
Phone: 843-661-1691
sgrubbs@fmarion.edu
Susan B. Grubbs was an Assistant Professor of Nursing in the Francis Marion University Department of Nursing until her retirement May 2020.
She received her Diploma in Nursing from Orangeburg Regional Hospital School of Nursing, Orangeburg, South Carolina, (1955-1958) and her BSN from the University of South Carolina, Columbia, South Carolina (1966). Susan completed her MEd with a minor in counseling and guidance from Francis Marion University (1977), and a Master of Science in Psychiatric Mental Health Nursing from the University of South Carolina, Columbia, South Carolina (1991).
Susan has medical surgical clinical experience which includes: surgical nursing (including OR), cardiac (including postoperative open heart) and general medical (including nephrology and dialysis).
She has experience in nursing administration, staff development, consulting, case management, and legal consultation. Her psychiatric nursing interest includes the prevention of post traumatic stress disorder. As a graduate student at the University of South Carolina, she participated in a grant from the National Institute of Mental Health to provide mental health services for adolescents who were victims of hurricane Hugo.  The framework for this research grant and her master's thesis, was Bandura's theory of self-efficacy, and Self-efficacy In Normal Adolescents (1991).
Susan has taught nursing students enrolled in diploma, associate degree, and baccalaureate, nursing curriculum and served as course coordinator, level coordinator and department chair. She has served as a preceptor for numerous Master's level graduate nursing students and mentored many new nursing faculty.
Susan has served as an officer and board member of the alumni association of Orangeburg Regional Hospital School of Nursing, South Carolina Nurses Association and the Nursing Honor Society at FMU. She was a volunteer for numerous community groups involved in research, education, and service.  She was a member of the South Carolina Board of Nursing (1985-1991), serving of President (1990-1991) and received the Board Member of the Year Award in 1991.