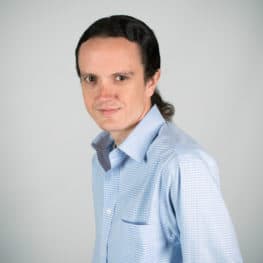 Benjamin M. Johnson
Simulation Laboratory Specialist
Office: CCHS 336
Phone: 843-661-4697
bmjohnson@fmarion.edu
Benjamin runs the Sompong Kraikit Simulation Laboratory in FMU's School of Health Sciences. He helps faculty develop simulation activities, sets up the equipment, and programs the manikins that serve as the students' patients. He also has an active role in the school's telehealth education efforts, maintaining the equipment and training faculty and students on its operation.
When not working in the lab, Benjamin doubles as Campus Technology's representative for FMU's downtown buildings. In this capacity he has become familiar with a broad range of hardware and software systems, from standard office computers to professional audio and video, networking, and specialized medical equipment. If it has a power switch, he's probably done something with it.
Benjamin graduated from FMU with a BA in English and minors in mathematics and computer science. As a student he played bass guitar in the Music Industry Ensemble, and he continues to regularly attend their shows. Before assuming his current role he worked in the Nursing Department as their clinical coordinator.