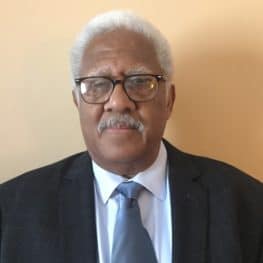 Ron Jones, Ph.D., CCC-A
Part Time Instructor-Speech-Language Pathology
Office: LMEC
Phone:
Ronald.Jones@fmarion.edu
After receiving his Bachelor of Science in Education Degree in 1971 and a Master of Arts degree in Audiology in 1973 from Northern Illinois University, DeKalb, IL, Mr. Jones began his multifaceted career as a field research audiologist with the Zenith Hearing Instrument Corporation, a division of the then Zenith Television Corporation in Chicago. He was recognized then as the first African American (Negro) hired at the corporate level in the hearing aid industry. He participated in product research and development, and conducted consumer research. He also provided educational and technical support to the company's hearing aid dispensers, and lectured on topics relating to hearing testing, hearing aid selection and fitting techniques, psychology of hearing impairment and rehabilitation counseling techniques. Mr. Jones, also published the company's two quarterly field survey journals, one directed to audiologists and physicians, and the other to hearing aid dispensers.
While in the doctoral program at the University of Cincinnati, Cincinnati, OH, (1974-1981), Mr. Jones worked as a clinical audiologist with the Cincinnati Center for Developmental Disorders and became a Communications Specialist with the Center's multidisciplinary assessment team, which developed innovative methods for assessing developmentally disabled infants and young children. He later became an educational audiologist with the Miami Valley Regional Center for Handicapped Children in Dayton, OH. That is also when he co-founded an industrial audiology company, Audiological Services, Inc.
In 1981, Mr. Jones received his Doctoral degree (Ph.D.) from the University of Cincinnati, Cincinnati, OH and he became an assistant professor of Audiology in the Department of Special Education at Old Dominion University, Norfolk, VA. Dr. Jones left academia, temporarily, to become the Co-Director of The Listening Ear, Hearing Healthcare Service, Inc., Richmond, Virginia and in the Bahamas. Between 1985 and 1994, Dr. Jones worked as a clinical audiologist for the Department of Veteran Affairs Medical Center, serving at the McGuire VA hospital in Richmond, Virginia, then at the Chicago Westside VA hospital, and the North Chicago VA hospital. He finished his career with the VA in 1994 at the VA hospital in Fort Howard, Maryland. He worked for a short period as a school audiologist with the Chicago Board of Education (1994-1996), while also teaching as an adjunct instructor in audiology at Rush University, Chicago, Il.
Dr. Jones returned to academia in 1996 where he became a Full Professor of Communications Sciences and Disorders in the College of Liberal Arts, and the College of Sciences and Technology at Norfolk State University, Norfolk, Virginia. He also served or as an adjunct instructor of audiology in the Communication Sciences and Disorders programs at James Madison University, Harrisonburg, VA; Hampton University, Hampton, VA; Elizabeth City State University, Elizabeth City, NC; Longwood University, Farmville, VA; and George Mason University, Fairfax, VA.
Dr. Jones retired from full-time teaching in 2016 but continues as an adjunct instructor for Communications at the Tidewater Community College, Norfolk, VA, and for the Department of Speech-Language Pathology at Francis Marion University, Florence, SC.
Dr. Jones is a long-standing member of the National Black Association for Speech, Language and Hearing, where served as Chairman of the Board of Directors between 2006 and 2008.