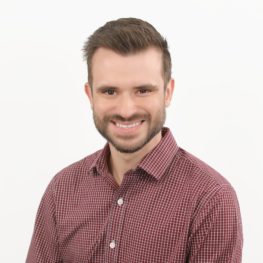 Dr. Matthew Hagler
Assistant Professor of Psychology
Office: CEMC 109D
Phone: 843-661-1574
Matthew.Hagler@FMarion.edu
Matthew Hagler completed his Bachelor of Arts in psychology and English from Sewanee, the University of the South, a year-long Fulbright student fellowship in Turkey, and his Master of Arts and Doctor of Philosophy in Clinical Psychology from the University of Massachusetts Boston. Dr. Hagler's graduate work was supported by a Graduate Research Fellowship from the National Science Foundation. Following graduate school, Dr. Hagler then completed two years of full-time clinical training as a predoctoral intern and postdoctoral associate at the Yale School of Medicine. He earned his South Carolina license in clinical psychology and joined the faculty at Francis Marion University in 2022.
Dr. Hagler's research investigates the antecedents, processes, and outcomes of intergenerational social support. Much of this work has focused on mentoring relationships between youth and non-parent adults – including formal relationships within organized youth programs (e.g., Big Brothers Big Sisters), as well as bonds that arise organically within families, schools, extracurricular activities, and communities. Dr. Hagler's work is highly interdisciplinary, integrating clinical, community, educational, and developmental psychology, using both quantitative and qualitative methods. Dr. Hagler maintains an active research group and encourages undergraduate and graduate students interested in gaining research experience to contact him about current opportunities.
Clinically, Dr. Hagler works with children, adolescents, young adults, and families from diverse, underserved backgrounds. He has a particular interest in supporting recovery from complex trauma and mitigating risk for developing serious mental illness (SMI). His theoretical orientation integrates cognitive-behavioral, mindfulness/acceptance-based, and relational-cultural approaches.
Selected/Recent Publications:
Hagler, M. A., Christensen, K., & Rhodes, J. E. (2021). A longitudinal investigation of first-generation college students' mentoring relationships during their transition to higher education. Journal of College Student Retention: Theory, Research & Practice. doi: 10.1177/15210251211022741
McQuillin, S. D., Hagler, M. A., Werntz, A. & Rhodes, J. E. (2021). A framework for integrating paraprofessional mentors into youth-serving services and institutions: Practical, ethical, and scientific considerations. American Journal of Community Psychology. doi: 10.1002/ajcp.12546
Christensen, K., Hagler, M., Stams, G. J., Raposa, E. B., Burton, S., & Rhodes, J. E. (2020). Non-specific versus targeted approaches to youth mentoring: A follow-up meta-analysis. Journal of Youth and Adolescence, 49, 959-972. doi: 10.1007/s10964-020-01233-x
Hagler, M., Zwiebach, L., Rhodes, J. E., & Rappaport, C. D. (2019). Mentoring interventions for children of incarcerated parents. In J. M. Eddy & J. Poehlmann-Tynan (eds.), Handbook on Children of Incarcerated Parents, Second Edition (pp. 205-217). Springer. doi: 10.1007/978-3-030-16707-3_14
Hagler, M., & Rhodes, J. E. (2018). The long-term impact of natural mentoring relationships: A counterfactual analysis. American Journal of Community Psychology, 62(1-2), 175-188. doi: 10.1002/ajcp.12265
Hagler, M. (2018). Processes of natural mentoring that promote underrepresented students' educational attainment: A theoretical model. American Journal of Community Psychology, 62(1-2), 150-162. doi: 10.1002/ajcp.12251