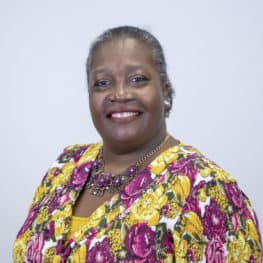 Michele L. Norman, Ph.D., CCC-SLP
Graduate Studies Coordinator
Associate Professor of Speech-Language Pathology
Office: LMEC 301
Phone: 843-661-1885
Michele.Norman@FMarion.edu
Dr. Michele L. Norman, Associate Professor, is the Graduate Studies Coordinator for the Master of Speech-Language Pathology Program in the School of Health Sciences at Francis Marion University. She is a Fellow of the American Speech-Language-Hearing Association who received her PhD from The University of Memphis, MS from the University of the District of Columbia, and BA from Rutgers University–Douglass College.
Dr. Norman has been a speech-language pathologist for over 30 years in a variety of settings. Clinically, she has served populations from birth to senescence providing services to children and adults with neurologically-based disorders that impact speech, language, communication, and swallowing. During her career, she was the Coordinator of the Intensive Review for Praxis Examination for Speech-Language Pathology for the National Black Association for Speech-Language and Hearing for 18 years and a special education teacher in the public-school setting for nearly 10 years serving children with learning disabilities and severe communication deficits. Later, Dr. Norman became research faculty in Communication Sciences and Disorders at Medical University of South Carolina, where she was also the Director of the Communication and Aging Research Lab. Then, she was a tenured, Associate Professor at Longwood University and the Communication Sciences and Disorders Undergraduate Program Coordinator.
She is a published author who has written articles on various topics and textbook chapters on the evaluation and treatment of persons with dementia and Reminiscence Therapy.
Areas of Expertise and/or Research:
Neurogenics, orofacial myology, and medical speech-language pathology and their relationships to communication and swallowing disorders across diverse cultures