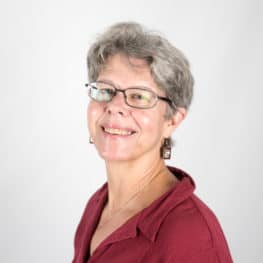 Dr. Pamela A. Rooks
Former English Faculty
PRooks@fmarion.edu
Dr. Pamela Rooks retired in 2020. She is a Professor of English, and the former Coordinator of Gender Studies Program.
Pamela Rooks has studied and taught in Canada, England, Nigeria, Michigan, Iowa, and Georgia before coming to Francis Marion University in 1989. In May, 1999, she was appointed as Director of the Honors Program. In January 2013, she transitioned into coordinating the Gender Studies Program. Her teaching and scholarly interests are in modern British and postcolonial (particularly African) literature, and in Gender Studies.
She has been married since 1979 to John, who teaches at Morris College in Sumter. They have two grown children, Elinor and Isaac, one with a doctorate in postcolonial African literature, the other with a doctorate in Film Studies. The two cats (Molly and Bella) complete the Rooks household.
Education
DPhil (PhD), University of York (United Kingdom)
BA, Carleton University (Canada)