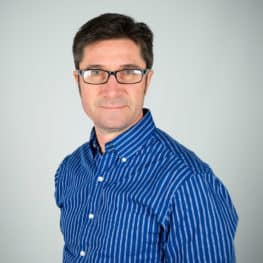 Dr. Jesse Sargent
Associate Professor of Psychology
Office: CEMC 109-C
Phone: 843-661-1634
jsargent@fmarion.edu
Jesse Sargent earned his B.A. from the University of Vermont in 1991 and his Ph.D. from George Washington University in 2009.  After a three year post-doctoral fellowship at Washington University in St. Louis, he joined the faculty at Francis Marion in the fall of 2012 as an Assistant Professor.
Dr. Sargent is an experimental cognitive psychologist who studies memory and the brain.  His focus is on spatial cognition.  He is interested in how humans organize and manipulate mental representations of the environment.  What are the neural mechanisms underlying the processes involved in encoding, storing and updating the location of objects, landmarks, reference directions, etc., relative to oneself and to the environment?
He is also interested in event segmentation: the process by which we break the continuous flow of experience into discrete temporal units, or events. In particular, he is interested in the relationship between how we organize representations of time and space in perception and memory. Because memory and navigation abilities often decline as we age, Dr. Sargent is studying differences in these abilities across the lifespan. Dr. Sargent teaches Learning & Cognition, Quantitative Methods, Cognitive Neuroscience and Introductory Psychology.
Students in Dr. Sargent's lab learn not only in how to absorb research literature, but also how to design and use research paradigms in order to address theoretical questions of interest. Students interested in gaining research experience in cognitive psychology are encouraged to talk with Dr. Sargent.
Research Interests
Spatial cognition and memory
Event segmentation
Cognitive aging
Selected Publications
Sargent, J., Bailey, H., & Zacks, J. (2014). Perceptual segmentation of naturalistic events: Methods and applications. In J. Szalma, M. Scerbo, R. Parasuraman, P. Hancock, & R. Hoffman (Eds.), Cambridge Handbook of Applied Perception Research. Cambridge, UK: Cambridge University Press.
Dopkins, S., Sargent, J. (2014). Analyzing distances in a frontal plane. Attention, Perception, & Psychophysics. 76(2), 420-37.
Sargent, J., Zacks, J. M., Hambrick, D. Z., Zacks, R. T., Kurby, C. A., Bailey, H. R., Eisenberg, M. L., & Beck, T. (2013). Event Segmentation uniquely predicts event memory. Cognition, 129, 241-255.
Sargent, J., Zacks, J., Philbeck, J., & Flores, S. (2013). Distraction shrinks space. Memory & Cognition. 41(5), 769-780.
Sargent, J., Dopkins, S., & Philbeck, J. (2011). Dynamic category structure in spatial memory.Psychonomic Bulletin & Review, 18, 1105-1112.
Sargent, J., Dopkins, S., Philbeck, J., & Chichka, D. (2010). Chunking in spatial memory. Journal of Experimental Psychology: Learning, Memory and Cognition, 36, 576-589.
Zacks, J., & Sargent, J. (2010). Event perception: A theory and its application to clinical neuroscience. Psychology of Learning and Motivation, 53, 253-299.
Dopkins, S.,  Sargent, J., Ngo, C. (2010). Superficial priming in episodic memory. Journal of Memory and Language, 63, 35-45.
Sargent, J., Dopkins, S., Philbeck, J. & Modarres, R. (2008). Spatial memory during progressive disorientation. Journal of Experimental Psychology: Learning, Memory and Cognition, 34, 602-615.