August 9, 2018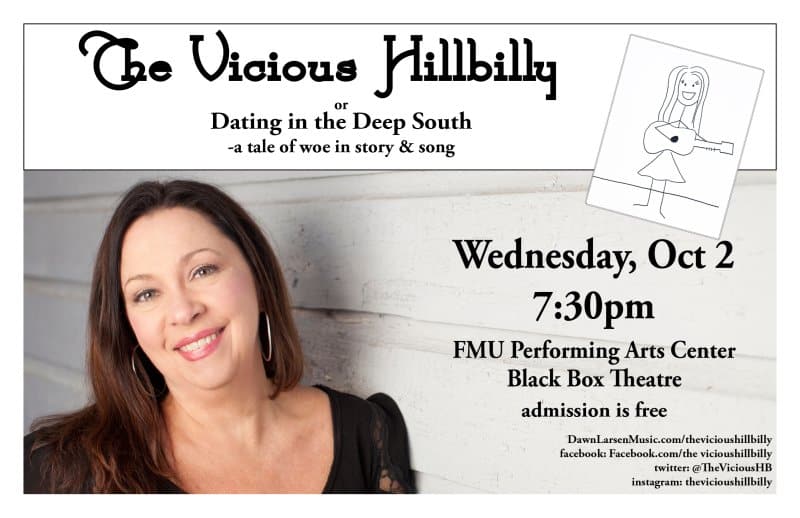 Fine Arts – Guest Artist Series – Dawn Larsen – The Vicious Hillbilly or Dating in the Deep South
When:
October 2, 2019 @ 7:30 pm – 8:45 pm
2019-10-02T19:30:00-04:00
2019-10-02T20:45:00-04:00
Where:
FMU Performing Arts Center
201 S Dargan St
Florence, SC 29506
USA

Contact:
Joe Sallenger
843.661.1385
"Larsen could be your closest friend, sitting in your kitchen, humming along to Patsy Cline and sipping moonshine from a teacup as she spins you a yarn about looking for love." – Cincinnati CityBeat
"An unapologetic tale of dating past the age that society often tells us that we can be seen as desirable — the author fiercely owns her sexuality and desire and knows her worth… Her singing and songwriting is exemplary. Engaging and entertaining." -Atlanta Fringe Fest
I want to invite you to my faculty show, The Vicious Hillbilly or Dating in the Deep South.  I have been touring various incarnations of this show in Atlanta, Nashville, Cincinnati, etc. and received a REAL grant to do that.  This will be it's last time in Florence, before I go to Nashville and Louisville. Admission is free. A bit irreverent, it's probably not a child-friendly show.
It's been called: A poignant comedy, the show combines original songs, stick figures, and the online dating journey of one progressive woman living in the deep South.  Ten lessons (and one bonus!) underscore her discovery of who she is, what she wants, and that love is her divine right.
No reservations, admission is free.