August 11, 2018
Fine Arts – University Theatre – Paula Vogel's The Oldest Profession Glen Gourley, director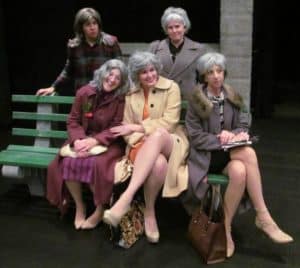 The Francis Marion University Theatre's winter production will be Paula Vogel's The Oldest Profession.
THE STORY:
As Ronald Reagan enters the White House, five aging practitioners of the oldest profession are faced with a diminishing clientele, increased competition for their niche market, and aching joints. With wit, compassion, and humor, they struggle to find and learn new tricks as they fight to stay in the Life.
"Captures Ms. Vogel's most essential gift as a playwright: an ability to find transfixing warmth and vitality in subjects often employed to titillate or repel…this venturesome dramatist provides a transforming theatrical wit, compassion and tolerance that keeps…theatregoers hooked." —NY Times.
CAST:
Vera – Dr. Dorie Weaver
Edna – Dr. Lindsey Banister
Lillian – Dr. Lorna Cintron-Gonzalez
Ursulla – Dr. Skye Lewis
Mae – Dr. Ruth Witmann-Price
NOTE: MATURE CONTENT, NO ONE UNDER 18 ADMITTED
RESERVATIONS: Reservations may only be made by calling the FMU Performing Arts Center Box Office at 843-661-4444 between 12:00 and 5:00 pm. $5 admission supports the Fine Arts Performing Arts Scholarships.