August 3, 2017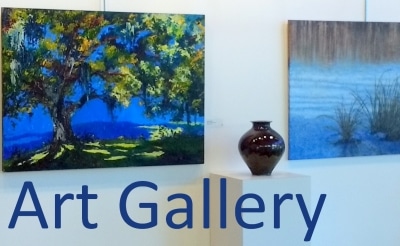 Gallery Series: Abstract Works by Colin McNaught; "Wonky Ground" Ceramics by Kelly King
Colin McNaught
Charleston, SC
Colin McNaught was born in 1952 in Glasgow, Scotland and attended Glasgow School of Art, studying drawing and painting from 1973-1977 where he first obtained a Bachelor of Art, then went on to complete a Post Graduate Master's Degree in 1978, receiving the Cargil Award to study mosaics in Greece.
On his return, he accepted the position of assistant Town Artist in the New Town of Livingston, a planned community built to ease the overcrowding in the nearby city of Glasgow. As assistant Town Artist, he painted murals and incorporated art in many recreation facilities and he was awarded the Saltire Award for Art in Architecture in 1979 for interior murals commissioned by the Bacofoil Laminating Company.
In 1980, with a partner, Colin opened a store in Glasgow "Flip Original American Clothing" selling new and vintage clothing imported from the USA. The store was the first of its kind in Scotland, and with its unique concept and design became a mecca for local musicians and young people looking for style and originality. Soon the business expanded throughout the rest of Scotland, England and Ireland and Colin started designing a successful range of his own brand "Flip" clothing.
Having sold the clothing business, Colin has lived for the past 12 years in Charleston SC, where he is producing abstract art on framed geometric-shaped Gator Board, using acrylic paints. His paintings are very colorful with both contrasts and complementary colors, with lines and shape creating a floating effect.
Kelly King
Greenville, SC
Kelly King received an MFA (Ceramics) from the University of Georgia. She makes and teaches both sculptural and functional ceramics.  Her hand-built ceramic objects often combine drawing, sculpture and the utilitarian form.
She has taught classes in Ceramics in both a college and community setting for over 15 years. She has led many workshops including the Potter's Council Series "Focus on Function" and her work has written about in publications such as Ceramics Monthly magazine.  She is currently the Ceramics instructor at the Fine Arts Center of Greenville, SC.
"My new body of work titled "Wonky Ground" is a series of objects and vessels that explore the ways that we arrange the natural landscape.  Typical aesthetic conventions such as lawns, curtains and architectural styles serve to visually unify the suburban landscape. These choices create meaning and they also influence how we relate to the world around us.  Walkways, doors, fences, and lawns can be placed to invite or to create barriers. Cracks can expose imperfections in a given structure or solidify its relationship to the movable but ever-present ground that is built upon.
"The malleable properties of clay easily assume the likeness of objects in the natural world –the material can be rigid and sound yet vulnerable to cracks and imperfections. Like bricks and mortar, clay comes from the earth and can be used to achieve structures that are built for symmetry and longevity.  Eventually the shifting forces of nature push against these structures, leaving an inevitable mark upon them.
"Constructed from a material that is enduring yet fragile, the sculptures in this series possess an underlying instability.   A thin skin is wrapped taut over a house's skeletal structure. Rigid constructions soften as they lean in to one another. With this tension I hope to make connections between the ways that we organize our surroundings and the human impulse to communicate with others."
October 3 – November 9, 2017
Monday-Friday, 8:30am- 5:00pm