August 3, 2017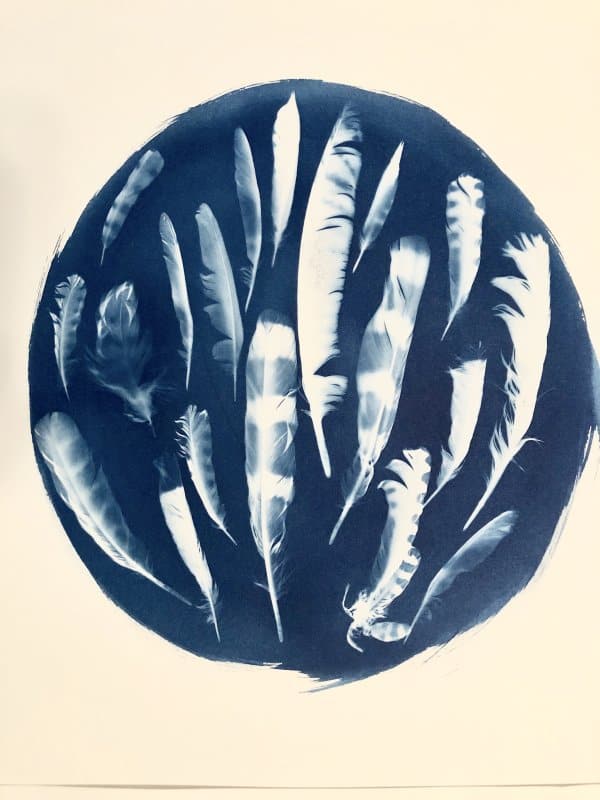 Gallery Series: "Stories from the Trail / Stories from the Sea" by Laurie Schorr; FMU Collects in 3D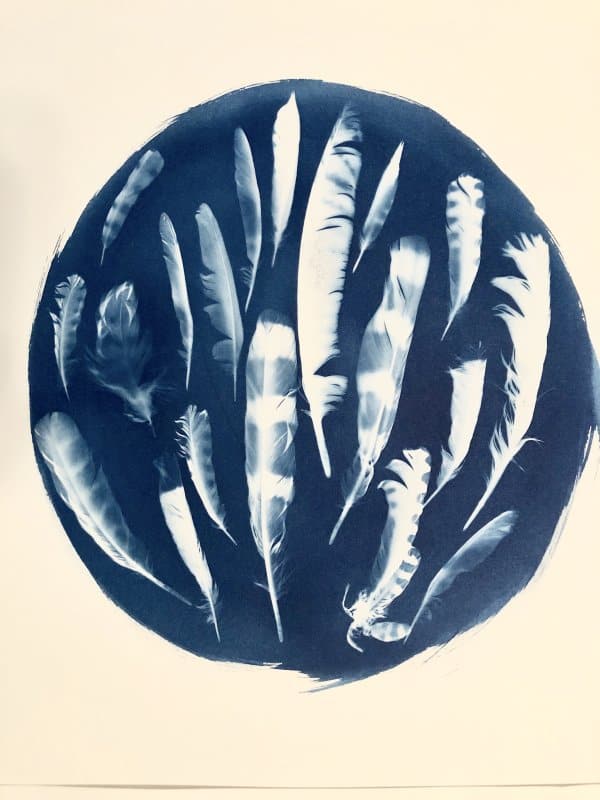 Laurie Schorr
Charlotte, North Carolina
"Stories from the Trail / Stories from the Sea spans nine years of work reflecting on my personal journey since moving to North Carolina. Stories from the Sea is a series of two chapters; the first chapter is a selection of mixed media pieces of tiny self portraits stitched onto magnolia leaves, and adhered to my father's ocean navigation maps. When I first moved to North Carolina, I was drawn to the leaves as they were strong, resilient, and to me looked like little boats. The second chapter is a series of photogravures of tiny found medicine bottles filled with maps and bits of the algae. Stories from the Trail is a series representing my love of trailrunning and a strange magical fortune of finding feathers along each trail. These images are a series of images of the trails, printed as palladium prints and cyanotype over inkjet prints, as well as cyanotypes of the found feathers."
Laurie Schorr grew up in New York surrounded by car parts and cuckoo clocks. From a very early age, she kept diaries and collected images with her camera and sketchbook. Laurie received a BA in Visual Arts and Art History from Roger Williams University and later earned an MA in Art and Art Education from Columbia University Teachers College. Laurie has been teaching photography through outreach and public school systems since 2003 and currently resides in North Carolina, where she works as Director of Education for The Light Factory and is a teaching artist at various schools, community centers, and after school programs.
Laurie has received numerous grants and awards for her photographic work including PhotoLucida Critical Mass top 200 in 2014, the North Carolina Regional Artist Project Grant in both 2014 and 2016, the Arts and Science Council Award in both 2012 and 2013, and Best Emerging Artist in Photography at the GLAAD OutAuction in NYC in 2009. Laurie's work has been exhibited Nationally and Internationally, most recently at the 2015 Chiang Mai Photo Festival in Chiang Mai, Thailand, the Castell Photography Gallery, Art Intersection, Lightbox Gallery, PhotoPlace Gallery and the AIR Gallery (NYC) and has been featured in Lenscratch Magazine.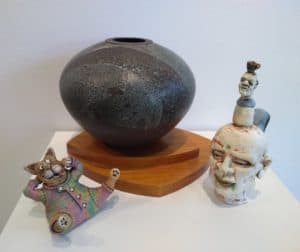 FMU Collects in 3D: Ceramic and Sculptural Works
Members of the Francis Marion University Community have provided a varied show of three-dimensional objects they have collected. Along with artworks from across the United States are works by noted South Carolina artists such as Robert Lyon, Peter Lenzo, Virginia Scotchie, Lawrence Jordan, David Halsey, Ryan Crabtree, Patz Fowle, Douglas Gray, and Tari and Sasha Federer.
It's always interesting to see just what floats whose boat!
August 20 – September 26, 2019
Monday-Friday, 8:30am- 5:00pm