October 21, 2020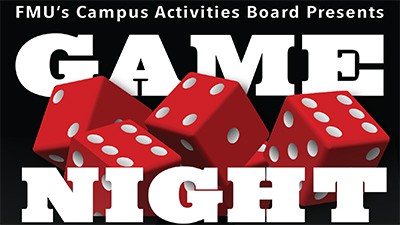 UC After Dark: Game Night Edition
When:
November 11, 2020 @ 4:00 pm – 6:00 pm
2020-11-11T16:00:00-05:00
2020-11-11T18:00:00-05:00
Contact:
Alex McGill-Brown
843-661-1667
Come out to FMU Game Night Gauntlet for a shot at the grand mystery prize!
Game night gauntlet will consist of a series of various games that will be played within a tournament style bracket that's composed of ten teams of three. These ten teams will battle it out to find the game night gauntlet champion.