December 2, 2019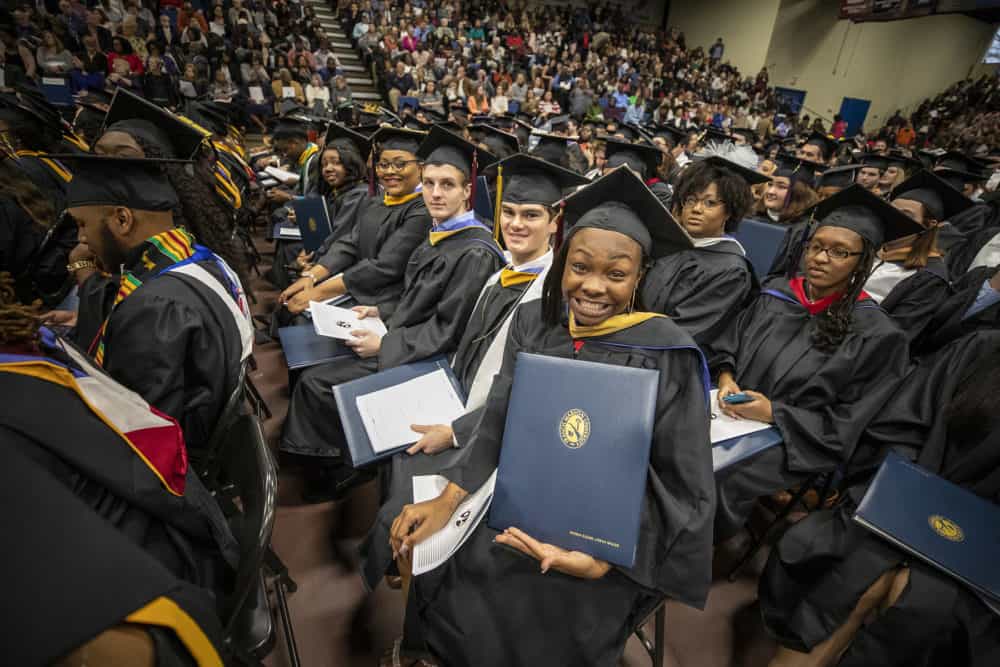 Commencement 101: Fall 2019
Tickets
Commencement tickets will be distributed by the Office of Student Life in the Smith University Center Room 205, beginning at 3:00 p.m. on Tuesday, December 10. Tickets will be available for pickup by graduating students through 5:00 p.m Friday, December 13. A limited number of tickets (7) will be provided to each participating graduate. Graduates must present their student ID  and complete a student exit survey to receive tickets. Questions about commencement tickets can be answered by the FMU Office of Student at 843-661-1182.
As always, these tickets are not for sale. These tickets will ensure access to seating inside the gym until 9:45 a.m. on graduation day. After 9:45 a.m. tickets will not be accepted. At 9:55 a.m., or earlier if all seats are taken, there will be no further seating of guests inside the gymnasium. Please ensure that all guests are inside the University Center gym by 9:45 a.m., not just in the parking lot or walking to the University Center.
If guests exit the gym prior to 9:45 a.m., a re-entry pass and ticket stub to re-enter. Please see a commencement marshal for a re-entry passes before exiting the gym. This applies only if exiting and re-entering before 9:45 a.m.  After 9:55 a.m., no entry is allowed into the gym.
Commencement Rehearsal
Commencement rehearsal will be held on Friday, December 13 beginning at 2:30 p.m. in the Smith University Center Gymnasium.  It is important that all degree candidates be present. It is assumed that those absent from the rehearsal will not participate in the Commencement exercises unless approval has been received from the Registrar prior to rehearsal. Please notify the Office of the Registrar immediately if you do not plan to participate in the rehearsal.
Commencement Ceremony (#FMUgrad19)
Hundreds of  graduate and undergraduate degrees will be conferred at FMU's Fall 2019 commencement ceremony.
Doors to the gym will open at 8:30 a.m. Commencement will begin at 10:00 a.m. on Saturday, December 14. Guests must be inside the gym by 9:45 a.m.
Should any guests miss the cut-off time or if gym seating fills up, there will be overflow seating with live streaming of the ceremony in the University Center Commons and Chapman Auditorium. The Commencement Exercises will also be televised live over cable channel 1301, which is received in the Florence and Darlington areas — as well as streamed live on our YouTube Channel.
The official tag for all social media is #FMUgrad19. Share your special moments with us!
Graduate's families, friends, and guests are also invited to attend a reception immediately following the Commencement ceremony, which will be held in tented areas on the lawn directly in front of the University Center.
---
Persons with Disabilities
FMU strives to ensure that its programs are accessible to individuals with disabilities and special needs. If you plan to attend the ceremony and require assistance in relation to a disability, please contact the Office of the Vice President for Administration (the ADA coordinator) at 843-661-1140. Office hours are Monday thru Friday from 8:30 a.m. – 5:00 p.m. Contact is preferable at least one week prior to the program.
Speaker & Honorary Degrees
Honorary degrees will be awarded to Dr. Cleveland Sellers, Jr., a civil rights activist and former president of Voorhees College; retired educator Marilyn K. Chapman; and well-known auctioneer Bill Yonce, a fixture at FMU athletic events for years.
Sellers will serve as the commencement's keynote speaker.
Ceremony Rules & Etiquette
To ensure that those in attendance enjoy the ceremony and to maintain the dignity and decorum of this occasion, please observe the following requests:
Turn off all cell phones and pagers.
No artificial noise makers, no banners, and no balloons.
No saving of seats.
No entry into the gym after 9:55 a.m.  No entry into the gym during the ceremony.
If you must exit the gym during the ceremony, you will not be allowed to re-enter until the ceremony concludes.
During the presentation of individual degrees, please hold all applause until all graduates have been recognized.
Remain seated during the Recessional until the platform party, the faculty, and all graduates have exited the gym.
After the ceremony, the stage will be available for you to take photographs of your graduate.
Parking
To provide family and guests with adequate parking near the Smith University Center, it is suggested that graduates plan to use parking lot D. This will allow family and guests to use parking lots A, B, and C. All lots are accessible from Francis Marion Road and Alumni Drive. The appropriate parking lots are indicated on the map below.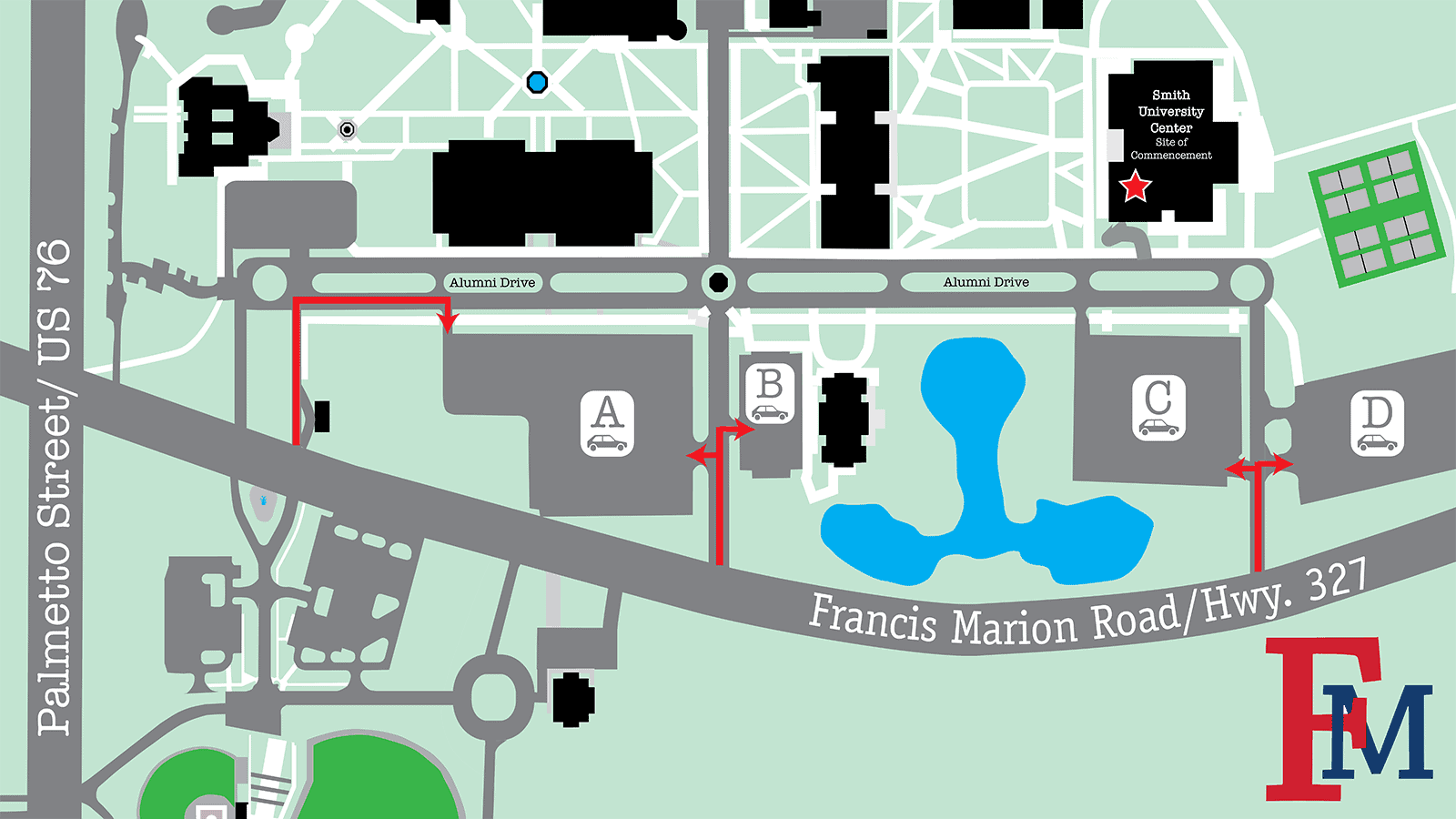 Media
Members of the media wishing to cover the event should contact the Francis Marion University Office of Communications to obtain media credentials atleast one business day before the Commencement ceremony. This event will require official FMU Communications credentials for entry into the commencement area.