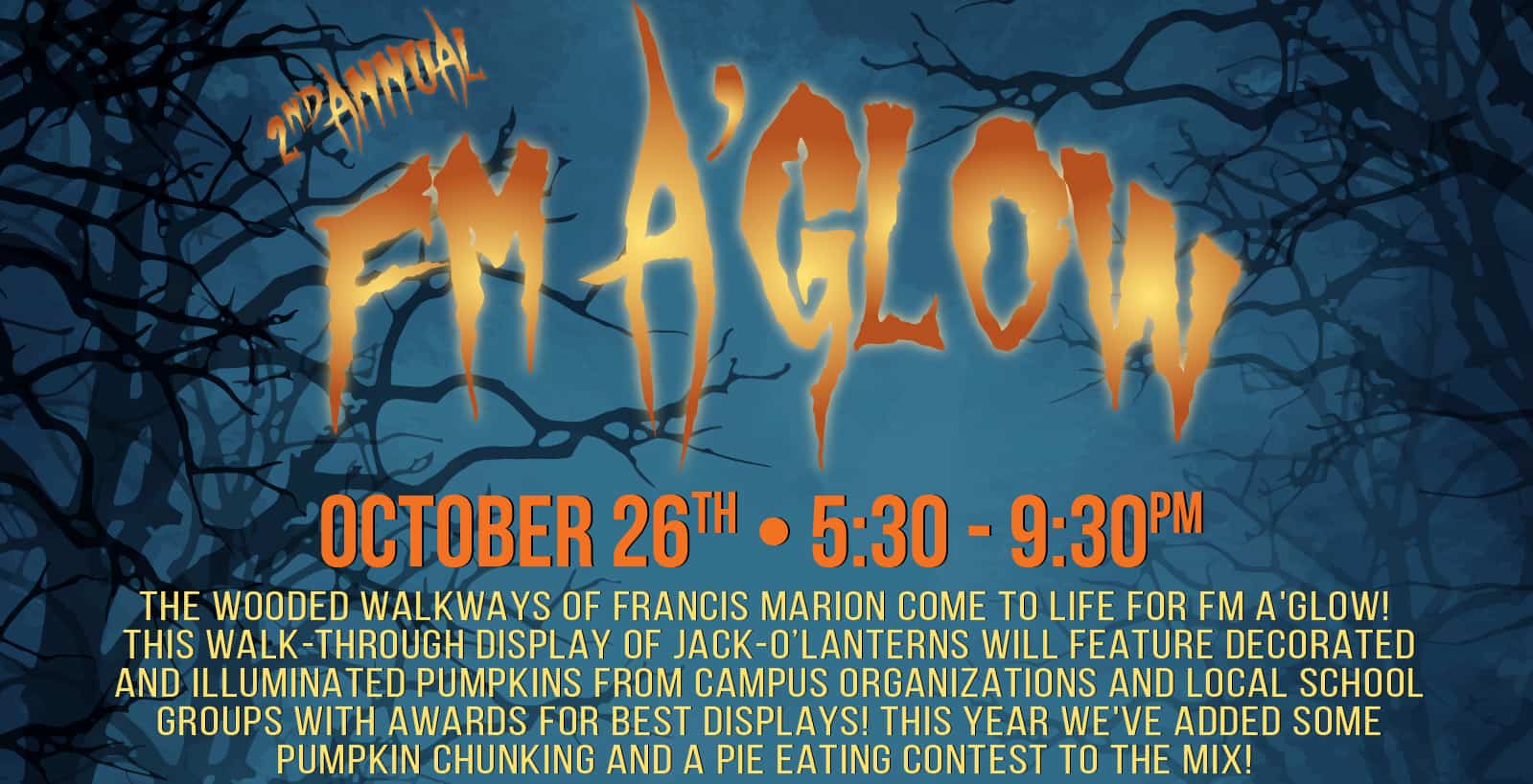 FM A'Glow
The 2nd annual FM A'Glow Festival promises displays of genius, creativity, and all-around talent. Walk the lighted path, grab some candy, showcase your costume skills. This fun event is free and open to the community! The event will have food, drink, trick-r-treating, games, face painting and more for all ages.
To register for pumpkin carving/decorating, the pie eating contest, or the "punkin' chunkin" trebuchet contest, visit the registration area at the bottom of this webpage.
Glow Run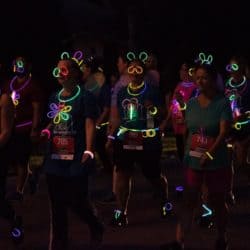 The FM A'glow Glow Run begins at 7:30 p.m. This darkened run around FMU's campus will have you "glowing" with pride. The run is sponsored by the FMU Swim Club.
FM A'glow Map and Trail
The pumpkin sightings begin on a lighted walking loop  at the back of Parking Lot H (near The Grille) on the FMU Main Campus. From there the path continues to Ervin Dinning Hall, then to the right along the sidewalk to the backside of Watson and Snow Island Resident Halls, then right again to follow the walkway and loop back to the beginning. Click map to enlarge.
Additional Information
Black crape and Hay Bales will be provided at the sites. Electric LED Tea Lights will be used for Pumpkin lighting. These will be provided. All "Sites" need to be set-up and A'GLOW by 5 p.m. on the night of the event.  Teams may begin work on their site as soon as they are assigned a site number.  Luminary bags will be placed along the walkways. Lighting/light effects will be placed in the trees and woods. All decorations need to be weather proof. It is the responsibility of the organization to clean their site after the event is over.

Information as to Pumpkin Distribution will be sent to registered groups as to where and when they can pick-up their free pumpkins.  Please make sure you group provides a reliable e-mail contact address.
All Registered FMU Student Groups can request up to 8 pumpkins at no cost.
Beyond the free pumpkins if your group desires more or different size pumpkins or other decorations for your site, you are free to purchase and develop their site as you see fit to compete for a variety of awards.
Trebuchet Contest Registration
Pie Eating Contest Registration