FM A'Glow
The 4th annual FM A'Glow promises displays of genius, creativity, and all-around talent. This year, instead of walking the lighted path you'll drive through! Come dressed in your Halloween best and enjoy the fun.
FMU Student Organizations and Individual entries will be competing to see who has the Scariest Display, Most Creative, and Best Overall Theme.
This year we're bringing back the Pumpkin Chuckin Competition, an event where groups design their own trebuchet to launch pumpkins into the air! Guidelines are included below.
This fun event is free and open to the FMU community.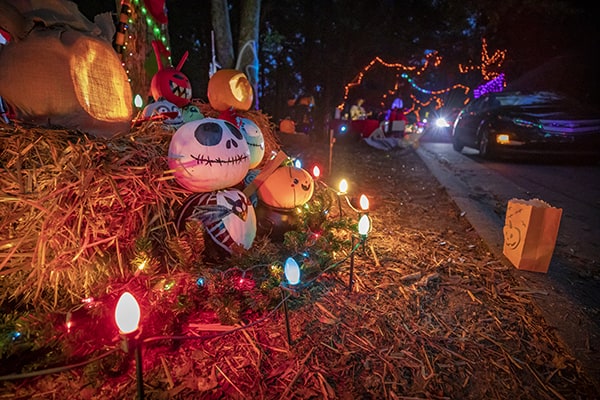 Pumpkin Carving: Helpful Information for Participating Student Groups
Pumpkin Distribution & Carving
All FMU Student Groups can request up to 8 free Pumpkins.  Beyond that or if they wish for different size pumpkins or other decorations for their site, they are free to purchase and develop their site as they see fit.
To receive Free Pumpkins, all student groups and individuals must be registered. Please complete registration below.

We will hold pumpkin carving events down at the UC on the Wednesday 10/27 and Friday 10/29 from 4 to 8pm both nights before that Saturday. You can use our carving kits, stencils etc. and we will store the pumpkins down here until Saturday. Student organizations may pickup their pumpkins are carve them else where if they like.
Site Setup 
Hay Bales will be provided at the sites. Electric LED Tea Lights will be provided to be used for Pumpkin lighting. Groups may build or add any items additional special effects that you wish. Students are encouraged to wear costumes and be in their site during the drive-through. If you have questions, reach out to Student Life.
All "Sites" need to be set-up and A'GLOW by 5 p.m. on the night of the event. Student Organizations are asked to setup on Saturday. Setup is open from 1pm-4:30pm. All "Sites" need to be set-up and A'GLOW by 5 p.m.
Groups may begin work on their site as soon as they are assigned a site number. You can receive your site number before Saturday morning.
Lighting/light effects will be placed in the trees and woods. All decorations need to be weather proof. It is the responsibility of the organization to clean their site after the event is over at 10pm.
Awards will be given out in various categories for both group and individuals participating!
Up for grabs this year: Scariest Site, Most Creative Theme, Most Creative Pumpkin, Best Group Costumes, Best Individual Costume, Best Group Performance, Judge's Choice Award, King of Pulp & Queen of Pulp!
Pumpkin Chucking: Helpful Information for Participants
Team Requirements
Teams may be of any number (the more the merrier). All Teams must be officially registered by Wednesday, October 20, 2021.
Teams are encouraged to vie for the Team Spirit Award, coming out in costume to go along with the Theme of their entry.
All members of the chucking team must sign waivers and/or release forms in order to participate.
Only (1) one designated "Team Captain" can fire the machine.
All Teams must ensure that the area (firing line and down range) has been cleaned prior to departure. All Trebuchets/catapults must be removed from the site following the competition.
Awards
Oh my Gourd! Award for distance: Longest shot during the distance competition
Next of Pumpkin (close relative) Award for accuracy: The closest shot to the target during the accuracy competition
The Most Team Spirit Award: Judges' choice based on Teams' support of their entries' Theme
Rules and additional information available here
FM A'Glow Route
Drive into campus for a unique experience! FM A'Glow is flipping this year to accommodate COVID regulations. Roll the windows down and take in the sights as you drive through FMU's campus. Each student organization has crafted a unique scene with pumpkins!