November 15, 2018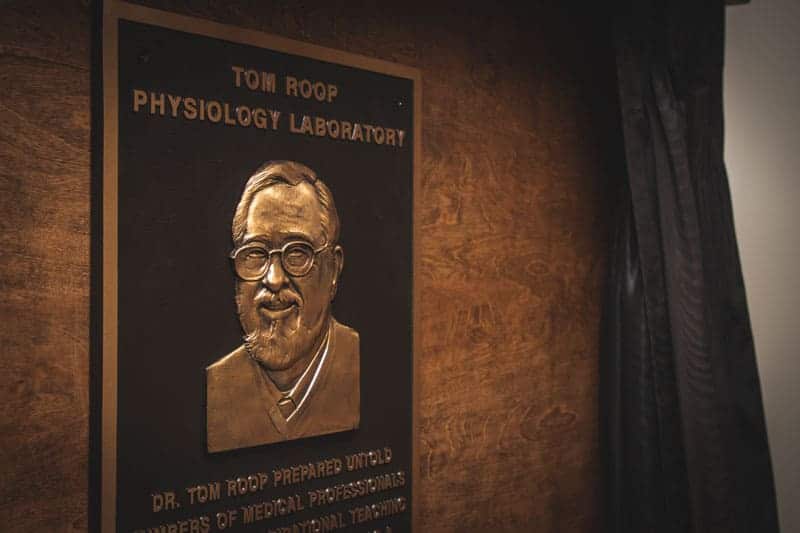 FMU dedicates Tom Roop Physiology Lab
Dr. Tom Roop was a professor of biology at Francis Marion University for more than 30 years, a mentor to hundreds of students, and one of the University's biggest boosters.
The University recognized that enduring legacy Thursday when it dedicated the Tom Roop Physiology Lab in the Leatherman Science Facility.
Francis Marion University President Dr. Fred Carter recalled the instrumental role Roop played in training many of the practicing physicians throughout the state.
"Tom's legacy is to be found across the state," Carter said. "There are dozens of physicians that came to the true realization that becoming a physician was achievable because of the instruction, encouragement, advisement, support, and motivation that Tom lent every one of them."  
Roop, who was at FMU from 1972-2004, was best known for his close relationship with his students and his unrelenting advocacy of FMU, especially for the University's pre-med and pre-health sciences programs. Roop helped establish FMU as a serious destination for students interested in a career in medicine and was a one-man public relations campaign in Florence and beyond. Nothing made him happier than to see yet another former student accepted to a med school, where he or she invariably soared.
Roop was awarded FMU's Distinguished Professor Award in 1980, and was named the J. L. Mason Professor of Health Sciences and Professor of Biology and Coordinator of Biology Pre-Professional Programs, an endowed position at FMU. He received the Helm's Award for the South Carolina Top Science Educator of the Year, was honored with the Service Award from the South Carolina Academy of Science in 2005, and was inducted into the Omicron Delta Kappa Leadership Honor Society.
Roop also worked with the South Carolina Academy of Science in many capacities and helped to found the South Carolina Governor's School of Math and Science.
Roop received his undergraduate degree from Denison University, his master's degree from Canisius and his Ph.D. from Florida State University.
Roop passed away in 2017.