February 5, 2020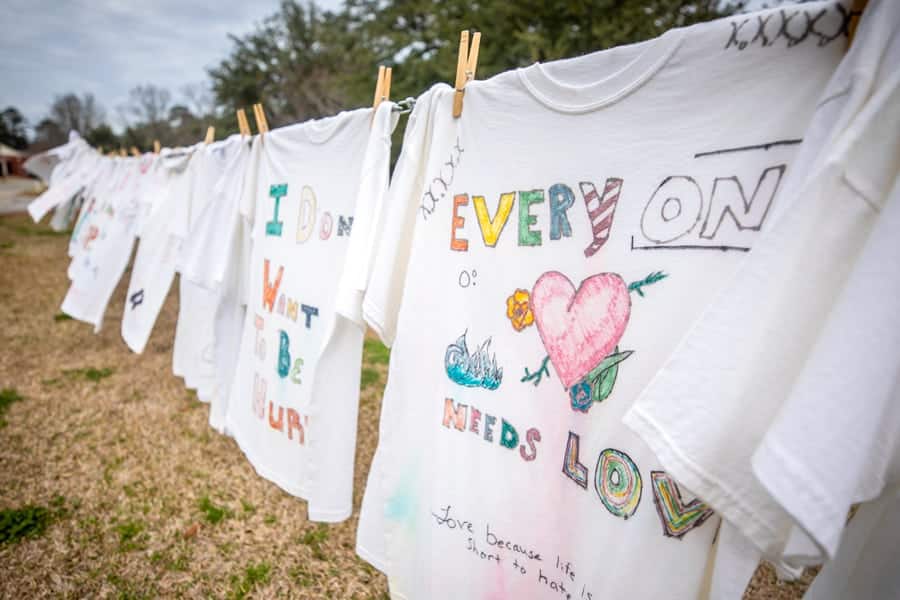 Francis Marion hosts G-Week activities
Francis Marion University will host its annual G-Week festivities Feb. 10 – 14 across the FMU campus. 
G-Week is a week-long celebration that promotes gender awareness and inclusion through a variety of events.
Beginning on Monday and lasting throughout the week, the venerable Clothesline Project will be displayed on the lawn behind Founders Hall on the University's campus. The clothesline is a place for those affected by violence to express their emotions by decorating a shirt. The decorated shirts are then hung on a clothesline to be viewed by others as testimony to ongoing issue of domestic violence.
Other events on the schedule include:
Generating Gender: An Evening of Sexy Improv will be held on Tuesday, Feb. 11 at 7:30 p.m. at the Kassab Recital Hall in the Hyman Fine Arts Center. 
"The Supper Table" is a traveling exhibit — and an actual supper table. The full-scale triangular-shaped table will be set with 12 distinct place settings representing the honorees. Those settings will be surrounded by displays bearing 120 tiles bearing the names of other great South Carolina women, living or deceased. The settings and the display will include artwork, essays and video of and about the honorees, produced by South Carolina artists.
The exhibit will be at University Place Gallery, at 142 N. Dargan Street in downtown Florence, from Feb. 9 through Feb. 19. A Place at the Table, a theatrical production related to the exhibition will also be performed on Feb. 12 at 8 p.m. at FMU's Kassab Recital Hall.
Both the theatrical performance and the exhibit are free and open to the public. University Place is open Tuesday-Thursday from 11 a.m. to 6 p.m., Friday from 11 a.m. to 7 p.m. and Saturday from 11 a.m. to 3 p.m.