April 18, 2019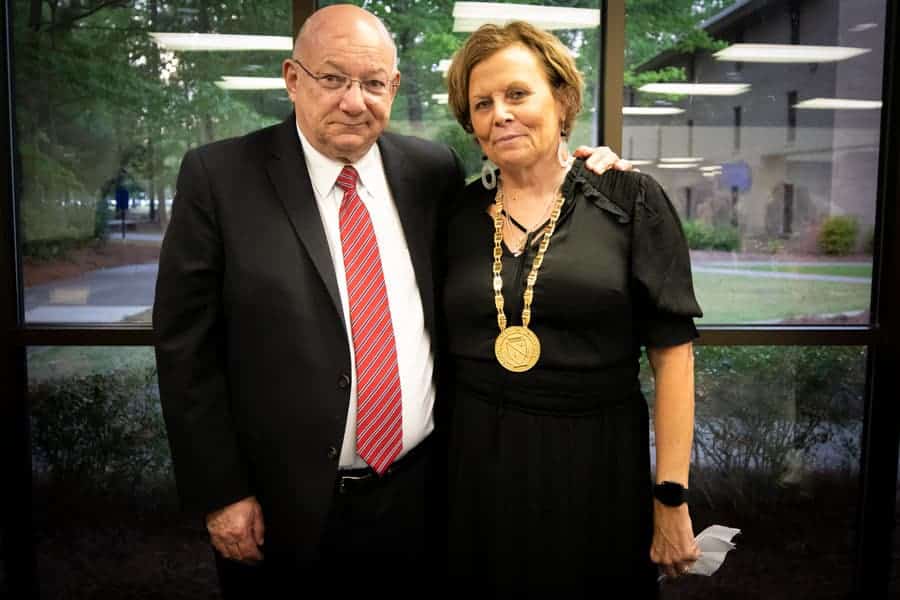 Francis Marion's Flannagan named distinguished professor for 2018-2019
Dr. Rebecca Flannagan, Chair of the Francis Marion University Department of English, was named FMU's J. Lorin Mason Distinguished Professor for the 2018-19 academic year at the school's faculty awards dinner Thursday night.
The annual award, named in honor of a former chairman of the FMU Board of Trustees, is the highest honor bestowed upon an FMU faculty member. It also means that Flannagan will be the FMU nominee for the South Carolina Governor's Professor of the Year Award competition.
The award will be formally presented at FMU's spring commencement ceremony on Saturday, May 4.
The Mason Distinguished Professor award is based upon a faculty member's ongoing contributions to teaching, professional service and scholarly activities.
Flannagan, the 44th recipient of the Mason award, said she was grateful for the recognition.
She told the assembled faculty Francis Marion University, it's faculty, staff, and students, have played a familial role over the past 24 years.
"Since I interviewed here, I've always thought this is a place that I need to be," she said. "Being married to (my husband, Roy), is my best choice I've made, but right up there is working at Francis Marion."
Flannagan joined the FMU faculty in 1995. Besides her skills as researcher, teacher and mentor, she's played an integral role in the University's faculty governance. She was FMU's Faculty Chair from 2012-2017 before being elected Chair of the Department of English. She currently chairs FMU's Title IX Council.
In 2004, she received the FMU Award for Excellence in Teaching, and in 2008, she was presented the Charlene Wages Shared Governance Award.
Flannagan holds a Bachelor of Arts Degree in History and English Education and a Master of Arts Degree in English from Western Kentucky University, along with a Ph.D. in American Literature from Southern Illinois University. Flannagan and her husband Roy have one son, Wickham.
Dr. Fred Carter, FMU's president, said Flannagan's commitment to the University community made her an obvious choice.
"Beckie Flannagan is a respected colleague and dear friend to all of us," Carter says. "No one works harder on behalf of the University; and no one is more deserving of this honor. All of us, the administration, the faculty and the students alike applaud this recognition."
The past winners of the J. Lorin Mason Award are:
Louis A. Hoff
1975-76
James R. Rinehart
1976-77
Lloyd Birch
1977-78
Joseph T. Stukes
1978-79
Tom Roop
1979-80
Roger W. Allen Jr.
1980-81
Duane P. Myers
1981-82
Marian Cusac Green
1982-83
Harlan G. Hawkins
1983-84
William H. Breazeale Jr.
1984-85
Julia E. Krebs
1985-86
Ronald L. Hall
1986-87
Lorraine de Montluzin
1987-88
Lynn D. Hendrick
1988-89
James H. Von Frank
1989-90
Robert R. Parham
1990-91
Jackson F. Lee Jr.
1991-92
Ben L. Kyer
1992-93
Eileen L. Kirley-Tallon
1993-94
David M. Peterson
1994-95
Donna H. Goodman
1995-96
Marjorie B. Pace
1996-97
Gary W. Hanson
1997-98
George E. Harding III
1998-99
Sethfield Smith
1999-00
Barry O'Brien
2000-01
Mary H. McNulty
2001-02
Kenneth D. Kitts
2002-03
Jesse J. "Mike" Jordan
2003-04
James T. Ramey Jr.
2004-05
Benjamin Woods
2005-06
Pamela A. Rooks
2006-07
Glen Gourley
2007-08
Larry E. Nelson
2008-09
Kenneth M. Autrey
2009-10
Derek W. Jokisch
2010-11
Christopher D. Johnson
2011-12
Kay Lawrimore Belanger
2012-13
Jon W. Tuttle
2013-14
Travis W. Knowles
2014-15
Jeanette Myers
2015-16
Keith Best
2016-17
Ruth Wittmann-Price
2017-18
Rebecca Flannagan
2018-19