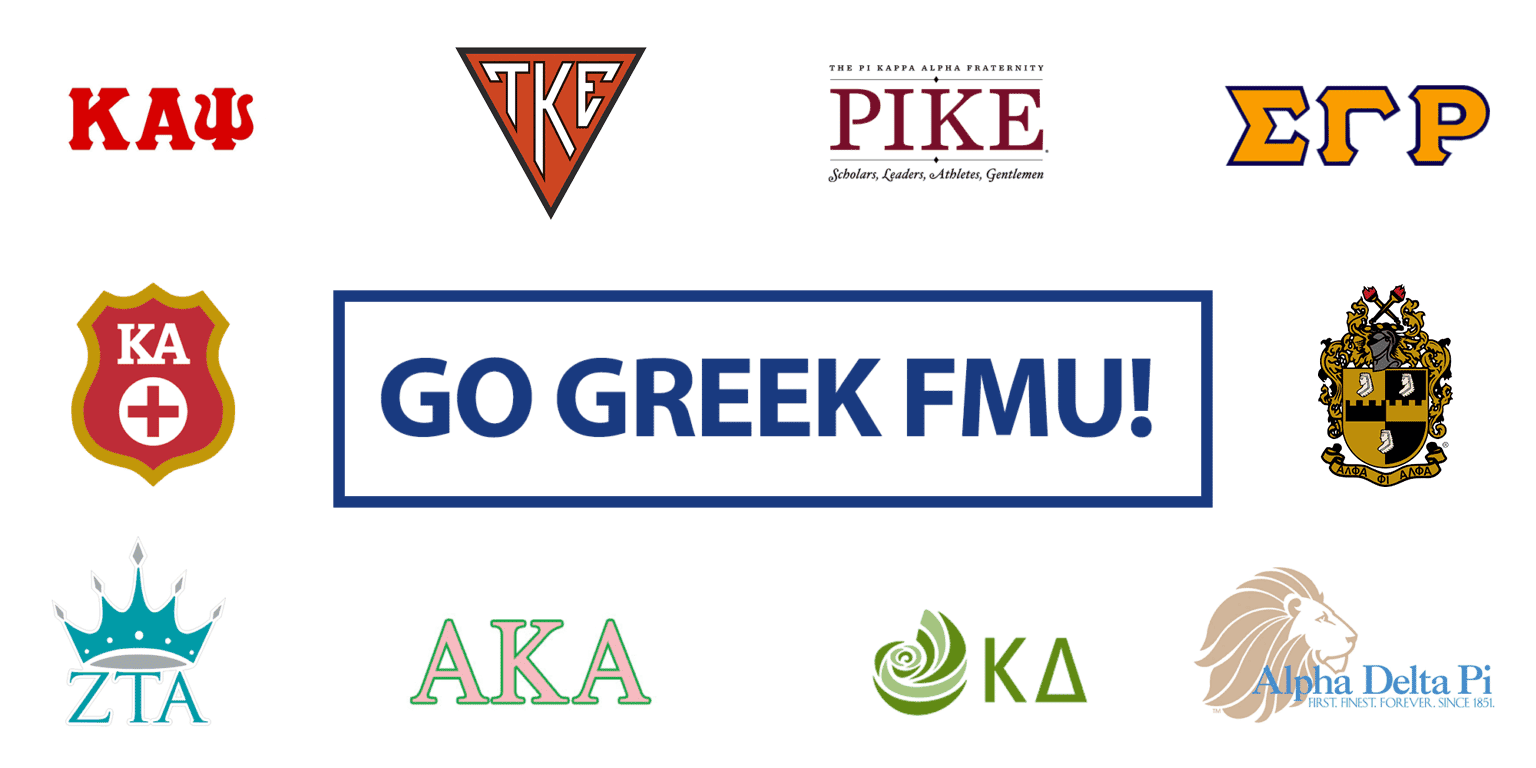 Fraternity and Sorority Life at FMU is committed to helping develop students as leaders and scholars while also promoting safety and accountability amongst their peers. Inherently, fraternities and sororities were created as values-based organizations. We strive to promote the core principles of membership in all aspects of life. These principles include Service, Scholarship, Friendship, Leadership, and Philanthropy. See what Greek Life at FMU is all about and find out how to get involved below!
Patriot Fraternity Council (PFC)
The Patriot Fraternity Council serves as the governing body for three chapters:  Kappa Alpha Order, Pi Kappa Alpha, and Tau Kappa Epsilon.  The represented fraternities participate in year-long recruitment initiatives, meaning they are able to extend a bid, or invitation to membership, to any man meeting the academic requirements at any time. The Patriot Fraternity Council holds an organized formal recruitment in September to allow interested men the opportunity to meet and get to know all organizations.
National Pan-Hellenic Council (NPHC)
The National Pan-Hellenic Council governs six of the nine National Pan-Hellenic Council fraternities and sororities. Membership intake is different for each NPHC organization. These organizations typically look for students that have at least 12 earned credit hours, maintain a certain GPA, and have completed service hours. Potential members should look for respective chapter informational meetings as a starting point to the intake process. Those who are interested are encouraged to research the history of each organization, visit their national website, and learn of their respective membership requirements.
National Panhellenic Conference (NPC)
Made up of 26 women's-only international member organizations, the National Panhellenic Conference is the world's largest umbrella organization specifically charged with advancing the sorority experience. Through its advocacy, NPC seeks to enlist nearly 5 million sorority women in its efforts to showcase the transformational power of the sorority experience. Members of NPC live their missions, with members providing millions of dollars in philanthropic support to dozens of worthy causes and pursuing millions of additional hours in community service.
Upcoming Formal Recruitment Events