ABET Accreditation Introduction
This page details the ABET policies and practices for the IE program at Francis Marion University. View more information on ABET 
here
.
ABET Status
The FMU Industrial Engineering program is accredited by the Engineering Accreditation Commission of ABET,
http://www.abet.org.
Performance Improvement Process
The Performance Improvement Process is driven by a schedule that involves IE Faculty participation and discussion every fall semester, advisory board participation and discussion every spring semester, and change/corrective action implementation (if deemed necessary) at the end of the academic year.  Student Outcome measurements and assessments are reviewed every year.  Program Educational Objectives are reviewed in year 2 of the 3-year improvement cycle.  The Student Outcome platform (course mappings, question bank, and measurement/assessment methodology), as well as the IE curriculum, are reviewed and assessed during year 3 of the cycle.
Program Educational Objectives
a. Obtain an advanced degree (e.g., MS, MBA, PhD) at an accredited institution.
b. Spearhead/lead a corporate project or research initiative (e.g., Six Sigma, facility acquisition/location).
c. Organize or significantly support structured community outreach/education efforts and activities.
d. Acquire skills/knowledge through certification in areas not on the IE degree plan.
Program Constituents
a. Industry/engineering professionals from the Pee Dee region in the areas of (but not limited to) manufacturing, energy, healthcare, and supply chain logistics.
b. Business operators/managers from the Pee Dee region.
c. Higher Education faculty, researchers, and/or instructors.
d. FMU IE Alumni (minimum 2 years work experience or advanced degree obtained post-FMU).
Student Outcome Measurement
The measurement of student outcomes is structured to ensure that no individual course or semester is unbalanced due to expected measures.  With the exception of the Senior Design class (ENGR 480), all courses that have been identified for Student Outcome measurement will focus on two or three outcomes.  With the exception of Outcome (d), all Student Outcomes are measured at least three times during the 4-year curriculum.  In addition, each outcome is measured once in beginning (Fall 1, Spring 1, Fall 2), middle (Spring 2, Fall 3, Spring 3) and end (Fall 4 and Spring 4) of the curriculum.
The measurement of Student Outcomes is evenly distributed amongst faculty members, courses, and semesters.  Additionally, and most significantly, the timeline of measurement enables the industrial engineering faculty to get a clear picture of the evolution of student outcome performance through the four-year curriculum.
IE Program Enrollment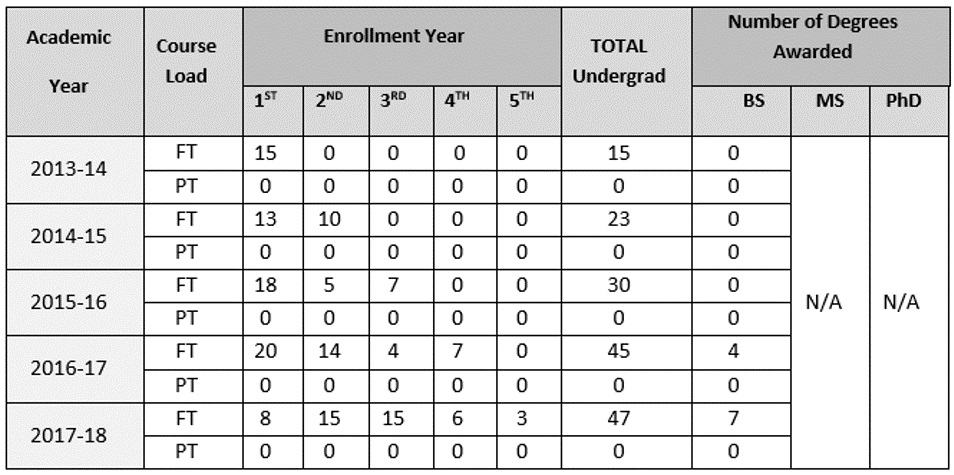 ABET Student Outcomes
a. an ability to apply knowledge of mathematics, science, and engineering
b. an ability to design and conduct experiments, as well as to analyze and interpret data
c. an ability to design a system, component, or process to meet desired needs within realistic constraints such as economic, environmental, social, political, ethical, health and safety, manufacturability, and sustainability
d. an ability to function on multidisciplinary teams
e. an ability to identify, formulate, and solve engineering problems
f. an understanding of professional and ethical responsibility
g. an ability to communicate effectively
h. the broad education necessary to understand the impact of engineering solutions in a global, economic, environmental, and societal context
i. a recognition of the need for, and an ability to engage in life-long learning
j. a knowledge of contemporary issues
k. an ability to use the techniques, skills, and modern engineering tools necessary for engineering practice.