February 21, 2020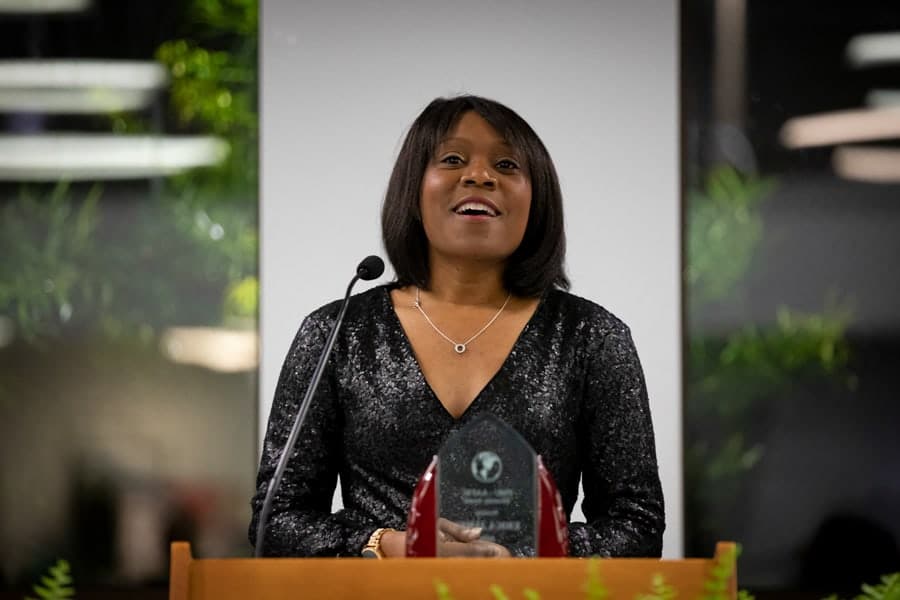 James receives FMU's AAFSC Diversity Award 
Dr. Erica James, assistant professor of Psychology at Francis Marion University, received the African-American Faculty & Staff Coalition's Diversity Award at the organization's annual 19th annual gala Thursday night on campus. 
The diversity award, given annually by the coalition, highlights the work of individuals who are dedicated to celebrating diversity and inclusiveness at FMU and beyond. Organizers noted James' commitment to encouraging inclusivity, especially within the FMU student body.
James is a native of Dothan, Ala., who joined the FMU faculty in 2015. She received her Bachelor of Science in Psychology from the College of Charleston, her Master of Science in Applied Psychology from Francis Marion University, and her Doctoral Internship at the University of South Carolina as a part of her Doctorate in Counseling Psychology from the University of Georgia.
The presentation of the award was one of many highlights from the event. The AAFSC also recognized 12 recipients of AAFSC-sponsored scholarships during the gala. Maggie Wallace Glover, the first African-American woman to serve as a South Carolina state senator, provided the event's keynote address.
Francis Marion University President Dr. Fred Carter announced the University would also begin the process of establishing a study abroad program with an institution on the African continent. The University plans to have the program in place by the spring of 2021. 
The 12 scholarships are provided with AAFSC fundraising, as well as support from Francis Marion. The AAFSC funds named scholarships for Dr. Freda Campbell Wilson, Dr. Joseph E. Heyward, Dr. Leroy "Pete" Peterson, Mrs. Rebecca Lunn, and Dr. Dorothy Harris.
Teresa McDuffie, FMU's network administrator, was also awarded the newly created Outstanding Service Award, which recognizes AAFSC members for their dedication to the coalition.
The AAFSC was founded at FMU in 1995 to stimulate and enhance cultural awareness, and to promote professional development and welfare among faculty, staff and students.
The organization's goals include increasing morale, and communication among members; creating an atmosphere of community for FMU African-American faculty, staff and students; serving as a liaison between the administrative personnel of FMU and the African-American faculty and staff; and examining the university's efforts in recruitment and retention of African-American faculty and staff.
Past winners of the AAFSC Diversity Award included Dr. Rebecca Lawson, Dr. Louis Venters, Ms. Angela Crosland, Dr. Rhonda Brogdon, Ms. Yvonne Davis, Mrs. Crystal Graham, Dr. Will Wattles, Dr. Jason Owens, Dr. Ruth Wittmann-Price, and Dr. Shayna Wrighten.