October 3, 2017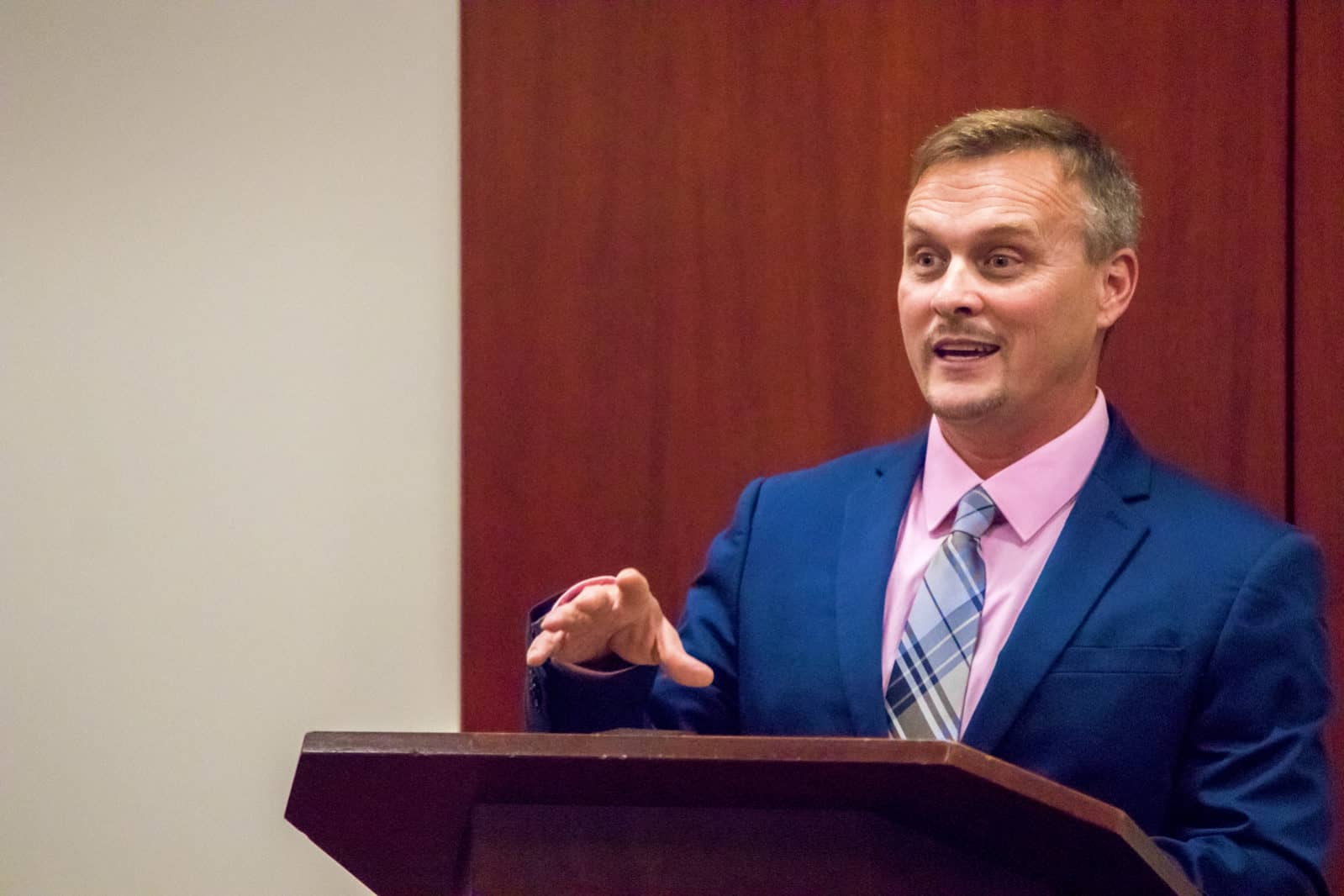 Pee Dee conservationist receives Francis Marion Biology alumni award
Frank Oliver, the chief executive officer at Wildlife Action, Inc. in Mullins was honored by the Francis Marion University Department of Biology tonight with the presentation of the Lawrence F. Swails Award.
Named after one of the Department of Biology original chairpersons, the Lawrence F. Swails Award has been presented annually since 2007 by the department to an outstanding alumni that has illustrated a high level of professional achievement, persisted in supporting their community and the University.
Oliver graduated from Francis Marion in 2001 with a degree in Biology, where he discovered his love for the outdoors could be fostered into a career.
That affinity for the wilderness has had quite the impact on the Pee Dee.
As the CEO of Wildlife Action, Inc. since 2014, Oliver oversees summer camps, which bring in nearly 3,000 children annually. The camps provide the attendees with a solid understanding of nature and the impact conservation can have at the local level.
A native of Dillon, Oliver's interest and kinship with the outdoors was nurtured along the banks of the Catawba River, where he would summer days during his childhood. Away from the amenities of the modern world, Oliver found himself at home with the unspoiled creation of nature.
As a student at Francis Marion, a conversation with Associate Professor of Biology Dr. Travis Knowles led Oliver to an understanding that the passion of his childhood could be formulated into a career.
"It wasn't until I came to FMU that I really began to get into what I wanted to do with my career," Oliver says. "(Knowles) said, 'If you want to be a biologist, go work with biologists.' That's what I did… At Francis Marion, the professors were there to help me."
Venturing out of the classroom, Oliver tagged along with professors on research missions in the field. After each assignment, his enjoyment of the subject and the exercises of Biology grew, eventually to the point that he knew that he would be involved in the field as a professional.
"I had people with real-life experience that were willing to take me out into the field," he says.