The Division of Student Affairs is located in the Smith University Center, Suite 205 and can be reached at 843-661-1182.
Documents and Services for Students
Documents
The following documents show the commitment of Student Affairs to the overall experience of Francis Marion students. Maintaining a just and safe learning environment for our students is one of the primary objectives of Student Affairs.
Services
Mediation Services
The Dean of Students Office offers mediation services for students needing assistance. Mediation is voluntary, confidential and aimed toward positive communication. Sessions are scheduled with each party and should last no longer than one hour. Matters requiring additional time will be referred to outside resources.
Conflict Management and Mediation training are also available to students interested in improving their skills. Information regarding dates and times for conflict management and mediation training are available in the Student Affairs Office at 843-661-1182.
Student Health Services
Student Health Services at FMU employs one full-time nurse practitioner. Student Health Services provides acute care, health and wellness programs, birth control, STD checks, and assistance with mental health issues for FMU students, staff, and faculty on an appointment basis. There are no fees to be seen, but fees are incurred if off-site laboratory testing or additional diagnostic tests are necessary. Students may be referred to another medical provider as needed. Students are responsible for all fees incurred from referrals and diagnostic testing.
Student Health Services works closely with the FMU Counseling Center to meet the various mental health needs of students. Student Health Services also offers a part-time nurse practitioner who specializes in women's health. She is available one afternoon a week. Please call 843-661-1844 to schedule an appointment to be seen.
Student Health Services works to enhance the educational process by utilizing every opportunity to promote lifelong health through review of social history, habits and health history, assist students to make informed health related decisions and become good consumers of health care.
Leadership Opportunities
Leadership, volunteerism and citizenship education are essential elements for success on campus and within our communities. Students at FMU have an opportunity to explore a variety of leadership opportunities.
Leadership FMU
     Leadership FMU is offered as a co-curricular hybrid (classroom and online) leadership program. Each student in the program agrees to meet with other students in a classroom setting to learn the basic concepts of leadership through case studies and engaging with other students, faculty, staff and community leaders. Graduates from the program have used their experiences in student government, honor societies and various student organizations on campus. 
     The program was featured in the University's Patriot Viewbook and described as a "movers and shakers" program. Graduates reported that their experiences have been beneficial as they pursue graduate school, embark on the job market or apply for other leadership opportunities on campus. You may apply to the program by clicking here.
Student Leadership Conference
     The Student Leadership Conference is an annual conference for students who have a commitment to taking advantage of the resources available at FMU. Student participants will attend sessions designed to assist in acquiring the essential skills necessary to become an outstanding leader. Click here for the application.
Leadership Case Study Competition

  
      This competition gives students an opportunity to work in teams and engage in an activity that demonstrates the ability to function at a higher level of productivity. Teams compete against other teams through case studies developed to test student leadership skills, presentation, teamwork and critical thinking. Click here for more information.
Student Affairs Advisory Committee
The Student Affairs Advisory Committee is advised by the Vice President for Student Affairs and is composed of a diverse group of students, faculty and staff committed to making positive change on campus. Students interested in participating with this committee may apply by clicking here.
FMU ARMY ROTC
Army Reserve Officer Training Corps (ROTC) is a coeducational program dedicated to developing college-educated men and women to serve in challenging positions of leadership, responsibility, and varied managerial positions both as officers in the U.S. Army and civilians in corporate America.
Walter Douglas Smith University Center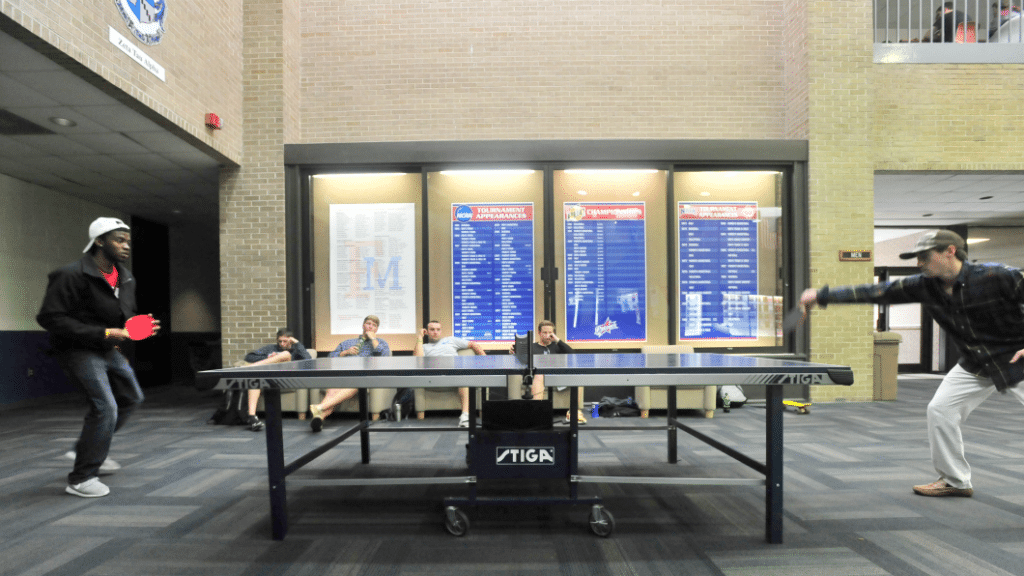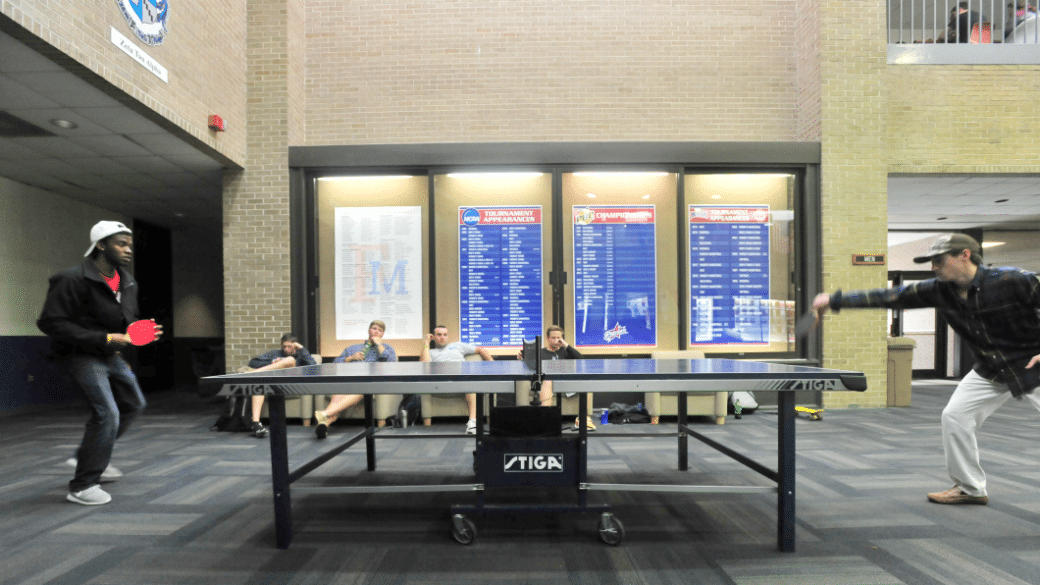 The Smith University Center (UC) serves several functions at FMU.
Recreational and athletic facilities located in the UC include a 3000-seat varsity gymnasium with two practice basketball courts, an eight-lane varsity swimming pool with three diving boards, a sauna, four handball/racquetball courts, men's and women's locker rooms, a canteen/game area with billiards and ping pong equipment, and a fitness room with free weights, exercise machines and cardiovascular equipment. Recreation equipment, including pool cues & balls, table tennis paddles & balls, racquets, footballs, basketballs, volleyballs & softball/baseball equipment, weight lifting belts, and other various equipment is available from the UC Information Desk located in the first floor commons area.
The University Center Commons serves as a lounge and recreational area for the University community on a daily basis. Throughout the year, numerous special events are held in the Commons and the UC lawn, including comedy shows, concerts, picnics, festivals, displays, and other activities.
Exterior athletic facilities include Cormell Field, a lighted baseball complex; Kassab Courts, eight tennis courts surfaced with plexipave, four of which are lighted; intramural fields; an all-weather track; a soccer field; and a softball field. The space is also surrounded by a cross country trail through the campus forest that doubles as a recreational walking/jogging space. In addition to the athletic space, a separate park area exists on campus with outdoor basketball goals, a sand volleyball court, and a recreational pool.
Offices located in the UC include Student Affairs, Athletics, Dean of Students, Student Life, Campus Recreation, Multicultural Affairs, Career Development, The Patriot Newspaper, University Programming Board, and Student Government Association. The Patriot Bookstore is located on the first floor of the UC.
Current students, faculty, staff, and members of the FMU Alumni Association may use the University Center or other campus recreation facilities with a valid FMU ID card. All guests must have a guest pass and be accompanied by a member of the University. Students, faculty, and staff can purchase guest passes for their guests from the Office of Student Life. Cost for a pass is $2.00 per guest. A guest pass is valid for only one day. Family passes, valid for one year, are also available for purchase by faculty, staff, and members of the FMU Alumni Association. Unauthorized persons may be considered trespassing.
Hours of Operation
Please note that these hours are subject to change.  Please call 843-661-1189 for the most up-to-date information.
---
Building Hours
Mon. – Thurs.  8 a.m. – 11 p.m.
Friday   8 a.m. – 10 p.m.
Saturday  10 a.m. – 9 p.m.
Sunday  1 p.m. – 9 p.m.
---
Indoor Swimming Pool/Sauna Hours
Mon. – Fri.  1 p.m. – 7 p.m.
Sat. and Sun.  1 p.m.  – 5 p.m.
MEET OUR STUDENT AFFAIRS STAFF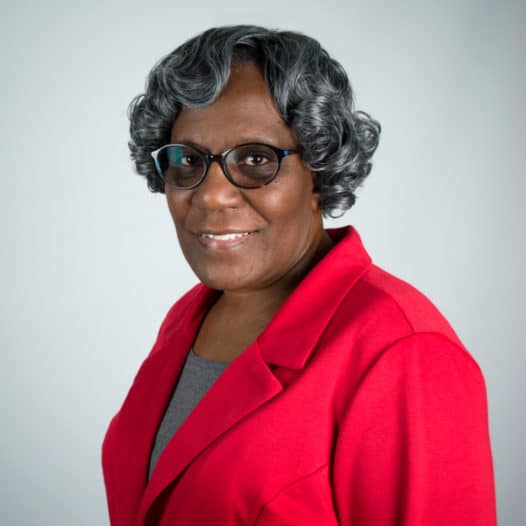 Senior Administrative Assistant - Student Life
Office: UC 205
Phone: 843-661-1182
bwoodbury@fmarion.edu