Vaccination Participation Drawing
As reported cases of COVID-19 continue to rise across South Carolina, Francis Marion University remains committed to providing a safe campus environment for its students, faculty, staff and visitors.
To further encourage students who have not already been vaccinated against COVID-19 to do so, FMU is holding a series of vaccination participation drawings, awarding $1,000 prizes to three students each week throughout the fall semester.
All vaccinated students are eligible to participate.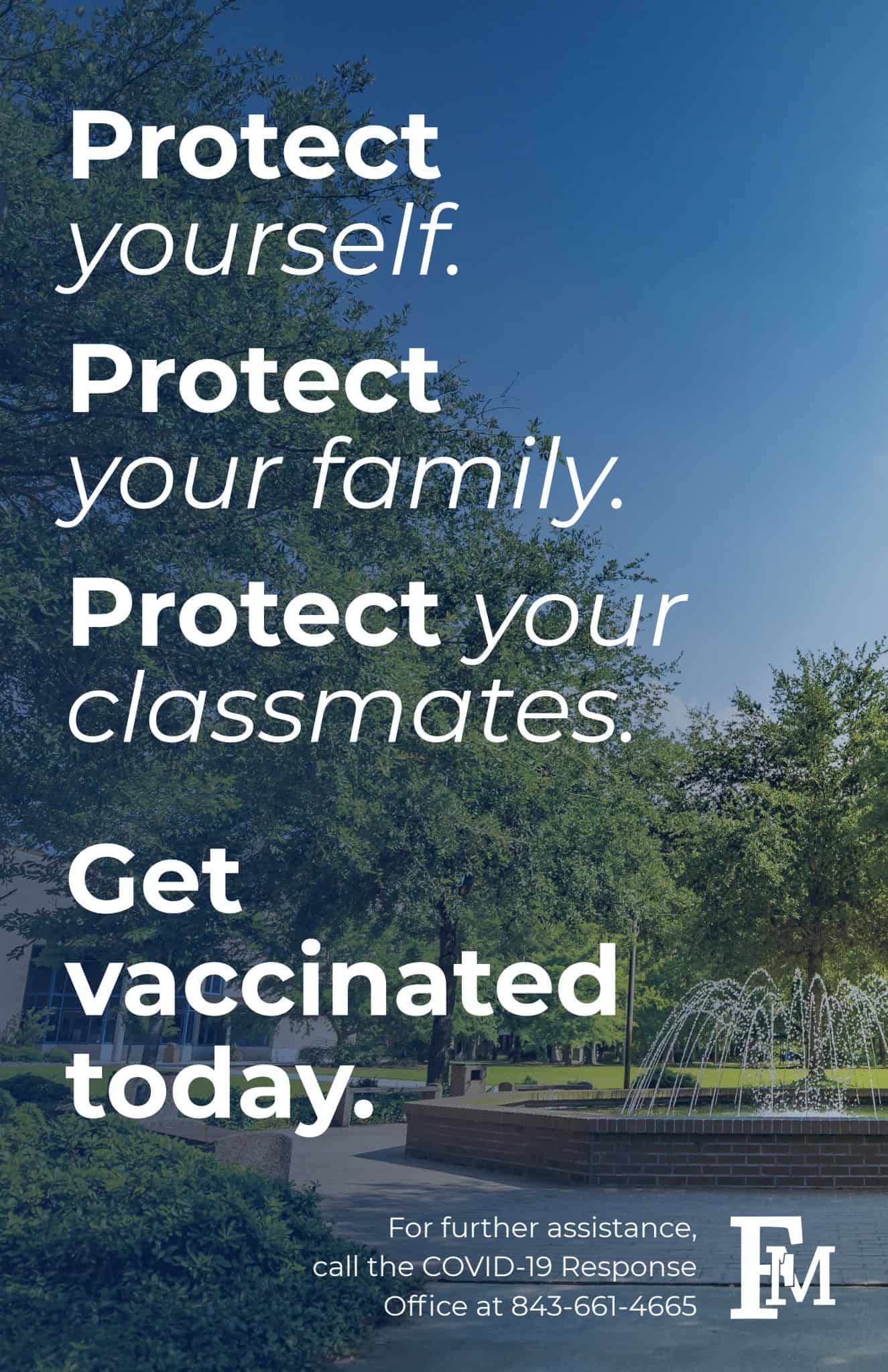 Francis Marion University Vaccination Participation Drawing
The purpose of this program is to increase awareness of the importance of receiving a vaccination for COVID-19 and to encourage members of the campus community to become vaccinated.  Students who have been vaccinated will be eligible to enter drawings for cash prizes as described below.
Three students per week will be selected randomly to receive a $1,000 from among those who voluntarily submit proof of vaccination to the Office of Student Life. Ten drawings will be held during the fall 2021 semester.
During weeks drawings are held, all students who voluntarily submit proof of vaccination by Friday at 12:00 noon will be eligible for the drawing held on the following Tuesday at noon. The winning students will be notified by email and the winners announced via social media with permission of the winning students.
Students may voluntarily submit a photograph of their vaccination card via the FMU webpage.  Students will remain eligible for subsequent drawings.  The winners will be selected via a random numbers generator.  Students may only enter once but are eligible to win multiple times.
No public funds – federal, state, or tuition – are used for the prizes. 
Submission and Drawing Dates
Submission Deadline — Drawing Date
Deadline to submit is Noon
September 3 — September 7
September 10 — September 14
September 17 — September 21
September 24 — September 28
October 1 — October 5
No Drawing – Fall Break
October 15 — October 19
October 22 — October 26
October 29 — November 2
November 5 — November 9
November 12 — November 16