AFRICAN AMERICAN FACULTY AND STAFF COALITION
Dr. Joseph E. Heyward, former provost, and Dr. Lee A. Vickers, former president of Francis Marion University, signed the charter agreement that established the FMU African American Faculty and Staff Coalition on February 24, 1995.
Our purpose is to stimulate and enhance cultural awareness, to promote professional development and welfare among faculty, staff and students. Our goals include increasing morale, and communication among members; to create an atmosphere of community for FMU African American faculty, staff and students; serve as a liaison between the administrative personnel of FMU and the African American faculty and staff; and to examine the university's efforts in recruitment and retention of African American faculty and staff because we play a vital role in contributing to the educational growth of minority students.
We feel that we have a responsibility to provide guidance, support and financial assistance to qualifying FMU African American students.
With the support and encouragement of President L. Fred Carter, the FMU Administration, our ardent members, and faithful supporters we are able to award four named scholarships. Given the assistance of generous donors we've been able to increase the number of our scholarships.
Our motto, "Together We Can" puts truth into action.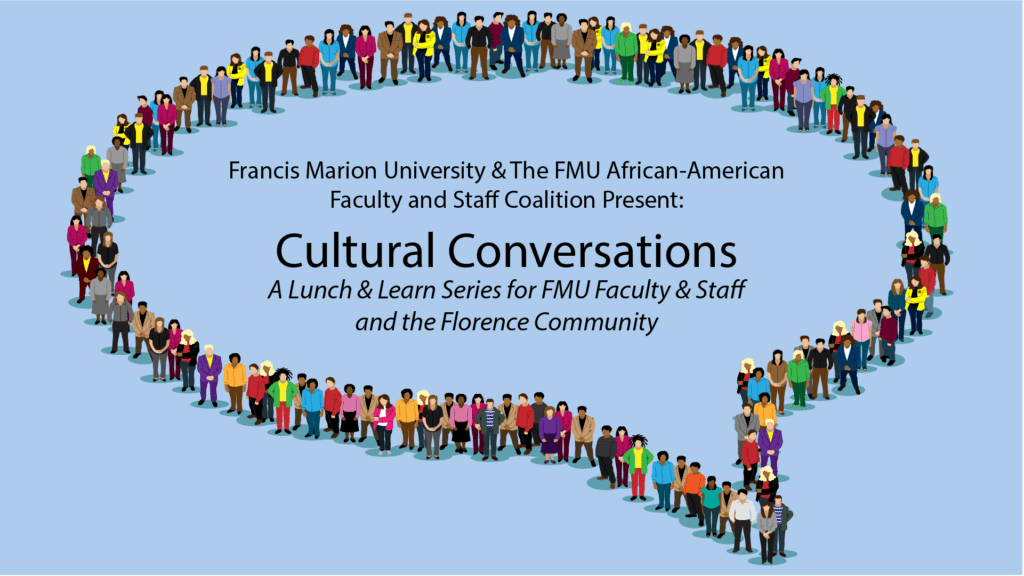 Conversation #1
Microaggressions vs. Macroaggressions
Why They Are Important
with Dr. Will Wattles
Friday, October 9th, 2020
Conversation #3
Native American Racial Injustices,
Issues and SES Disparities
with Dr. Kiley Molinari
Thursday, February 4th, 2021
Conversation #2
Changes in African American race relations in Florence
over-time and how to create an inclusive
environment for People of Color
with Dr. Joe Heyward, Dr. Erica James
and Dr. Antonio Cooper

Friday, November 6th, 2020
Conversation #4
Racial issues and injustices facing
the Hispanic & Asian American communities
and how we can work to be inclusive
with Dr. Todd Couch
Thursday, March 11th, 2021
Cultural Conversations will take place
at the FMU Performing Arts Center in Downtown Florence
Lunch will be served from 11:15am- Noon | Conversations are from Noon to 1:30pm
Each conversation will be 45 minutes for the presentation with 15-20 minutes reserved for a Q&A portion.
In an effort to maintain social distancing, each lunch & learn will be limited to 40 in-person attendees (reserved for FMU Faculty & Staff).
A virtual option is available for community members, and FMU faculty & staff who wish to attend online. The live stream link will be emailed out prior to each session. Please register below.
Continuing Education Credits
FMU is pleased to offer participants an opportunity to receive Continuing Education credits. Participants will receive 1.5 CEU's for each event.
Participants that attend all four events will receive 6 CEU's. Please select the CE option on the registration form.
Join us for the live stream on Thursday, March 11th at Noon.
Join the conversation, register today!
Cultural Conversations Resources & References
Interested in joining the Coalition?
The AAFSC is committed to the advancement of our organization through an increase in membership and the encouragement of participation among our current members. We invite you to join us because together, we can:
Educate all people about the rich culture, history, and accomplishments of African Americans.
Increase morale, fellowship, and communication among our members through special events, educational seminars, and professional development.
Initiate opportunities and special projects for African American students that will aid in their development as scholars and future leaders.
Commit to the advancement of undergraduate students through scholarship funds.
Annual membership dues are $15.00 and may be paid by check, cash or money order.  Please make payable to "FMU AAFSC"
Linda Sullen
President
lsullen@fmarion.edu
Alex McGill-Brown
Vice President
alex.mcgill@fmarion.edu
Bernadette Johnson
Secretary
bjohnson@fmarion.edu
Dennis Sullen
Treasurer
dsullen@fmarion.edu
Steven C. Sims
Parliamentarian
ssims@fmarion.edu