Virtual meetings with FMU Admissions Counselors
Admissions Counselors are available for virtual one-on-one meetings with prospective students and their families Monday through Friday during normal business hours. Please complete the reservation form below, or call us at 1-843-661-1231; toll free at 1-800-368-7551. Online meeting reservations must be submitted at least 1 business day before your desired date to ensure availability of an Admissions Counselor. An online meeting link from Zoom will be emailed to you prior to your scheduled meeting. We look forward to virtually meeting you soon!
Reserve a Meeting with an Admissions Counselor
More Ways to Visit
HOURS MAY  BE LIMITED DUE  COVID-19 RELATED CLOSURES. IN-PERSON TOURS ARE CURRENTLY LIMITED TO INDIVIDUALS.

Campus tours are available most weekdays throughout the year. If you can't find a pre-scheduled time that suits you, give us a call (843-661-1231), and we'll do our best to accommodate. We conduct tours for individual families and large groups, so feel free to bring a friend. Large group tours do require an appointment.
During your visit, you'll have the chance to meet with an admissions counselor and current students. Professors may be available, too. It's best to make that request when you make a reservation. That will help us find professors in the majors that most interest you.
Daily Tours:
HOURS MAY BE LIMITED DUE TO COVID-19 RELATED CLOSURES. IN-PERSON TOURS ARE CURRENTLY LIMITED TO INDIVIDUALS.
Tours will depart from the Admissions Office in the Stokes Administration Building. We recommend that you arrive 10 minutes prior to your scheduled tour time.
Throughout the semester, tours are offered at 9:30 a.m. and 2 p.m. Monday through Friday.
Student & Family Tours: Create a PatriotLink account and sign up for a campus tour via the "Visit FMU" tab on your dashboard.
Group Tours: CURRENTLY UNAVAILABLE
Tour Etiquette: Wear comfortable clothes and shoes for walking. Tours depart promptly from the Admissions Office (Suite 113) in the Stokes Administration Building. We advise guests to arrive 10 minutes before tour time to check in. Parking is available in any campus lot.
Special Accommodations: Please let us know if members of your group need any special accommodations during the tour prior to your arrival. We'll do our best to make sure access is available to everyone for the entire experience.
FMU STORIES
Some of the most incredible stories have started at Francis Marion University. Students from across the globe have shared about their experiences and how an education at FMU changed their lives!
Explore the stories of some current students and see what awaits you as a future patriot!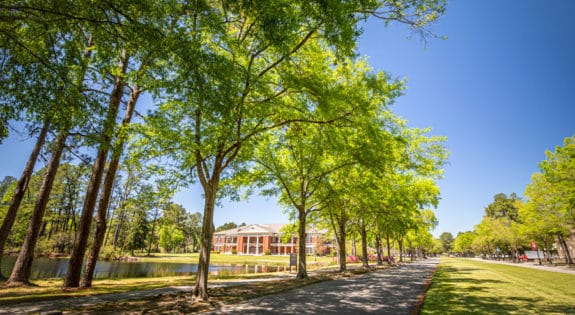 OUR CAMPUS
Francis Marion University's compact, walkable campus is set on 468 wooded acres in the heart of South Carolina's Pee Dee Region. It's an inviting, peaceful place that's just right for some serious studies and … some serious recreation. Some have said it is South Carolina's most beautiful college campus. We might have said that. We might be biased, but we think that's pretty close to the truth. No need to take our word for it. Come visit and see for yourself. Tours and Open Houses are available on a regular basis. While you're here to see what there is to see, ask some questions, talk to some students and maybe even chat with a professor or two. You'll have a good time, we promise!