OPEN HOUSE
Open House presents potential students and their families with a great opportunity to engage with University faculty and staff and enjoy the splendor of campus.
At Open House, attendees meet with professors, fellow students, and learn about Francis Marion University through one-on-one interactions with faculty and staff.
CAMPUS TOURS
Student & Family Tours Daily
The FMU Admissions office offers daily tour(s) Monday through Friday. Daily tours depart from the Admissions Office located in the Stokes Administration Building. (NOTE: Days and times will vary during the summer.)
During your visit, you will meet with an admissions counselor, interact with current students and possibly meet with a professor in your desired major. Please indicate on your registration form if you would like to meet with a professor so we can arrange the meeting.
Tour Etiquette
Wear comfortable clothes and shoes suited for walking. Tours depart promptly from the Admissions Office in the Stokes Administration Building (Suite 113). We advise guests to arrive 10 minutes before tour time to check in.
Parking is available in any campus lot, but Lot A is closest to the Admissions Office.
Special Accommodations
Please indicate on your registration form if special accommodations are necessary. We do our best to make sure access is available for everyone during your visit.
If you are unable to attend one of the regularly scheduled tour times, contact the admissions office at (843) 661-1231 and let us confirm a time to accommodate your schedule.
FMU STORIES
Some of the most incredible stories have started at Francis Marion University. Students from across the globe have shared about their experiences and how an education at FMU changed their lives!
Explore the stories of some current students and see what awaits you as a future patriot!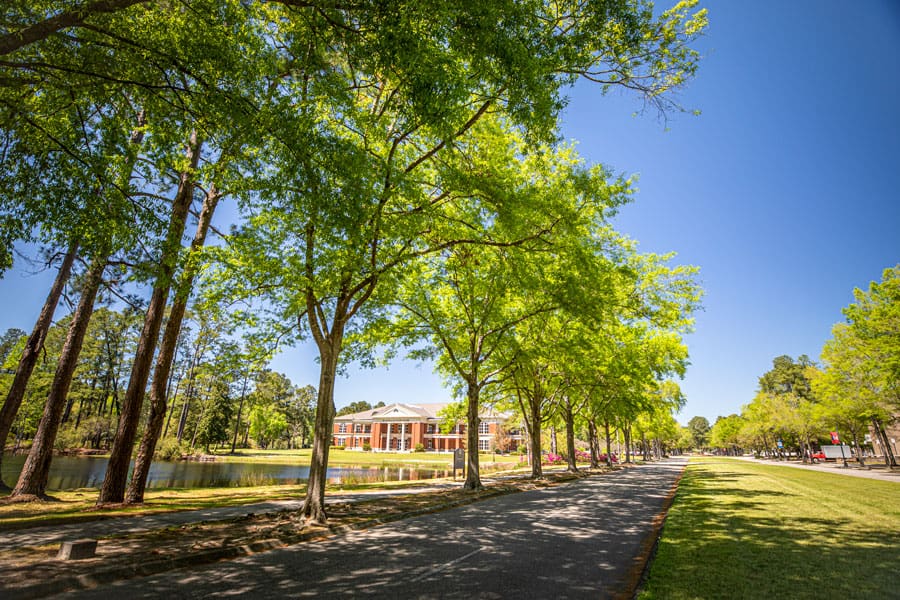 OUR CAMPUS
Francis Marion University's compact, walkable campus is set on 468 wooded acres in the heart of South Carolina's Pee Dee Region. It's an inviting, peaceful place that's just right for some serious studies and … some serious recreation. Some have said it is South Carolina's most beautiful college campus. We might have said that. We might be biased, but we think that's pretty close to the truth. No need to take our word for it. Come visit and see for yourself. Tours and Open Houses are available on a regular basis. While you're here to see what there is to see, ask some questions, talk to some students and maybe even chat with a professor or two. You'll have a good time, we promise!