Donor Scholarships
IMPORTANT: Students must turn in a scholarship application by March 1, in order to be considered for non-renewable scholarships.
This deadline applies to scholarships made directly from the University or from outside sources. Generally, full-time enrollment is required to receive a scholarship. Unless otherwise stated in a student's initial award letter, scholarships are non-renewable.
Academic Distinction Award
All accepted first-time freshmen for the fall semester are considered for merit-based scholarships.  Merit-based scholarships are awarded in three rounds, and vary in amount based upon the merit achievements of each student. To be minimally competitive, it is highly recommended that students have least a 3.0 cumulative GPA with an 1100 on the SAT or a 22 on the ACT.
Students who have scored at least an 1100 on the SAT or a 22 on the ACT will be automatically awarded a minimum of $1,000 in merit-based aid.
Deadlines
The first-round acceptance deadline is December 15.
The second-round acceptance deadline is February 15.
The third-round acceptance deadline is March 15.
To be eligible, you must:
Have a cumulative GPA of 3.0 or higher
Score 1160 or higher on the SAT (Evidence-Based Reading & Writing and Math) or score 24 or higher (composite)  on the ACT
Merit-based scholarships are renewable for 4 years by completing 30 semester hours a year and maintaining a 3.0 GPA.
Darla Moore Scholarship
The Darla Moore Scholarship is funded by a $5 million gift from the Darla Moore Foundation. Scholarships will cover tuition, room and board or school fees depending on the individual recipient's needs each semester.
The first group of Darla Moore Scholars will enroll at FMU starting in fall 2022.
Francis Marion University will begin accepting Darla Moore Scholarship nominations from high school counselors in January 2022. The scholarship will be available to incoming freshmen students who will be starting classes at Francis Marion in the fall of 2022. Only school counselors can recommend students for the scholarship, who will in turn contact the Office of Enrollment Management for final consideration.
To be eligible to become a Darla Moore Scholar, students must be South Carolina residents, enrolling in full-time undergraduate studies, and demonstrate a financial need based on FAFSA (Free Application for Federal Student Aid), with family income generally not exceeding $75,000. The scholarship is primarily, but not exclusively, geared toward students who will be the first in their family to attend college.
Recipients of the Darla Moore Scholarship must maintain a minimum 2.7 GPA and are required to live on campus.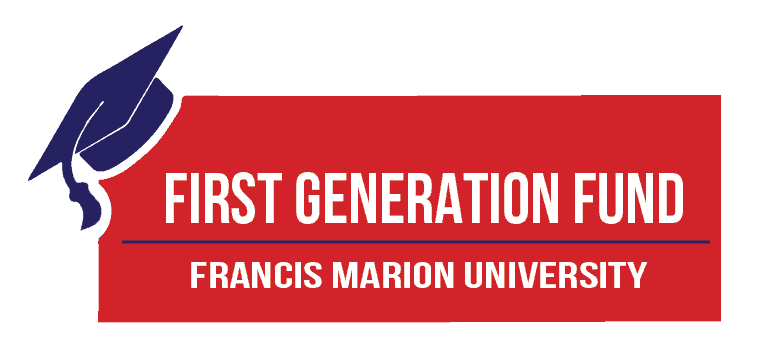 Francis Marion University's First Generation Fund is designed to help FMU students who are the first in their family to attend college. First Generation students represent a significant segment of the FMU community — more than 40 percent of the most recent freshman class — and also a significant challenge. But within that challenge lies great opportunity. Advancing the cause of first generation students offers the widest path to improving our community and our country. Informed donors like you can make a difference.
Visit our FirstGen webpage for more information.
Education Fellows
The Francis Marion Education Fellow scholarship is awarded based upon the recommendation of faculty and student on-campus interviews. The total amount of the Education Fellow Scholarship is $5,000.
This scholarship is given to a student who is a part of the Teacher Cadet program in S.C.; however, preference is given to a student who is a part of a Teacher Cadet program sponsored by FMU.
To be eligible, you must:
Have a cumulative GPA of 3.0 or higher
Have a score of 1160 or higher on the SAT (Evidence-Based Reading & Writing and Math) or 24 or higher composite score on the ACT
Be a part of a Teacher Cadet program in South Carolina
Freshmen Supplemental Scholarship
The new FMU Freshmen Supplemental Scholarship will make it possible for all freshmen who are South Carolina residents, and who have demonstrated financial need, to cover the cost of all tuition and academic fees during their first year at the University.
The supplemental scholarship will pay the difference between a student's first-year tuition and fees, and all grants or scholarships a student may receive, provided the student is eligible and receiving a full Pell Grant from the federal government.
Pell Grant status is determined by the Free Application for Federal Student Aid (FAFSA). The deadline for consideration is May 1, and students must have submitted FAFSA and be an accepted student.
Konduros
The Konduros Scholarship is among FMU's top academic scholarships. It is awarded based upon review of students' academic achievements by a selection committee. The total amount of the Konduros Scholarship is $5,000 per academic year and is renewable for 4 years.
To renew the Konduros Scholarship, students must complete at least 30 semester hours each academic year in addition to maintaining at least a 3.0 cumulative GPA. Konduros Scholars also have additional cultural/interdisciplinary experiences that are required to maintain the scholarship.
NOTE: There is no application for this scholarship.
To be eligible, you must:
Have a cumulative GPA of 3.0 or higher
Have a score of 1160 or higher on the SAT (Evidence-Based Reading & Writing and Math) or 24 or higher composite score on the ACT.
Robert E. McNair Scholarship
The McNair Scholarship is named for former S.C. Governor Robert E. McNair, who was instrumental in the founding of Francis Marion University in the late 1960s. McNair Scholars possess a strong interest in public service and pursuing a public service career. The selection process is competitive, and finalists for the award represent some of the most accomplished and extraordinary students that S.C. has to offer.
The McNair Scholarship covers a student's full tuition, housing, and a meal plan. It offers funding for a study abroad experience as well. McNair Scholars automatically become part of the FMU Honors program. The McNair scholarship application, including the required essays and two letters of recommendation, is due by Dec. 1. Finalist interviews and awards will be made in January.
Phi Theta Kappa
One renewable $1,000 scholarship is awarded per year to members of Phi Theta Kappa Honor Society who transfer to FMU. To be considered for this scholarship, you must be admitted to FMU and plan to enroll in Fall.
Students must have a 3.25 cumulative GPA at the institution where they are members of Phi Theta Kappa. The scholarship is renewable each year with the completion of 30 credit hours with a 3.0 GPA.
The priority deadline for this scholarship is June 1. Once the priority deadline has passed, all applications will be reviewed, and if awarded, students will be notified directly by the Office of Admissions.
If you have any questions about the transfer scholarship process, please speak to Evrik Gary at 843-661-1236 or email him at Evrik.Gary@fmarion.edu.
Admissions Scholarships
Scholarship opportunities range from $500 to full-time tuition, room and board. FMU awards academic merit and need based scholarship support each year. Eligible students can be a high school senior, incoming transfer student or returning student for the Fall 2023 term and must be accepted by FMU.
It is highly recommended that high school students maintain a minimum cumulative weighted high school GPA of 3.0 and rank in the top 40% of their graduating class. For transfer or returning students, a 3.0 college GPA is required.
Scholarships are awarded in rounds, with priority deadlines being December 1, February 1, and March 1. Academic scholarships are competitive, with class rank, cumulative weighted GPA, and SAT/ACT test scores strongly considered. Need-based scholarship support is based on federal need as indicated from the FAFSA review.
Students with strong academic profiles will be given preference for need-based scholarship support. Students needing additional funding or seeking an out-of-state waiver are encouraged to apply.
Applications received after March 1 with be awarded on a funds-available basis.
Questions? Contact Evrik Gary at 843-661-1236 or email him at Evrik.gary@fmarion.edu.
South Carolina Scholarships
Francis Marion takes pride in enrolling more than 1,200 students annually who benefit from South Carolina's Palmetto Fellows, LIFE, and HOPE scholarships. Individual students can work with guidance counselors at their schools to apply for the state grants, but FMU counselors can assist if needed.
Outside Scholarships
Students may apply for a variety of different outside scholarships. These scholarships are not connected to FMU but are processed through the accounting department to give credit to the student's account. Outside scholarships are added to the account as soon as the university receives the funds.
Scholarship search sites offer more than 8,000 scholarships, fellowships, grants, and other outside financial aid award opportunities. Your high school guidance counselor, church, parent's employers, and organizations in the community may also offer private scholarships.
Scholarship Search site recommendations include, but are not limited to:
Be aware of potential scams. Some warning signs include:
Paying a fee
Offering a money-back guarantee
Requiring bank/credit card information
Offering exclusive information
Donor-Supported Scholarships
Donors and supporters of Francis Marion University provide support for more than 150 named, specialty scholarships at FMU. These awarded scholarships are available to all students, although many have specialized qualifying criteria, such as a particular field of study or specific hometown or home county.
Awards vary, as do specific qualifications.
Find Scholarships
RECOMMENDED SERVICES
OTHER SERVICES