The Office of Institutional Research is devoted to obtaining empirical information to assist in the assessment of program effectiveness, research on institutional processes, development of strategic plans, and provision of a valid description of the characteristics of the University's students, faculty, financial status, staff and facilities. Efforts are being made to increase the quality of our data, its format, and its availability to faculty and staff.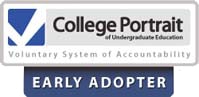 College Portrait provides basic, comparable information about student characteristics, costs, student experience and learning outcomes for 302 public four-year colleges and universities.
Why was the College Portrait Created?
College Portrait is a source of basic, comparable information about public colleges and institutions presented in a common, user-friendly format. It is designed to be a trustworthy source of reliable data for prospective students and their families.
Who is the intended audience for College Portrait?
The primary audience for College Portrait is prospective students and their families. Other secondary audiences include: governing board members, legislators, policy-makers, education researchers, and college and university faculty and staff.
How were the components of College Portrait selected?
The College Portrait includes information identified by prospective college students and their families, the higher education community, and policy-makers as important when comparing colleges and universities. More than 80 higher education leaders from 70 public colleges and universities helped with the development of the College Portrait.
What is the difference between VSATM and College Portrait?
The Voluntary System of Accountability, (VSA) is a program created by public colleges and universities to provide greater accountability to higher education stakeholders through accessible, transparent, and comparable information. College Portrait is the name of the 5-page report designed to present the VSA data to the public.
The VSA and College Portrait are sponsored by two nonprofit organizations in Washington DC – the American Association of State Colleges and Universities (AASCU) and the Association of Public and Land-grant Universities (APLU).
AASCU and APLU represent more than 500 public colleges and universities across the United States. Participation in the VSA is voluntary; however, over half of these 500 institutions – nearly 300 at last count – have decided to join the VSA project. Each of these colleges and universities will be posting their College Portraits within the next few months.
Primary Accrediting Agencies
Southern Association of Colleges and Schools Commission on Colleges (SACSCOC)
Accreditation for the University; required by state and federal guidelines
http://www.sacscoc.org
Association to Advance Collegiate Schools of Business (AACSB)
Accreditation for the University's School of Business undergraduate and graduate programs
http://www.aacsb.edu
American Chemical Society (ACS)
Accreditation for the University's Department of Chemistry programs
http://www.acs.org
Accreditation Commission for Education in Nursing (ACEN)
3343 Peachtree Road NE, Suite 850
Atlanta, GA 30326
Phone: 404-975-5000
http://www.acenursing.org
National Council for Accreditation of Teacher Education (NCATE)
Accreditation for the University's School of Education undergraduate and graduate programs
http://www.ncate.org
Masters in Psychology Accreditation Council (MPAC)
Accreditation for the University's Master's of Science in Applied Psychology
http://www.mpcacaccreditation.org
National Association of Schools of Theatre (NAST)
Accreditation for the University's Theatre Arts Major
https://nast.arts-accredit.org
National Association of Schools of Art and Design (NASAD)
Accreditation of the University's Art Education Major
https://nasad.arts-accredit.org
The primary Mission of the Office of Institutional Effectiveness is to ensure that the processes and expected results that are outlined in the Francis Marion University Mission Statement are planned for and evaluated in a regular and systematic manner. The Office of Institutional Effectiveness encourages continuous assessment and improvement of academic programs, student support offices, and administrative services by providing leadership and actively participating in the strategic planning and evaluation processes for the University.
Mandated Reports
Title II Reports
Reports of passage rates on the PRAXIS II Exam used in certification of teachers in South Carolina and for advancing teacher training by the United States Department of Education.
2011-2012
2010-2011
2009-2010
2008-2009
2007-2008
2006-2007
2005-2006
2004-2005
2003-2004
2002-2003