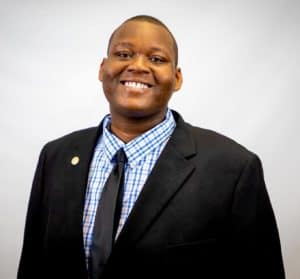 Greetings Fellow FMU Patriots,
You have made the life-changing commitment to attend the best University in all of South Carolina! Welcome to Francis Marion University!
I bring you warm greetings on behalf of the Francis Marion University Student Government Association (SGA). I am Tymoshio "Ty" M. Robinson, a senior Political Science major from
Kingstree, SC, and I am proud, humbled, and extremely honored to serve as your Student Body President for the 2020-2021 academic school year. The Student Government Association is the sole sovereign governing body of the FMU student population whose mission is to represent and advocate on behalf of the student body of Francis Marion University. We also provide enriching services to the FMU student community by funding organizational events, campus initiatives, and partnerships, and adopting legislation that seeks to enhance student and campus life.
Francis Marion University is the most amazing place for you to flourish as an FMU Patriot and beyond. There are a multitude of opportunities to get involved and give back to the FMU Community through leadership, service, and by exemplifying Patriot Pride.
FMU has 60+ student organizations, like the Campus Activities Board, FMU Diplomats, The Patriot Newspaper, ROTC, and, yes, the Student Government Association — all amazing gateways to connect with your fellow Patriots and start your own FMU story. In addition to a diverse set of student organizations and leadership opportunities, FMU provides an amazing list of research and other academic opportunities centered around helping you flourish.
Resources like the FMU Writing Center, Tutoring Center, and all of the various departments are in place to ensure that you are successful in your academic pursuits. It is my hope that during your time here you take advantage of every amazing opportunity, experience, and resource that Francis Marion has to offer you. Without these same tools and experiences, I would not be the Patriot that I am today. Friends and fellow Patriots, it is now your turn. Your story and your journey toward becoming a true FMU Patriot begins now! I look forward to seeing all of the amazing things that you accomplish.

With Patriot Pride and Honor,
Tymoshio "Ty" M. Robinson
Student Government Association President