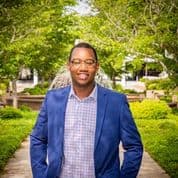 Greetings FMU Patriots,
My name is Alfonso Leggette, many know me as A.J. I will be serving as your SGA President for the 2021 – 2022 academic year. On behalf of the Student Government Association, I am excited to welcome you to our FMU family.
As your SGA President, it is both my pleasure and privilege to work alongside the various departments of Francis Marion University to represent and to advocate on behalf of our student body. It is the goal of the Student Government to lead by example while upholding the legacy and standards the organization and university. I am committed to represent the student body of Francis Marion with the utmost integrity, respect, and urgency.
My primary goal as your SGA President, is to foster leadership, interpersonal and personal skill development opportunities for all students throughout the Francis Marion campus community. SGA host a variety of events, activities, and initiatives that I encourage all students to take advantage of throughout the academic year.
With Patriot Pride and Honor,
Alfonso "AJ" Leggette
Student Government Association President