Whether your interests include corporate finance, real estate, or investments, the Finance major in the School of Business at FMU is your destination.
The study of finance will help you develop the skills needed not only to make the decisions important to business, but also teach you why those decisions are important to the company, the stockholders and the stakeholders.
Our faculty brings a depth of real world experience from backgrounds in industry, government, and consulting. Small class sizes give you an opportunity for individual attention to help you succeed. The Finance major at FMU provides an outstanding learning environment and the knowledge necessary to help you be successful in a career in business or finance.
In today's highly competitive environment, businesses are seeking business solutions. Our finance graduates pursue graduate study (MBA and Ph.D.), as well developing successful careers in business and government.
B.B.A. with Major in Finance (120 hours)
1. Completion of the B.B.A. Common Requirements – 102 hours2. FIN 347, and 442 – 6 hours
3. FIN 344, 348, 443, 466, ECON 321, ACTG 323, 324, 325, 328, MGT 373 – 12 hours
*at least 6 of the 12 hours must come from FIN 344, 348, 443, or 466
Minor in Finance (18 hours)
1. ACTG 201, FIN 301, & FIN 341 – 9 hours
2. Select three courses from FIN 344, 347, 348, 442, 443, or 466 – 9 hours
Collateral in Finance (12 hours)
1. Four from FIN 344, 366, 347, 348, 442, or 443 – 12 hours
Course Descriptions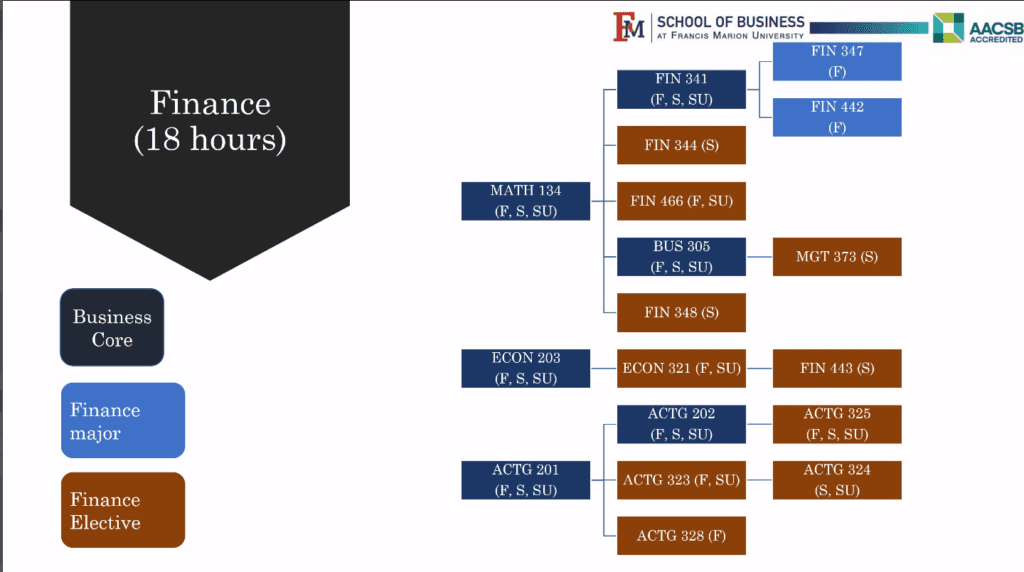 Quick Facts: Finance Managers
2019 Median Pay
$129,890 per year
$62.45 per hour
---
Typical Entry-Level Education
Bachelor's degree
---
Work Experience in a Related Occupation
5 years or more
On-the-job Training
None
---
Number of Jobs, 2018
653,600
---
Job Outlook, 2018-28
16%
---
Employment Change, 2018-28
104,700