Delivering products to their destinations and customers — that's the role of an effective supply chain. The Francis Marion business degree in supply chain management develops skills and expertise critical to the success of companies across industries and around the world. You'll graduate with the tools to immediately take leadership roles as a supply chain manager or consultant, and to assume increasingly important positions related to supply chain operations and executive leadership. According to the Bureau of Labor Statistics, Supply Chain Management is projected to be one of the fastest growing industries in recent years.
The Supply Chain Management undergraduate major offers students the comprehensive knowledge and technological skills they need in order to ensure employment in leading supply chain management roles. The requisite knowledge and skill sets extend over all supply chain echelons and functional areas: strategic sourcing, global procurement, contract management, business performance improvement, supply chain technologies and six sigma, pricing analysis, channel coordination, brand management, new product development, supply chain alignment, retail management and distribution management. Supply Chain Management major should have good analytical problem solving skills, and strong communications skills. The program will provide extensive training in Excel.
B.B.A. with Major in Supply Chain Management (120 hours)
1. Completion of the B.B.A. Common Requirements – 102 hours
2. MGT 356, 357, 373, 467, and 468 – 15 hours
3. One School of Business elective – 3 hours
Minor in Supply Chain Management (18 hours)
1. BUS 305, MGT 355, 356, 373, 467, 468 – 18 hours
Collateral in Supply Chain Management (12 hours)
1. Four from MGT 356, 357, 373, 467, or 468 – 12 hours
Course Descriptions
355 - Production and Operations Management
Prerequisite: BUS 305
Offered: Fall, Spring, Summer
Credits: 3 hrs.
Study of the production and operations component of business. Topics include capacity and location planning, inventory management, scheduling of jobs and projects, and quality assurance and control. Use of quantitative methods.
356 - Process Improvement and Quality Control
Prerequisite: 355
Offered: Spring
Credits: 3 hrs.
A study of management philosophy, practices, and analytical processes implemented in quality planning and administration of products and services. Topics include corporate culture, quality design, human factors and motivation, quality auditing, service quality, quality assurance, quality circles, and conformance to design.
357 - Management of Service Operations
Prerequisite: 355
Offered: Spring
Credits: 3 hrs.
This course focuses on the challenges of managing service operations. The major topics covered are those critical to achieving operational excellence, including the design and delivery of services, service productivity, revenue management, risk management, customer contact management, service quality and customer retention, capacity management, and demand management.
373 - Management Science
Prerequisite: BUS 305
Offered: Spring
Credits: 3 hrs.
Applications of hypothesis testing, simple linear regression, and multiple linear regression. Coverage of the mathematical structure, the solution procedures, and the application of basic management science models, including linear programming, network modeling and simulation. Study of project management methods and techniques. Use of computer software to solve problems.
467 - Supply Chain Management
Prerequisite: 355
Offered: Fall
Credits: 3 hrs.
Focuses on the process of planning, implementing and controlling supply chain operations from initial raw materials to the finished product. Examines the analytical modeling of various aspects of a supply chain including product flows; the information flows; and the relationships among supply chain participants.
468 - Production Planning and Control
Prerequisite: 355
Offered: Fall
Credits: 3 hrs.
This course provides an in-depth study of the full spectrum of activities of production managers. Topics covered include forecasting, independent demand inventory management, just-in-time inventory management, materials requirement planning, capacity planning, production activity control, and master production scheduling. Emphasis will be given to the use of personal computers to support decision making.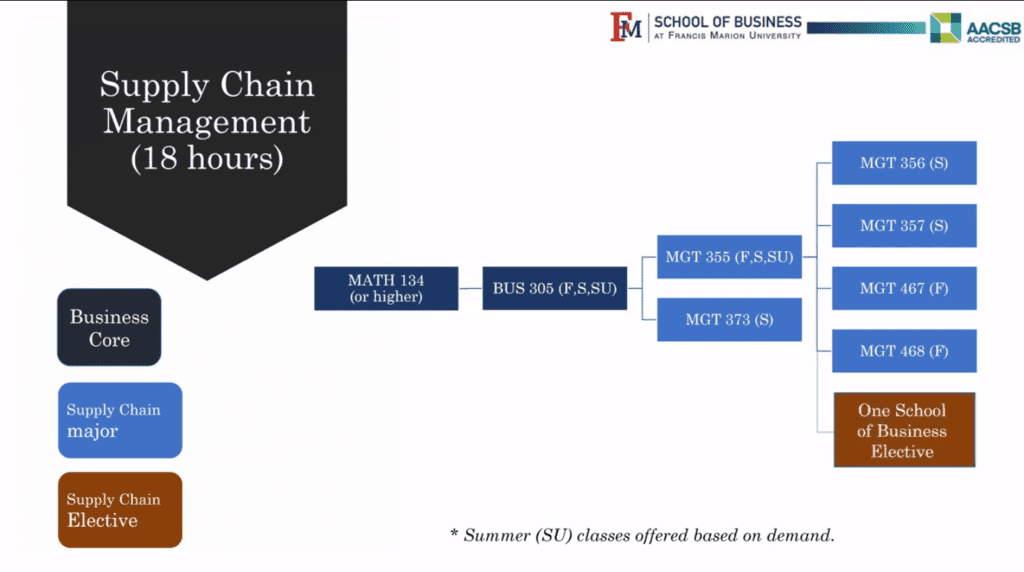 Quick Facts: Supply Chain Management Specialists
2019 Median Pay
$84,810 per year
$40.78 per hour
Typical Entry-Level Education
Bachelors' Degree
Work Experience Required in a Related Occupation
None
On-the-job Training

None
Number of Jobs, 2018
109,700
Job Outlook, 2018-2028

26%
Employment Change, 2018-2028

28,100
Career Options
Buyer/Senior Buyer
Demand Manager
Materials Analyst
Procurement Manager
Purchasing Agent/Analyst
Senior Procurement Specialist
Supplier Relationship Manager
Operations Analyst
Production Scheduler
Product Development Manager
Inventory Manager