Today's dynamic, digital environment provides new challenges and exciting career opportunities for those who are in digital marketing. Digital marketing, digital marketing analytics, consumer behavior, advertising and marketing management are among the many career options for marketing professionals.
The digital marketing program provides students with the skills needed to seek employment in these fields. Students will learn the basic principles of marketing with an emphasis on the importance of coordinating all business functions, including product, price, promotion and distribution in order to meet customer's needs. Students will then expand on this basic knowledge with courses in consumer behavior, digital marketing, digital marketing analytics, marketing communications and personal selling. A course in marketing management, which incorporates material from the previous courses into a cohesive whole, concludes the program.
The professors in the marketing department believe in the value of experiential learning. Many marketing courses require a final project that allows students to apply theoretical concepts learned throughout the semester to the business environment. Throughout their experiences in the marketing department, students are also provided with opportunities to learn and practice communication skills that will prove invaluable in the business environment. In addition, the Marketing Management capstone course allows students to work for actual clients from the business community. Projects require identifying the client's marketing needs and providing solutions through written and verbal presentations. These experiences and skills can be added to students' resumes to provide them with an advantage in a competitive job market.
B.B.A. with Major in Digital Marketing (120 hours)
1. Completion of the B.B.A. Common Requirements – 102 hours
2. MKT 334, 336, 337, 339 and 432 – 12 hours
3. One School of Business elective – 3 hours
Collateral in Marketing (12 hours)
1. Four from MKT 333, 334, 335, 338, or 339 – 12 hours
Course Descriptions
331 - Principles of Marketing
Prerequisite: None
Offered: Fall, Spring, Summer
Credits: 3 hrs.
Basic principles of marketing. Emphasis is placed on consumer's role in marketing and on marketing environment. The basic product, place, price, and promotion decisions are examined.
333 - Marketing Research
Prerequisite: 331, BUS 305
Offered: Fall, Spring
Credits: 3 hrs.
Research methods and procedures in the marketing process; emphasis on the sources of market data sampling, preparation of questionnaires, collection and interpretation of data, and the relation of market research to the policies and functions of the business enterprise are studied.
334 - Consumer Behavior
Prerequisite: 331
Offered: Fall, Spring
Credits: 3 hrs.
Study of the consumer decision process in the marketing context. Selected concepts from psychology, sociology, anthropology, and other behavioral disciplines are analyzed to develop the student's ability to understand and predict reactions of consumers to marketing decisions.
335 - International Marketing
Prerequisite: 331
Offered: Fall, Spring
Credits: 3 hrs.
Focuses on the role of marketing in today's global economy. Environmental differences among nations will be discussed and emphasis will be placed on the modifications of marketing thought and practices that these environmental differences require. While these important differences will be discussed, world markets where products are becoming standardized will also be emphasized. Topics include corporate organization for international marketing, the nature of marketing information and research in the international arena, and the challenges facing managers who must make international marketing decisions.
336 - Digital Marketing
Prerequisite: 331
Offered: Fall
Credits: 3 hrs.
A study of digital marketing used for effective marketing communication. Students will learn the related creative, legal, ethical, and managerial issues
affecting the use of digital marketing. Visual and audio media will be created and applied to web and mobile based platforms.
337 - Digital Marketing Analytics
Prerequisite: 331
Offered: Spring
Credits: 3 hrs.
A study of digital marketing analytics. Students will learn the process for identifying, integrating, and evaluating digital marketing metrics for managerial decision-making.
338 - Personal Selling and Sales Management
Prerequisite: 331 or permission of school
Offered: Spring
Credits: 3 hrs.
Development of an understanding and appreciation of the personal selling process. Basic sales concepts, principles, and techniques are examined. Personal selling skills are enhanced through discussions, role playing, and sales presentations.
339 - Marketing Communications
Prerequisite: 331 or permission of school
Offered: Fall
Credits: 3 hrs.
In-depth examination of marketing communication tools as they relate to marketing management. Particular topics to be covered include attitude and persuasion strategies, advertising management, direct marketing, and sales promotion.
430 - Field Experience in Applied Marketing
Prerequisite: None
Offered: As needed
Credits: 1 hr.
Exposes students to the latest developments in the field of marketing. Emphasizes the role of a marketer as the organization's decision maker. Provides the students with interaction with professional business leaders and experience with the application of marketing theory.
432 - Marketing Management
Prerequisite: 331, 333, or permission of school
Offered: Fall, Spring
Credits: 3 hrs.
This course is designed to address the challenges of marketing in a rapidly changing environment. Emphasis is placed on analyzing the internal and external marketing environments to extract useful information from raw marketing data. Students will learn to apply knowledge and concepts of marketing, such as product differentiation, market segmentation, and marketing research, in the development of a marketing plan.
440 - International Marketing Strategy
Prerequisite: 335
Offered: As needed
Credits: 3 hrs.
Through the use of case analysis and computer simulation, students experience firsthand the complexity of making detailed marketing decisions in a competitively dynamic environment. Students assume responsibility for making decisions regarding prices, distribution, sales force management, and marketing research allocations. Emphasis is placed on integrating marketing research, corporate resources, and industry characteristics to respond to today's problems and to anticipate future problems and opportunities. Focus is on the global market.
497 - Special Studies
Prerequisite: Permission of school
Offered: As needed
Credits: Varies
Open only to juniors or seniors with a grade point average of 3.0 or higher in their major courses. A maximum of three semester hours may be earned. All individual research projects are reviewed by three faculty members from two different disciplines.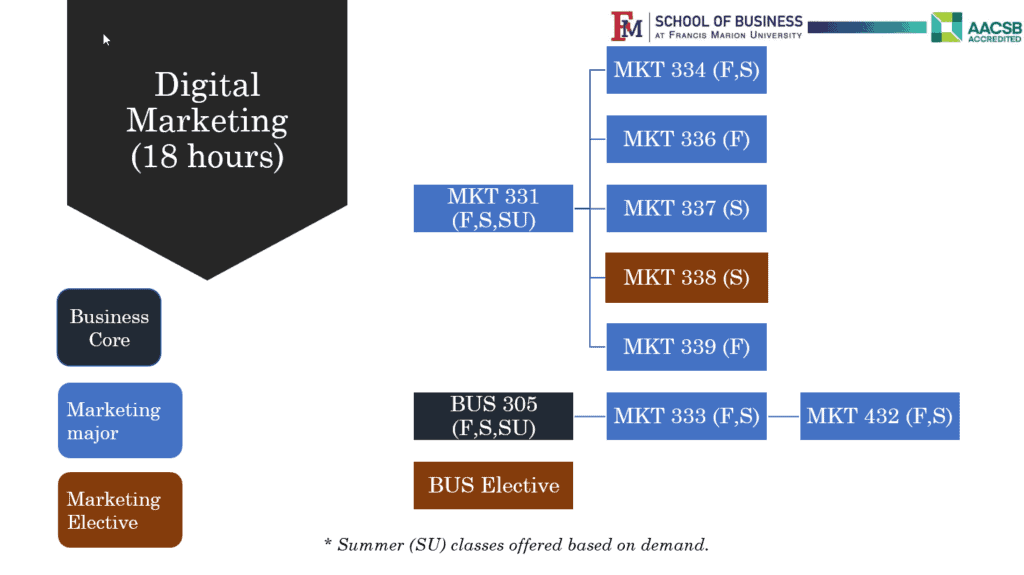 Quick Facts: Advertising, Promotions, and Marketing Managers
2017 Median Pay
$129,380 per year
$62.20 per hour
Typical Entry-Level Education
Bachelor's degree
Work Experience in a Related Occupation
On-the-job Training
None
Number of Jobs, 2016
249,600