Dr. Walter Douglas "Doug" Smith
(1918-2018)
Dr. Doug Smith,  the founding president of Francis Marion University, passed away on March 3, 2018. He was 99 years old.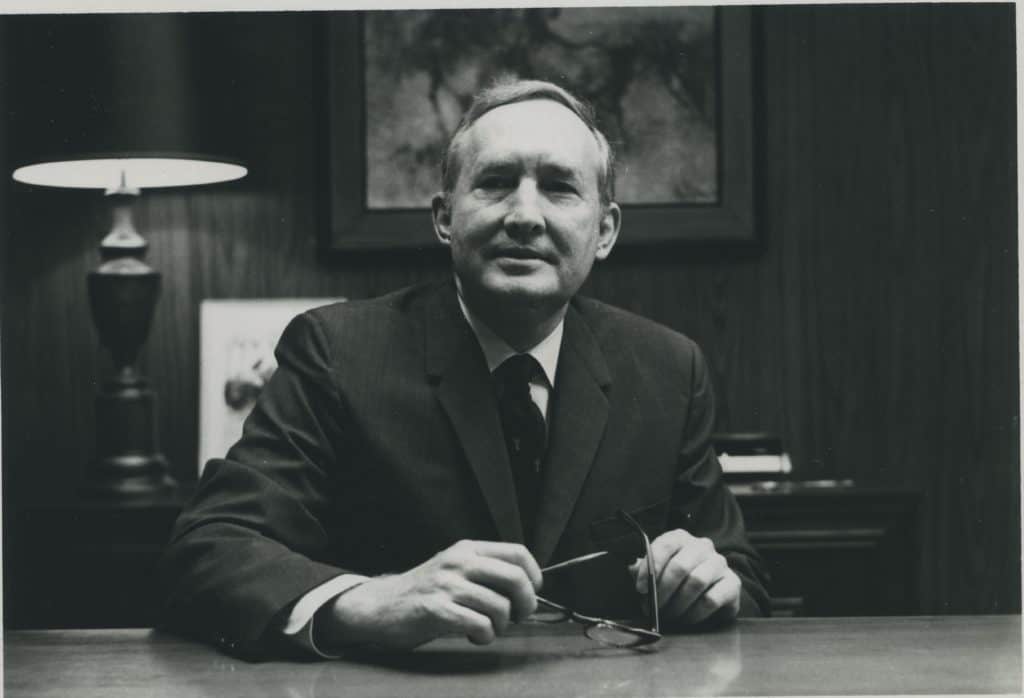 Smith will forever hold a unique position in the history of Francis Marion University and a special place in the hearts of Patriots everywhere. He was hired the year before FMU (then Francis Marion College) opened and was charged with the challenging task of assembling all facets of the new institution. This included helping plan the layout of the campus, hiring faculty and staff, creating curriculum, and attracting students. By all accounts, Smith did a masterful job, setting FMU on a trajectory to become one of South Carolina's leading regional universities. FMU's current hallmarks — a focus on superb instruction in the classroom and consistent fiscal prudence — begin with Smith's tenure.
Smith served FMU officially from 1970-83, then unofficially as an ambassador and friend from his retirement until his passing. During Smith's presidency, the university grew from 500 students to almost 2,900, and from 20 faculty to more than 130. Smith was part of awarding more than 3,500 baccalaureate degrees.
Smith was a native of Harriman, Tenn., a motor torpedo boat skipper in the U.S. Navy in World War II, and a scholar. He earned his BA at Lincoln Memorial University in his native Tennessee and his master's and Ph.D. (in Psychology) at the University of Michigan. Smith taught at Eastern Michigan University, Western Washington University and Florida State University before beginning his academic career at Winthrop College. He was named president at Salisbury State College (Md.) in 1968 and returned to South Carolina to lead FMU in 1970. A humble and affable man, Smith called his time at FMU "13 happy years."
Smith received numerous honors during and after his FMU presidency, including an honorary doctorate from FMU in 2004. He is remembered on the campus through an endowed chair in Psychology in his name, by the eponymous Walter Douglas Smith University Center and with a handsome bronze statue of his likeness in the rotunda on the campus side of the Stokes Administration Building. The bronze Smith, wearing academic robes, strides purposefully towards the campus he built and the university he loved. He appears to be a man who knows where he was going. Thankfully, for FMU, that was exactly the case.