Army
Army Reserve Officer Training Corps (ROTC) is a coeducational program dedicated to developing college-educated men and women to serve in challenging positions of leadership, responsibility, and varied managerial positions both as officers in the U.S. Army and civilians in corporate America.
Why Army ROTC?
Francis Marion University Army Reserve Officers' Training Corps is dedicated to developing character and leadership in young men and women. ROTC offers unique scholarship and career opportunities focused on building leaders for our nation and helping students become leaders for life.
Like the United States Military Academy, the purpose of Army ROTC is to train and commission Army officers. For the past 14 years, FMU has produced officers for the United States Army and their names are displayed proudly on the front of our webpage. We seek talented young men and women who possess a desire to lead, a passion for service, and aspire to make an impact on the world.
Benefits
Army ROTC is one of the Nation's top leadership programs, with a wide range of benefits. Through Army ROTC you can:
Get help with your college tuition and books with an Army ROTC Scholarship.
Receive a monthly stipend throughout the school year.
Gain Leadership experience you can't find anywhere else.
Gain the respect of your peers and future employers.
Base pay for a Second Lieutenant is $41,727.60 starting out.
Leadership
In Army ROTC you will learn to become a leader—not just a person who gives orders but a person who leads by example. Being an Officer in the U.S. Army means you're a counselor, a strategist and a motivator. As an Officer, you will lead other Soldiers in all situations and adjust to environments that are always changing. You'll be driven to achieve success with your team on every mission.
Skills Development
The specific skills you receive in Army ROTC will include things like leadership development, military skills and adventure training. This will take place both in the classroom and in the field. Army ROTC has two phases: Basic Course and Advanced Course.
Scholarships/Financial
Whether you're a college-bound high school student or already attending a college or university, Army ROTC has scholarships available. Scholarships are awarded based on a student's merit and grades, not financial need. Even if you don't receive a scholarship, all cadets who make the commitment of service in the Army receive a monthly stipend during the school year.
Simultaneous Membership Program (SMP)
Cadets who enlist in the National Guard or Army Reserves can receive even more financial aid for education. Cadets will simultaneously serve in ROTC and as Soldiers in the National Guard or Reserve Component. Qualified Soldiers may also be eligible to receive the G.I. Bill in addition to the ROTC monthly stipend.
Contact Us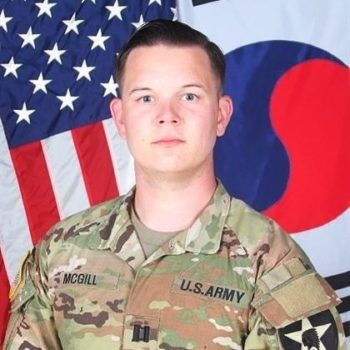 CPT Cory McGill
Assistant Professor of Military Science
Office: UC 209
Phone: 574-238-9699
Email: Cory.mcgill@fmarion.edu