November 10, 2022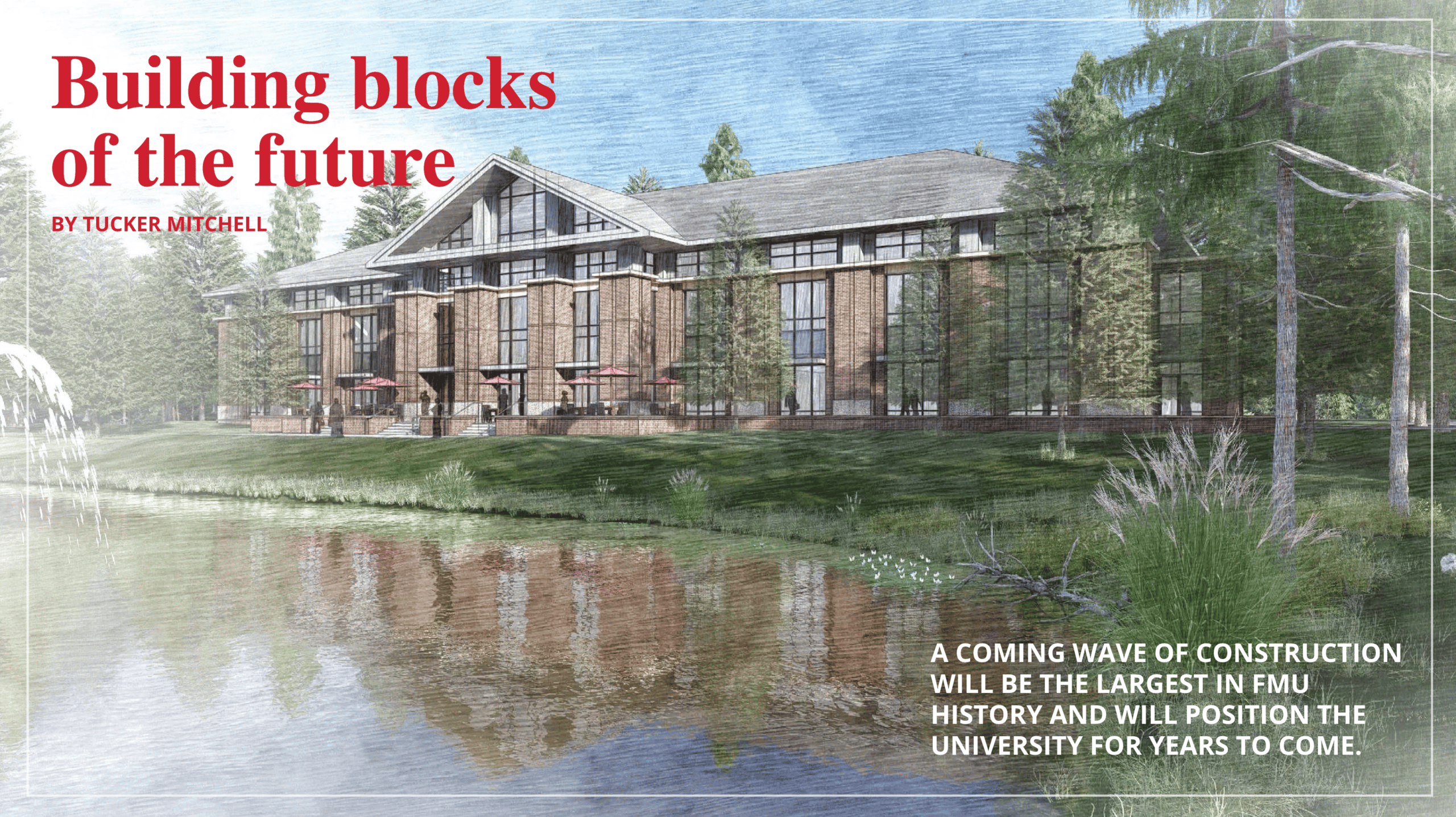 Building Blocks of the Future
Building Blocks of the Future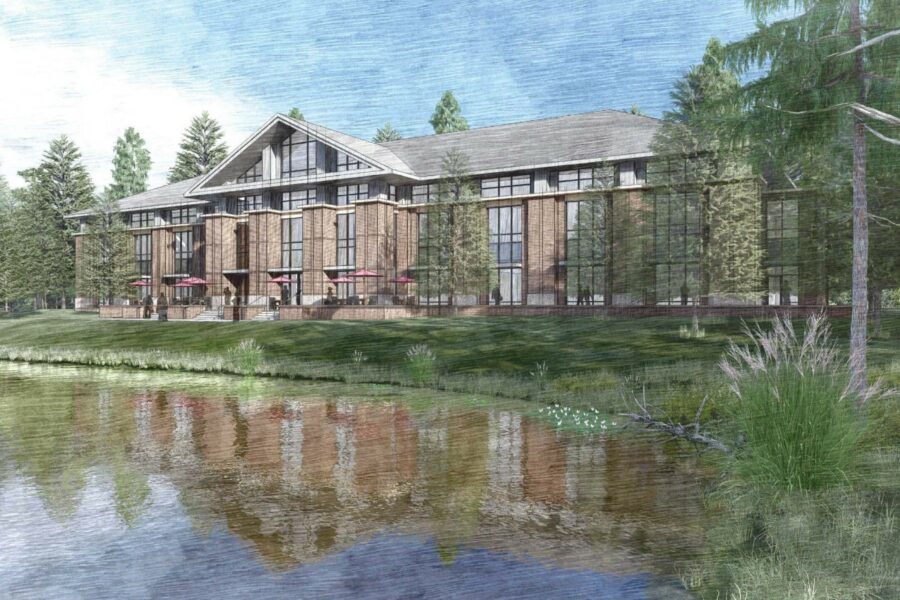 The Performing Arts Center. Griffin Athletic Complex. Carter Center. Leatherman Medical Complex. Honors Center. University Place. Freshwater Ecology Complex.
Francis Marion University has built a substantial number of new buildings the past few years, but anyone who thinks the university is going to sit back and take off its hard hat had better think again. On the heels of the recent building wave the university is embarking on the biggest construction binge in its history, an almost $90 million campaign that will refresh and transform FMU's campus, preparing it for a dazzling future.
The work will take a little more than three years to complete. When done, FMU will have four important new academic buildings, dozens of renovated classrooms, updated athletic and student activity facilities, and a major refresh of basic campus infrastructure.
There's never been anything like it since the salvo of construction surrounding the opening of the new college 53 years ago, and in some ways even that pales in comparison. But this is where FMU is now — and where it needs to be, said Dr. Fred Carter, the university's long-time president.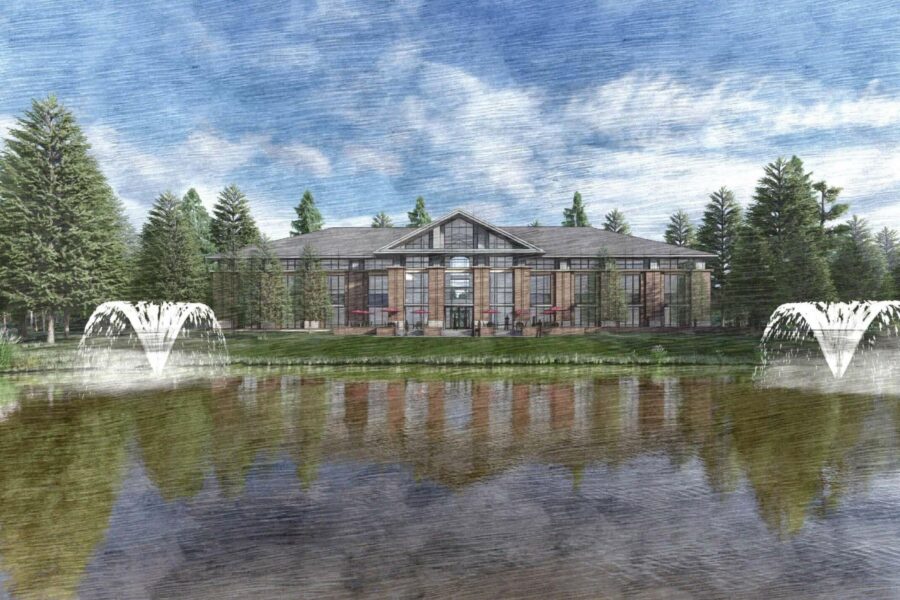 "It's time," says Carter. "We have a beautiful campus, and we've been fortunate over the last two decades that our legislative delegation has worked diligently to acquire construction and renovation funding for us. We've also benefited from the generosity of other public and non-profit entities in developing programs, building new additions to the campus, and maintaining our infrastructure. Now we're ready to take a major step and invest another $80-90M in capital construction over the next five years.
"It's an important time for us," Carter says. "Ask any college president about his institution, and I assure you that the conversation will quickly focus on buildings — either those recently built or those anxiously anticipated. The look and feel of updated facilities across the campus convey a strong message about its vitality. We're happy we can send that kind of message to our current students and faculty, to our alumni, to prospective students across the state and region." Robert E. Lee ('87), chair of FMU's Board of Trustees, says the coming wave of construction is "stunning in its scope.
"But anyone who's been around here the last few decades isn't surprised," says Lee. "This is the kind of magic that Dr Carter and his team work on a regular basis. It's exciting for the trustees to be a part of that. We're eager to see it all come to pass."
Avoid Debt, Once Again
Carter and company have been busy for several years marshaling resources and partners to make the coming wave of construction possible. Remarkably,FMU will complete a truckload of major projects with incurring any major debt.Only the $4 million renovation of the Smith University Center's student activity and athletic space will be financed, and it will fall under the regime of an existing athletic bond. The upshot is that FMU will once again expand its physical facility without passing on indebtedness to future generations ofPatriots.
"It has always been our goal to acquire construction funding outside the institution so that student tuition is not encumbered by these costs," saysCarter. "I think that we've been successful in accomplishing this over the years.That's why our tuition remains one of the most affordable in SouthCarolina.New, contemporary buildings, with little debt, and the lowest tuition in the state. You know, that's a formula that works for us, and more importantly, for our students and parents."
New Construction
The biggest project on the horizon is the new School of Education and School of Business building. The long-awaited 60,000-square foot structure will be located beside the three-fingered lake, across from the Lee Nursing Building. It will house FMU's two oldest professional schools and will include sparkling new classrooms, an auditorium, office space, and appealing gathering spaces adorned with water features and visual connections to the lake. The building is expected to be ready in time for classes in the 2024-25 academic year. It is funded by an appropriation from the State of South Carolina.
The C. Edward Floyd Medical Consortium Building will be the latest addition to FMU's campus in downtown Florence. It is a unique space that will be operated by FMU as part of the university's role in the recently formed Pee Dee Medical and Health Science Educational Consortium. The Consortium, an academic partnership between FMU, the Medical University of South Carolina, and the University of South Carolina, was formed in 2020 with the purpose of expanding and established medical education and graduate health science programs in the Pee Dee Region. The Pee Dee has been identified as a medically underserved area, and hence a prime candidate for programs that produce new practitioners.
The facility will house academic facilities and office space to support undergraduate medical education (third- and fourth-year medical from MUSC and USC-School of Medicine), and other graduate health science programs under development.
The Floyd building, FMU's sixth major structure downtown, will be built at the site of the old Circle Park School on Cheves Street. The $22,520,000 project is supported by the State of South Carolina, the Drs. Bruce and Lee Foundation, and the City of Florence. It's named for Dr. C. Edward "Eddie" Floyd, a well-known cardiologist in Florence and long-time friend of FMU.
The Floyd building is expected to be complete in Fall 2024.
FMU also plans to complete a new Engineering Workshop, for its growing Department of Engineering, on campus in the Fall of 2024. The $1 million facility will provide space for technical and applied learning for FMU's Industrial Engineering and Mechanical Engineering programs. Industrial-scale machinery will be housed in the building. It will be built in the center of campus, sharing the parking lot for the Stanton Center for Technology.
FMU's new Forestry and Environmental Sciences building, a key part of the university's array of innovative new programs in the environmental sciences, is expected to one year later, in 2025.
The $18 million facility will include classrooms, offices, and an auditorium to support FMU's new degree programs in environmental science and forestry. It will be built on the west side of Francis Marion Drive, just south of the Griffin Athletic Complex, near the existing South Carolina Department of Natural Resources office. A newly created lake will be built beside the structure.
The Forestry and Environmental Sciences building is a partnership with the state. The new site will include a regional office for the South Carolina Law Enforcement Division (SLED).
Renovate and Refresh
Besides new buildings, FMU is also initiating a series a series of projects that will renew and refresh core facilities across campus. Nearly $8 million has been assigned to major revitalization work at the Smith University Center, the Rogers Library, the McNair Science Building, the Leatherman Science Facility and Founders Hall; and more than $9 million is slated for upgrades to infrastructure.
These projects represent true refurbishments, university officials point out. FMU has been diligent in maintaining campus buildings, but all of the buildings that will be addressed are approaching 50 years old. They were created for the programming in place when FMU first opened its door. The university is a more diverse and sophisticated entity today. Upgrades are in order.
The Smith University Center, one of the busiest buildings on campus, will be dramatically renovated and refreshed, just as it turns 50 in 2023.
The largest building on the FMU campus, the Smith Center, is home to the FMU Athletic Department and serves as headquarters for student life at FMU. The university bookstore and the university health office are also located there.
The $4 million renovation will modernize the 3,200-seat gymnasium, and the building's locker room and athletic training spaces. It will also include renovation of the lobby area, enhancements to entrances, and possible renovations to the indoor pool and the student fitness area.
The McNair Science Building and the Leatherman Science Facility will receive new roofs and renovated restrooms. The first floor of the Rogers Library will get a new floor and new furnishings and other enhancements.
Similar work will take place at Founders Hall. Even while that work is taking place the university seeking an additional $8 million for a more comprehensive renovation of the building that houses the majority of FMU classes and faculty offices.
Renovation of FMU's Village Apartments will continue while the university completes plans for a major overhaul of its student student housing.
Work will also begin on FMU's $9 million plan to refurbish campus parking lots and surface roads and to upgrade critical infrastructure across campus. Numerous projects are already approved and funded and will be completed by 2024. The university is still in the process of obtaining additional approvals and funding, but plenty is in the pipeline. The work will unfold continuously, and comprehensively, transforming the FMU campus into a thoroughly modern layout that's ready for today … and tomorrow.
"It's great that so much will be done so quickly, creating new facilities for students that are in school right now," says trustee Lee. "But the best part of these plans is the way they set up the university for the future. FMU is going to be great shape for years to come."
RELATED ARTCILES
LATEST FMU NEWS
The 2023 softball season, head coach Stacey Vallee's 19th campaign at Francis Marion University, turned out to be the most offensive of her career – and that should be taken in a positive way. The Patriots posted a 42-13 record, came within one game of winning the Conference Carolinas regular-season title, captured the conference tournament title, […]
Francis Marion University named 425 full-time students and 42 part-time students to its President's List for the Spring 2023 semester. In addition, 430 full-time students and 55 part-time students made the Dean's List for the spring semester. Students named to the President's List have earned a GPA of 3.75 or higher for the semester. Dean's […]
LATEST INSTAGRAM