Rules and Guidelines
Digital signs are located across campus to provide information about campus activities. They are also a part of FMU's emergency alert system. University Communications oversees the content of the main messaging area, layout, and guidelines of the signage. Individual departments are responsible for the local area of the digital signage. The local area should adhere to the guidelines and principles of good design.The university uses the Rise Vision Digital Signage system. Access as a user will be granted by University Communications. A mini-PC, on a wireless internet connection, connects to the Rise Vision platform through their player.
Layout
The general layout for the digital signs is shown below. Digital signs hang in landscape orientation, sectioned off into different screen areas. A majority of these areas are reserved for use by University Communications.
The main header shows the FM logo and the words "Francis Marion University" on the left. The right side may be used for additional text.
The department header states where the digital sign is located and/or which department is responsible for the "local message area".
The Main Area shows content that is of interest campus-wide. Any content that will run campus-wide needs to be submitted through University Communications. This area may also be used for local content.
The local message area is the space departments may use for content relevant to their constituents. Content may be text, photos, or graphics. Please remember to stay within the graphics guidelines and respect copyright laws regarding images and graphics.
The bottom crawl area may be tailored to the department's wishes to display an RSS feed or custom text crawl.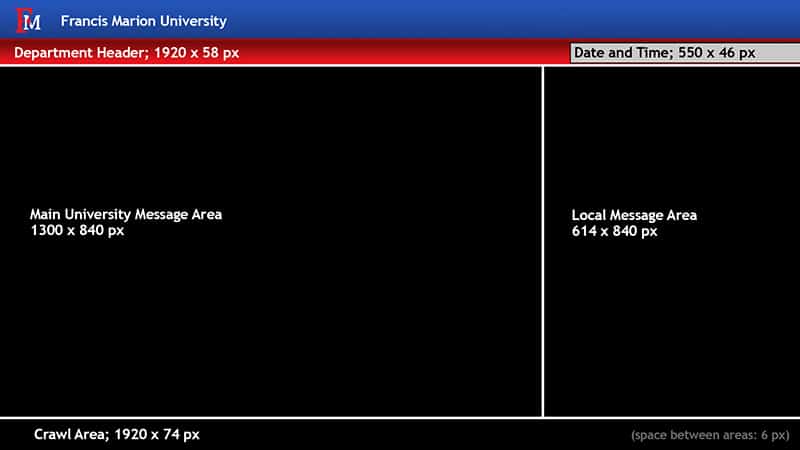 Appropriate Content for Signage:
Suitable events include all those that are either sponsored or co-sponsored by a FMU department, center or office. Student organizations requesting signage content must be a registered student organization in good standing and/or faculty sponsored.
To be considered for the main messaging area, the event must:
Be of interest to and open to the entire university community.
Be of interest to and open to the public. In most cases, student-oriented events are acceptable.
Be of interest to and open to more than a select group of people who could be more easily notified through email.
Examples of appropriate content for the signs include (but are not limited to):
Announcements for upcoming campus events/activities
Photographs or short videos showcasing campus events/activities
Information about campus services or resources
Events that are not suitable for posting on the screens include:
Lectures, seminars, or symposia that are invitation only
Courses
Guest appearances by faculty, staff, or students at other institutions
Administrative or other meeting among a group of faculty, staff, or students that are closed to others
Events not affiliated with FMU
Events that occur off-campus (unless officially sponsored by the university)
University Communications will be the final arbiter as to the appropriateness of content submitted.
Process for Submitting Request
Send all slide submissions or display information to University Communications by using the Digital Sign Request Form.
Submissions must be made at least one week in advance of the event date. Failure to give proper time to post the slide may result in the slide not being displayed. Exceptions may be made dependent on departmental needs.
Upon submission, you will be required to give a start and end date for the display.
Please proofread slides before submitting.
Preferred artwork should be uploaded within the Digital Sign Request Form or sent via email to PublicAffairs@fmarion.edu.
Minimum Event Information Required
Event Contact*: Name, phone number & email
Start date and end date for displaying information
Event Title
Date
Time
Event Location
A photo or high resolution graphic is requested, but not required. University Communications can provide a photo/graphic, or the requestor should upload the photo into the Digital Sign Request Form.
*For verification or questions
Slides will not be posted without being given a specific start date and end date.
Francis Marion University reserves the right to refuse to publish any content deemed inappropriate (based on content, language, pictures, images, etc.) by the managers of the digital signage system.
Image Guidelines:
Images need to be 300 dpi.
No copyrighted images or images with watermarks may be used
Note: the actual size of the image you use is important. A small image at 72 dpi will become pixilated when enlarged. Instead, begin with a large image and scale down as necessary. Files containing pixilated images will be returned.
If you choose to create your own images, it is your responsibility to ensure that:
Any images used in the display design are either copyright free, or
You have obtained written permission to use the image
Digital Sign Request Form