January 24, 2018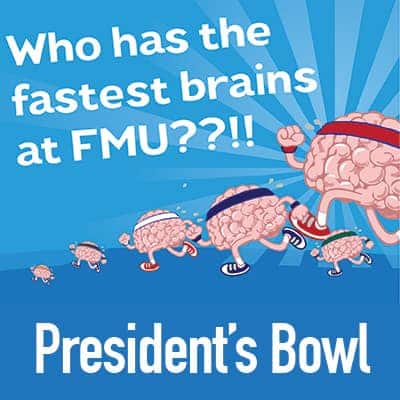 Do you have the fastest brain on campus?
Francis Marion University will conduct its first-ever academic quiz bowl tournament — the President's Bowl — Feb. 13 through March 8 of 2018. The competition will pit three-member teams of FMU students in matches of intense, cranial combat using the time-honored Quiz Bowl format.
The winning team will hoist the President's Bowl trophy and will earn a $1,000 donation to the campus organization they represent.
The runners-up receive $250 for their organization.
Entries are now open! Entries will be confirmed on a first-come, first-serve basis until the field is complete. Final entries must be received by Jan. 31. A synopsis of the rules and regulations governing the President's Bowl follow.
Who's eligible?
All FMU students in good standing — both academically and with regards to university disciplinary procedures. Students will be asked to supply their g.fmarion email as part of the registration process, and must bring their student ID to every match. Teams are free to select their own team names and create team apparel, subject to approval by the organizing committee. All teams must be affiliated with a recognized campus organization.
Individual Entries
Don't have a team? Not already affiliated with a campus organization? Maybe we can find a spot for you. Click the "Register as an Individual" button below and we'll see what can be worked out.
Team Size
Teams may be composed of up to six players. However, each team uses only three team members at time. Substitutions may be made at halftime of a match. Different lineups may be used for each match. Again, all team members must be FMU students in good standing.
Coaches
All teams must engage a member of the FMU faculty or staff , or an existing organizational advisor, as it's advisor/coach for the President's Bowl.
What's the format?
The President's Bowl will follow the standard Quiz Bowl formats, as outlined by National Academic Quiz Tournaments (NAQT), LLC. But it essentially works like this:
Teams are asked a series of toss-up questions and respond using a "lockout" buzzer system supplied by the university. Speed matters! The individual team member who buzzes in first, receives the first chance to answer the tossup question. A correct answer nets his or her team points, plus an exclusive chance to answer a multi-part bonus question which may be answered by any member of the team, individually or in consultation. An incorrect answer sends the tossup question to the opposing team, which then has a chance to answer and steal the bonus questions.
Matches are made up of two halves, each consisting of 12 tossup questions. Tied matches move to a three-question overtime, and, if necessary, to a sudden-death round.
Practice
Sets of practice questions are available so teams can get a feel for the event and practice answering questions. Team captains and advisors can request a practice set when registering or by email.
Questions?
Questions will be provided by NAQT and will test knowledge of history, literature, science, fine arts, current events, sports, and popular culture, among other topics.
The tournament
Teams entered in the tournament will be drawn randomly into a tournament bracket. The bracket will play down to the finals.
When will the tournament be held?
The bracket will be drawn on Feb. 13. Matches will begin the week of Feb. 19. The semifinals and finals are set for March 8 – March Madness!!
What else?
Matches will be held in the FMU University Center. The semifinals and finals will be televised. There will be plenty of room for friends, supporters and probably even some social media smack talking. #fastestbrainsatFMU