January 20, 2021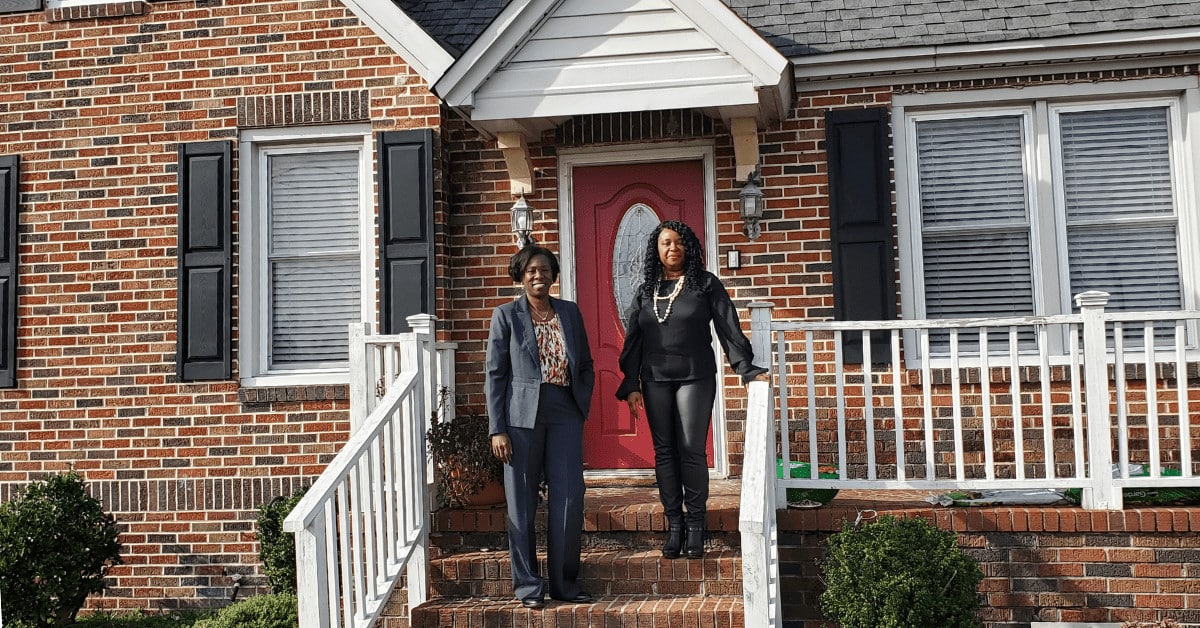 FMU Business Incubator Launches Four Businesses in Florence and Lake City
[Photo: Carla Angus, left, and Kassandra Brown, right, stand in front of the Next Phase Development location at 130 South McAllister Street in Lake City.]
The FMU Kelley Center for Economic Development has four businesses that have completed its one year in the incubator program in the Lake City and Florence location. The businesses in the Lake City incubator are Next Phase Development, LLC, Brown's Clean Team, LLC, and Streamline Global Media LLC. The business in the Florence incubator is FAC Healthcare Resources, LLC.
Carla Angus of Next Phase Development said "It has been a phenomenal experience in the business incubator program. I had no formal training in business, and this was like a one-year crash course in business education. They truly helped me work through all of the challenges I experienced as I purchased, developed, and opened my business in downtown Lake City. My goal is to provide support for other growing businesses with office and event space as well as show my investment and belief in Lake City."
The fundamental part of the business incubator program is the support and connections made with past and current incubator, clients. Kassandra Brown of Streamline Global Media can attest to the support and connections. "I was looking to grow my existing business and also relocate from Florence back to Lake City. The Lake City incubator provided me the opportunity to reestablish and gain support during this transition. I was thrilled when I learned that another incubator client, Next Phase Development, would soon have available office space for me to stay in Lake City." Rachel Brown of Brown's Clean Team started her commercial janitorial service in Lake City last summer just before entering the Lake City Incubator. "It was nice to have support when I needed to ask questions about my small business. I was also able to attend workshops to learn about important topics for my business."
Aside from learning more about developing their business, incubator clients also learn a lot about themselves. Fran Caldwell of FAC Healthcare Resources says "Looking back over the last year, I can clearly see how much impact the program has had on starting my business, but more importantly, on me personally. I have grown exponentially in my confidence to pursue my goals. I will always be grateful to Brianna and her team."
Brianna Dennis, Executive Director of the FMU Kelley Center for Economic Development established the Florence and Lake City incubators in September 2019 and wanted to ensure the program created strong pathways for incubator clients to succeed. "Each incubator client joins the program at different stages in their business development. This incubator program is designed to support each client through advising, monitoring, and educating. However, the culture of the program creates collaboration among the clients and that is essential to the strength of this program." When asked about the four businesses that just completed the program, she said "I am incredibly proud of the four businesses that have just completed the program. All four clients have allowed us to be a part of their small business journey and that is an honor for us. We look forward to seeing each of them grow year after year."
The purpose of the FMU Business Incubator is to provide businesses a place to foster within a collective community of support and resources. The structure provides the opportunity to establish objective measures of growth for each business, which will serve to identify growth and progress. The incubator serves as a short-term (1 year) support mechanism to help the business effectively build and grow at a sustainable rate so they will remain successful after completing the program. The Kelley Center also provides support to help non-incubator clients through small business technical assistance and a variety of workshops each month.