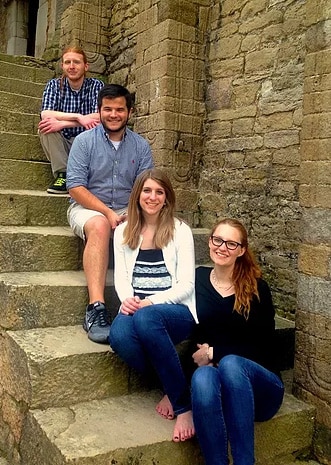 Each spring break, FMU sponsors an exciting opportunity for Honors members. Four students (one senior, one junior, one sophomore, one "at large" student, who may be a freshman) are selected to represent FMU at one of our exchange partners in Europe!
Honors Ambassadors are responsible for recruiting interested students to FMU for a semester or year, but also for touring and seeing the wider world for themselves. FMU covers most of the travel expenses, including air and train fares, hotels, and a per diem for daily dining. Travelers will be responsible for additional costs, including – if necessary –a passport fee).
Who is eligible to apply?
All applicants must be full-time, degree-seeking, FMU Honors members.
All applicants must be capable – individually, or with reasonable accommodation – of handing their own luggage, stairs, and walking tours.
Sophomores must have completed between 22 and 53 credit hours, at least 6 of which must be Honors.
Juniors must have completed between 54 and 86 credit hours, at least 12 of which must be Honors.
The required number of Honors credit listed above can include Honors courses during the fall semester that applications are made.
Ambassadors are chosen by the Honors Committee. If there are no suitable applicants in one category, the Committee may select two applicants from another.
How can I apply?
There is a formal, but simple, application circulated each fall by the Honors Director. In addition to the usual information – name, contact information, and so on – it requires a faculty reference attesting to your maturity and capacity, as well as a formal statement expressing your interest in being an Honors Ambassador. Your statement should clearly and convincingly explain why you want to go and why you feel you would be a good representative for FMU.
Applications are due to the Honors Director on November 1 of each year.
Finalists may be invited to an interview with the selection committee.
All Ambassador selections are subject to final approval by the Provost.
All applicants will be notified by November 15.
What responsibilities will the Honors Ambassadors have?
To attend scheduled pre-trip orientations and to complete all appropriate liability, health, conduct and other forms in a timely fashion.
To familiarize themselves with the regions and universities to be visited.
To comport themselves at all times with dignity and courtesy and to make themselves an asset to the delegation.
To meet and interact with students and faculty during the visit, and to represent FMU accurately and positively.
Upon return, to complete appropriate REAL surveys and travel journals.