Housing Office Complex
The Allard A. Allston Housing Office complex is located in the courtyard of Belle Isle, Snow Island, and Ellen C. Watson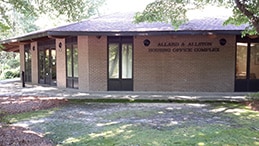 residence halls. The Housing office is open during regular university business hours. Office space for the housing staff, a service desk, restrooms, a meeting room, and study room are located in the complex. Other amenities include a microwave oven, vending machines, and a copy machine. Services include maintenance requests, room change requests, package pick-up, key services, and general residential student assistance.
Heyward Community Center
The Heyward Community Center is available for use by all students. Amenities include a commons room (large screen television, various seating arrangements, service desk), laundry, vending, conference room, fitness center. Mail service is for Phase I residence only, phase II mail boxes are located inside the residential buildings.
Staff and Resident Assistants
Housing and Residence Life Staff
The FMU Housing staff works to promote the personal growth of the resident students as they adjust to college life. We promote interaction with others in the residence halls and apartments to build a community within the larger campus community. We strive to create an environment in which students learn to respect the individual's rights, needs, and desires for those living in their community. The FMU Housing Office has a director, three assistant directors, office clerk, and receptionist.
---
Resident Assistants (RAs)
The RA is a student like you, but also a staff member trained to help you learn about life at FMU and in your residential community. The RA can serve as resource, support and guide. He or she is neither a police person nor parent. The RA works to create a community atmosphere of mutual respect and a sense of individual responsibility as well as encourage opportunities for learning, growth, friendship and socialization. RAs and residents alike share in the effort to maintain a strong sense of community. When a failure to abide by established policies occurs, the RA has a responsibility to become involved in the process of educating residential students about the accountability and responsibility for their choices and actions.
RAs are wonderful resources for our residential students. While they may not be able to answer every question that arises, they can probably find the answer quickly.
In the Residence Halls, there is typically one Resident Assistant assigned per floor, while in the apartment complexes, RAs are assigned to serve the entire complex. Resident Assistant responsibilities include housing administration (resident check-in, maintenance reports, reception desk, lock-outs, etc.), programming/activity planning, crisis response, policy enforcement, community development, and serving on-call to respond to after-hours needs.
---
Information Desk (GO-RA)
To provide service to students after regular business hours, the Office of Housing and Residence Life operates an information and service desk during evening hours year round. Staffed by Resident Assistants who are on duty, students may contact the desk by dialing ext. 4672 (GO-RA) for assistance with lockouts, emergency maintenance, noise, or other issues. The information desk is located in the Heyward Community Center.
Open year round
Fall and Spring: Monday-Friday: 5 p.m.- 11 p.m. , Weekends: Noon-11 p.m.
Summer: Monday-Friday: 5 p.m.- 11 p.m., Weekends: Closed
Security and Safety
Smoke and fire alarms in each apartment.
Intrusion guard on each unit entry door.
Fire sprinkler systems in Residence Halls and Forest Villas.
"Blue Light" Alarm system for 911 assistance.
Well-lighted grounds and parking areas.
Residents are strongly urged to carry your keys at all times and to lock your door when you are not in the room. Residents are encouraged to be active in maintaining a safe and secure community. Residents should report any threats to safety to the RA or Campus Police. These might include, but are not limited to, suspicious persons in the building, damage to doors, windows, screens or locks which may have been tampered with, poor lighting at entrances and exits or malfunctioning phones at main building entrances.
A safe and secure living community for residents is important. Any action on the part of a resident that threatens the safety or security of another resident or his/her property will result in disciplinary action. Potentially dangerous actions include, but are not limited to, providing or allowing entry to nonresidents or unauthorized individuals, propping locked doors, loaning keys, accessing student rooms other than one's own, taking another's property, tampering with locks, and/or removing screens from ground floor windows.
Because the University does not assume responsibility for any personal property, all residents should arrange for property coverage through their parent's homeowners' insurance or a separate rental insurance policy.
Mail Services
For the most efficient delivery of your mail, refer to the sample address listed below. Each resident is assigned a campus number and a key to his/her mailbox. Mail will be posted to mailboxes each day (Monday through Friday) by 5 p.m. Check your mailbox each day to receive US Postal Service deliveries and official FMU correspondence. Failure to check mailboxes will not excuse residents from any responsibilities which were communicated by official university correspondence and posted to mailboxes. Messages may be placed in mailboxes when residents cannot be reached by telephone. Each residential area has its own set of mailboxes for the students living there.
Your address format is:
Resident's Name
Campus # _____
5130 East Palmetto Street
Florence, South Carolina 29506
Outgoing mail with proper postage may be placed in either of the U.S. Postal Boxes located on campus or taken to the Mail Center in the Office Services Building. Postage stamps are available for purchase in the Mail Center; however, envelopes and other packaging are not provided. Postal mailboxes are located behind Newton Apartment Building and near Marion State Residence Hall. An intra-campus mailbox is located in the Housing and Residence Life Office.
Telephone Services
Outdoor weatherproof telephones are located at the first floor entrance to each of the residence hall buildings and Forest Villas apartments to be used for communication with students for entry when visiting.
Local telephone service is provided at no added cost. Each unit (residence hall room or apartment) is provided with one telephone line and one telephone.
Residents cannot receive collect calls.
Residents may subscribe to the Student Long Distance Service and receive direct-dial, long distance discounted rates through an agreement which is offered by Francis Marion University through Spirit Telecom. To begin using your long distance service, you need to activate the authorization code you will be given when you have your FMU ID card made. Calls can be made from on or off campus at 14 cents per minutes any day, any time, using the toll-free number on the back of your FMU ID (a 25 cents surcharge will be added to each call). Your account balance will be announced each time a call is being processed. Each account has a $150 limit. Early payment and refreshing of your balance can be arranged by calling the customer service number on the back of your FMU ID. You will receive a monthly bill directly from Spirit Telecom and you will make payment directly to Spirit Telecom.
Laundry and Vending
Laundry
The Laundry facilities are located adjacent to Ervin Dining Hall and in Heyward Community Center. Coin operated vending machines with laundry products are available.
Laundry services at Francis Marion University are provided through a partnership with Caldwell & Gregory.  The laundry rooms on campus have been equipped with the most Energy Efficient washers and dryers on the market today. Each laundry room has instruction signs on the proper use of the equipment and how to notify Caldwell & Gregory if a machine malfunctions.
Clothing must be promptly removed to allow others the opportunity to utilize the services. The university does not assume responsibility for the loss or theft of property left in machines or on the premises. Laundry not picked up in a 24-hour period will be discarded.
For all residential students, the cost of laundry is included in your room fees. There are no additional charges for washing or drying.
Check available washers and/or dryers with Wash Alert before going to the laundry room.  Wash Alert allows you to monitor laundry status in both the Heyward Building Laundry Room and the Ervin Dining Hall Laundry Room. Sign on by using the convenient QR code posted in each laundry room to monitor via your phone. You may also receive notification when your laundry is complete, and report problems to keep machines up and running. Download the Android app or the iPhone app on your smartphone.
---
Vending Services
Several types of vending machines are located at the Housing and Residence Life Office: in the Laundry area adjacent to Ervin Dining Hall, at Newton Apartment building, and at the Housing Office. Vending products include soft drinks, snacks and candy. Change and vending machines are located in the Laundry Room, Founders Hall, Leatherman Science Facility, Smith University Center and Heyward Community Center.
Keys and Lockouts
Locked Out of Apartment or Residence Hall
If you are locked out of your residence, come to the Housing and Residence Life Office during business hours to sign out a loaner key that you can keep up to one hour. After office hours and weekends or holidays contact the Resident Assistant at the Community Building (843-661-4672) for assistance.
A room or apartment can only be opened for the assigned occupant. Positive identification is required, and there is a small charge for this service.
---
Lost Keys
Residents are expected to carry keys at all times. Caution – for your safety and security, do not lend keys to anyone. Lost room, apartment or mailbox keys should be reported immediately, and replacement keys will be issued by the Housing staff. For your protection, locks will be changed, and new keys will be issued. There will be a replacement cost for lost keys and lock changes; however, residents will be billed at a later date to avoid delay in receiving new keys.
Maintenance Repairs and Services
Any problem with facilities should be promptly reported in writing to the Housing and Residence Life Office. Housing Work Order/Service Request Forms are available in the Housing Office and online describe services needed, schedule an appointment to be present, and/or authorize entry into room/apartment in absence of the resident. (Emergency situations requiring immediate attention is an exception to this policy and should be reported without delay to the Housing and Residence Life Office or a Resident Assistant by telephone, if necessary).
Routine pest control and heat/air conditioning services are provided on a regular basis; however, residents should notify the Housing and Residence Life staff or the RA if a problem is noticed. Service representatives will be accompanied by maintenance staff for these routine duties.
All repairs and services will be made as promptly as the resources and priorities of the university staff permit. Services not performed with reasonable promptness should be reported to the Housing and Residence Life Office.
---
Damage – Cleaning – Missing Property – Replacement Costs
Students must reimburse the university for any damages, repairs or missing property caused by negligence, misbehavior, and/or related to decorations. Whenever residents fail to meet cleaning standards as deemed appropriate by the university, authorized personnel will be assigned to provide services. Residents will be assessed for services rendered. These charges may be adjusted as changes in cost to the university occur.
All residents will be held responsible for damages or violations which occur in communal areas other than a private bedroom unless a specific individual can be identified as responsible. Each student concerned will receive a bill reflecting his/her share of the charges.
Actual costs will be charged when a Service Request/Work Order is completed unless an estimate is necessary for damages beyond normal wear and tear.
Invoices or bills for services, damages or fines are due upon receipt. Failure to pay a financial obligation within 14 days or the specified date as indicated on the invoice will result in the addition of a $10 late fee.
Room and Apartment Inspections
Authorized university or Housing officials will enter rooms/apartments to:
perform routine maintenance and custodial services;
conduct health and safety inspections;
enforce the University Code of Student Conduct; and
conduct, by law enforcement officers, search and seizure procedures.
When a room is vacated due to room change or departure from the residential facility, an inventory will be completed. Designated Housing and Residence Life staff will inspect the room/apartment and billing assessments will be processed if appropriate. Refer to the Housing Contract and the Students' Rights and Responsibilities section of the FMU Student Handbook for additional information regarding the Room Entry Policy.