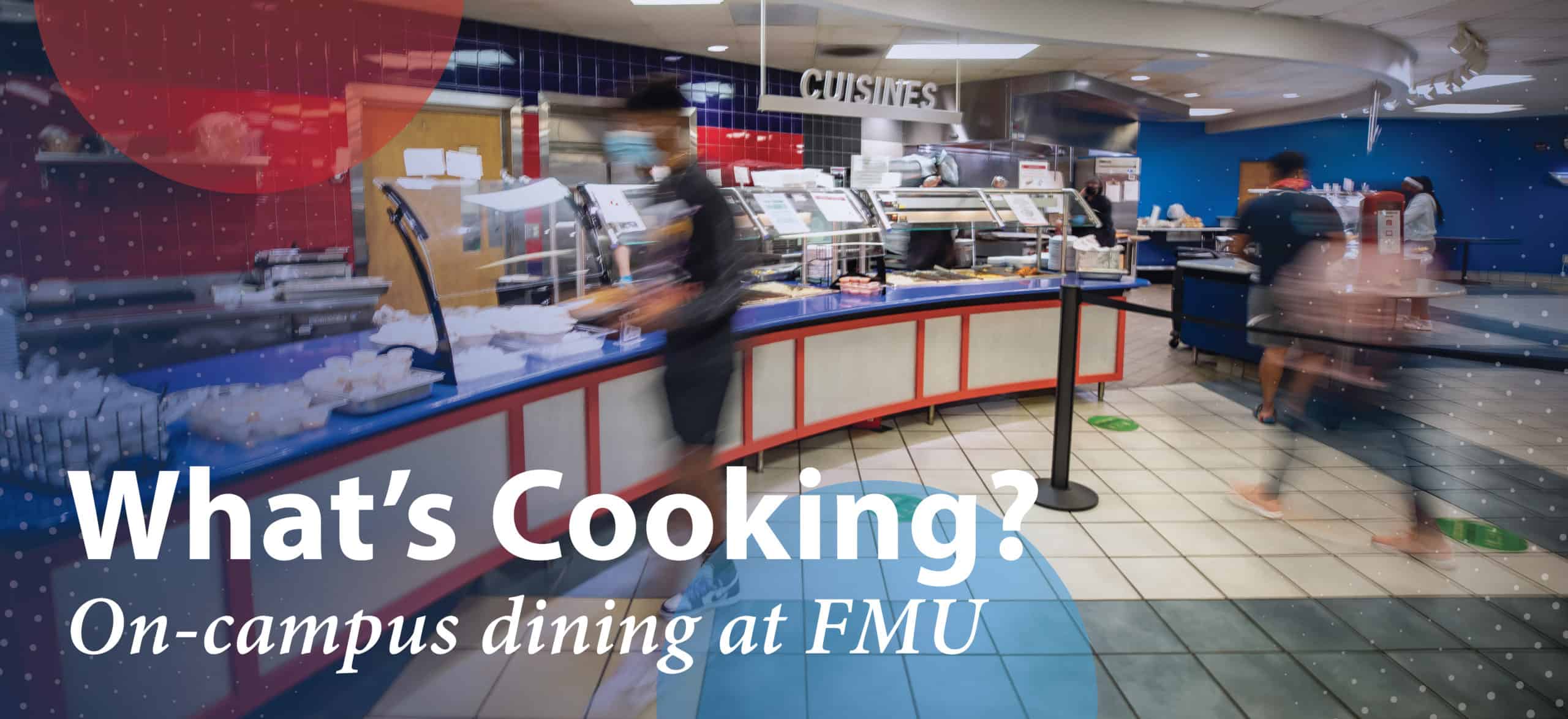 Great New Tastes
FMU's Dining Services Team has cooked up a tasty new menu for the upcoming year. Students with full or partial meal plans can dig in. Here's a sample of what's cooking regularly at FMU's main dining spot, Ervin Dining Hall.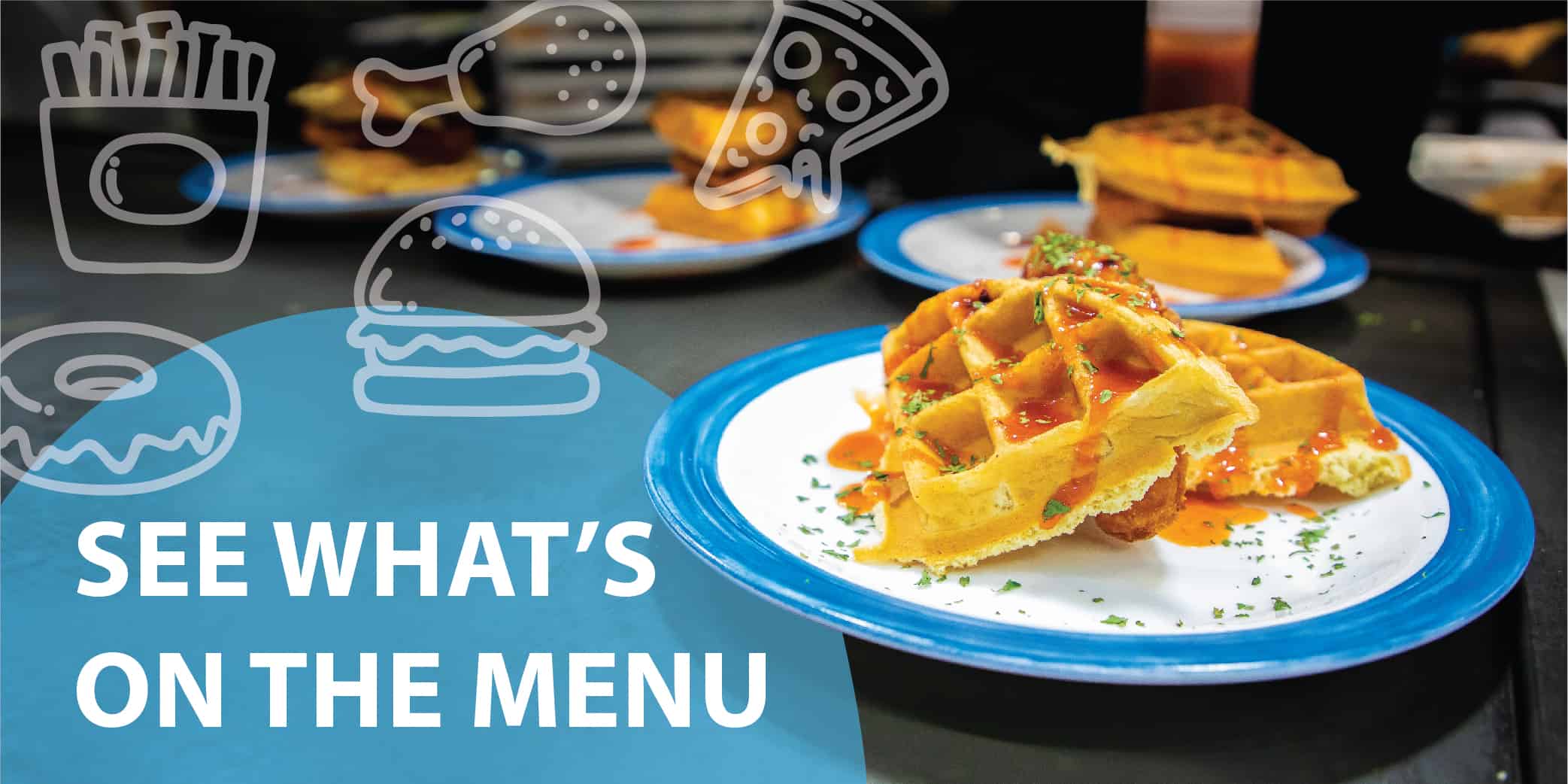 Convenient Locations!
FMU Dining Facilities operates a number of facilities across the FMU campus.
Ervin Dining Hall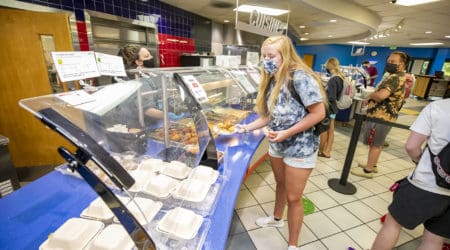 Ervin Dining Hall is FMU's premiere dining spot on campus. Hot, fresh meals are served 7 days a week at Ervin.
The Grille & Revolve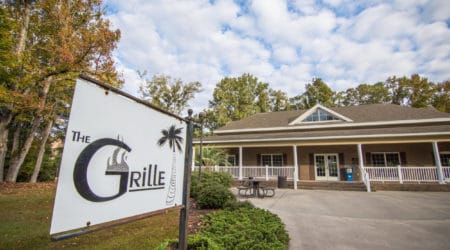 Pick up a fast lunch or a tasty dinner at The Grilleworks or the on-campus Subway. Grilleworks sandwiches and  snacks are made to order and always in demand. Subway offers an almost endless variety of hot and cold sub sandwiches.
Cauthen Cafe, serving Starbucks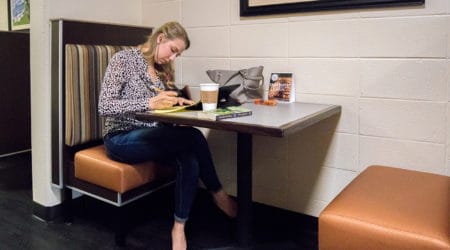 An array of coffees, lattes, and something-achinos awaits. Fresh-backed snacks are available, too, right in heart of FMU's main classroom buildings.
P.OD. Market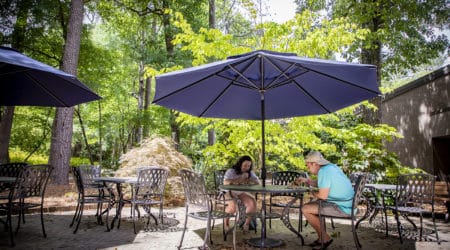 This on-campus convenience store is extra convenient. It's next to Ervin Dining Hall, right in the middle of FMU's residential housing area. Pick up a snack on the way to class, or grab a few groceries for later on. Looking for a place to hang out? Try the POD's scenic outdoor patio.
A Plan for Everyone
Flexibility is the main course with meal plans from FMU's Dining Services. Plans start at $150 for a semester up to FMU's All Access plans, which provide three meals a day, every day, all semester long.
 SPECIAL: Patriot Sampler
Haven't been FMU Dining Services customer in awhile? It's time to give us another try. New foods, new tastes, and all the usual convenience awaits. With the Sampler, students receive:
$150 in Patriot Bucks,
Access to all dining locations on campus
Flexibility to add more meals!
160 Block – $1,456
• 10 meals per week
• 300 Patriot Bucks
All Access Plus – $2,114
• Unlimited meal swipes per semester
• 150 Patriot Bucks
80 Block – $963
• 5 meals per week
• 300 Patriot Bucks
$300 Patriot Bucks Plan
• Patriot Bucks are accepted at all dining locations
All Access  – $1,992
• Unlimited meal swipes per semester
• 25 Patriot Bucks
50 Block – $522
• 3 meals per week
• 100 Patriot Bucks
$150 Patriot Bucks Plan
• Patriot Bucks are accepted at all dining locations
How It Works
Students can sign-up for meal plans online at fmarion.campusdish.com. The process is simple and only takes a few minutes!
Click the link below.
Click the link titled "Meal Plans" then "All Products"
Click 'Purchase Now' to go to the cashier portal
Select your meal plan and complete your purchase.